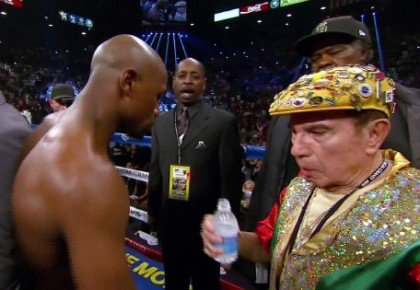 Tributes have been flooding in due to the sad passing of lifelong boxing figure Rafael Garcia; best known for being a long-serving cutman for Floyd Mayweather Junior. Mayweather has led the tributes, of both the written and verbal variety.
Garcia was 88 years old and he died due to a heart attack, he was also suffering from leukaemia.
As familiar a sight at ringside as a white towel or a Q-tip, Garcia spent almost all his life around the sport. And of course, Garcia handled many Q-tips in his time; stopping the bleeding on numerous fighters numerous times. Garcia was also skilled in the art of wrapping a fighter's hands. In fact, Garcia is largely credited with allowing Mayweather's career to last as long as it did: Garcia saving Mayweather's notoriously brittle hands.
Mayweather once declared how "I won't let anyone else touch my hands" when paying tribute to Garcia's skill.
Floyd has paid further tributes to Garcia via social media:
"RIP Grand Dad. I will always love you," Mayweather posted on his official Instagram page along with some photos of he and Garcia together.
Mayweather also wrote: "Rafael Garcia you will be missed. You lived your life to the fullest, and you will be remembered for all your contributions the the sport of boxing. Let your soul rest with no more pain. Love always and forever your Mayweather Promotions family."
Garcia will not only be missed by Mayweather, but also by the other 34 world champions he worked with and assisted in one way or another during his 60-year career in the sport. Garcia thankfully lived long enough to see himself enshrined into the Nevada Boxing Hall of Fame – the honour being bestowed upon him this very year.
Jessie Vargas, Garcia's Godson, paid his own tribute:
"He had so much to do with me developing and becoming the fighter I am," Vargas said. "He's been involved in my career ever since I can remember. He had so much knowledge. He'd been around the sport for decades and he picked up a lot and he shared what he knew. I could sit here for hours telling you the things he taught me about boxing."
So too could a great number of other fighters Garcia worked with.