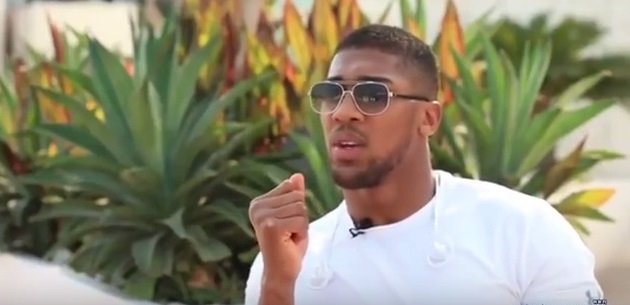 IBF/WBA heavyweight champion Anthony Joshua is ready to put himself in the same class as boxing greats Muhammad Ali and Mike Tyson if he can beat champions Deontay Wilder [WBC] and Joseph Parker [WBO] next year. Joshua feels he'll be mentioned with those greats when/if he defeats Parker and Wilder.
If Joshua can accomplish this task, he would be the holder of all 4 titles in the heavyweight division at a young age of 28. Wladimir Klitschko had hoped to unify the division during his title reign over a 9-year period, but he was unable to get his hands on all 4 of the belts unfortunately.
"It has been four years in the making. We have been listening to what people want and they want to see who is king of the heavyweight division," said Joshua to Dubai Eye 103.8. "I'm embracing everything coming my way this year."
Joshua is excited about being on the verge of facing WBO champion Joseph Parker and WBC champ Deontay Wilder for their titles in 2018. Joshua's promoter Eddie Hearn still needs to make those fights happen and it's not a forgone conclusion that he'll be able to accomplish this monumental fete. Wilder and Parker will strike a hard bargain, as both of them want a large slice of the financial pie for a fight with Joshua.
Wilder wants a straight up 50-50 split of the money against Joshua. For his part, Parker's promoter David Higgins wants a 60-40 deal. Hearn will have to come up with a way of putting together a package that will make both of those fighters happy and willing to sign for a fight with Joshua. Hearn this week that Wilder can have no say in where the Joshua fight takes place, because he's making 8 times less than him.
"100 per cent, because we've done something credible and tangible," said Joshua in saying that he would put himself in the class as Muhammad Ali and Mike Tyson, if he beats Wilder and Parker to unify the heavyweight division. "The proof is always in the pudding, and once I've got something I'll talk about it. At the minute I'm a prospect, but I keep a lid on it because there's a long way to go."
Ultimately, it would be up to the boxing public to decide whether Joshua can be compared to Muhammad Ali and Mike Tyson. It's likely that Joshua won't be fully appreciated by boxing fans and historians until after he retires. Boxers are kind of like famous painters in that respect. They're not fully appreciated until after they're no longer around. During their careers, fighters often don't receive the credit that is due to them.
If Joshua can unify the heavyweight division and continue to turn back the top fighters for a decade, he's going to be given huge credit, and possibly he will be viewed alongside Ali and Tyson. But just beating Parker and Wilder to unify the division probably won't be enough for Joshua to be lumped in the same class as Ali and Mike Tyson by the boxing fans.