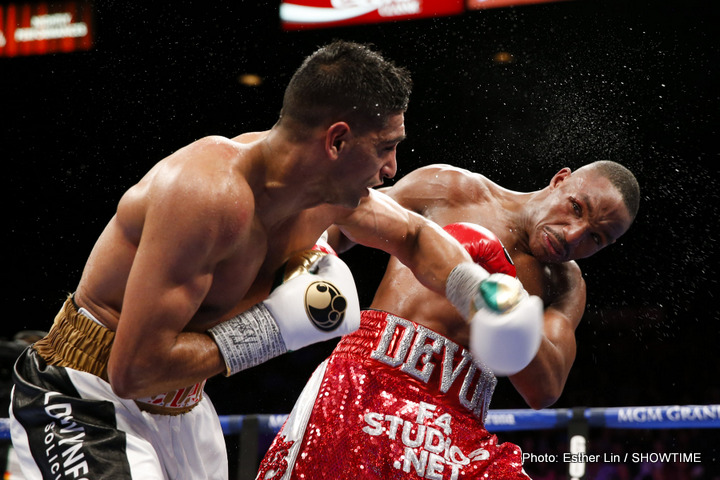 There has been plenty of discussion about what the Mayweather and Pacquiao undercard is going to hold, and what type of talent it is going to feature. Guesses range between no notable undercard names whatsoever to fights, which could really be there own card, as we saw with Garcia vs Matthysse. My opinion on the best possible fight to precede the main encounter would be Khan vs Bradley.
Sure there are better fights to be made in the sport such as a bout featuring red hot Brandon Rios or something featuring the powerful Marcos Maidana or even a spectacle between amateur legends Vasyl Lomachenko and Guillermo Rigondeaux, but as far immediate affect on the division which includes the names Money May and the Pacman, this one would be ideal.
Both Khan and Bradley are in a similar state of their careers, both have been in big fights and come up short and are looking for a way to get back into the limelight. Khan is coming off an impressive victory over Devon Alexander, but Alexander was coming off a loss anyway, and Bradley an unimpressive draw with Diego Chavez, but it wasn't long ago that he registered back to back wins over Manny Pacquiao, Ruslan Povodnikov and Juan Manuel Marquez.
These are two of the top ten best welterweight fighters in the world and a win by either man could set up a Pacquiao or Mayweather super fight in one of the icons next bouts. For this reason alone it is an ideal showdown, but there are more reasons than this. Both are fighters who like to box and can simply use fundamental skills to outclass their opponents, but then again both have been lured into wars before, particularly Bradley who would likely be the aggressor in this one. Both fighters have a ton of heart, and a will to win and be pound for pound names, and both have a list of reasons why they would be favourite going into this one, whether that be Amirs speed or Bradleys athletic advantage.
Amongst the wealth of options available for this undercard, this is a fight I would love to see, although there are several other options available at this point. What other potential matchups would you, the reader be interesting in seeng?