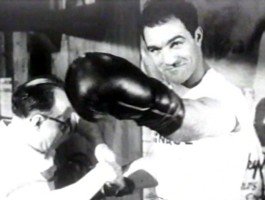 It's a list that pops up every now and then, and boxing fans seem to love it when the debate begins: who is the greatest heavyweight champion of all-time; who are the top-10 greatest heavyweight champions of all-time? Over the years, fine publications/ outlets such as Ring Magazine, ESPN, Sky Sports, Boxing Illustrated (for me THE best-ever boxing magazine; RIP Bert Sugar) and even full books have put forth their list of greatest-ever heavyweight champs.
In almost every instance, Muhammad Ali, truly the King of Kings, has sat atop these lists, with Joe Louis taking pole position in certain quarters. But no longer, not since his short yet electrifying prime, does Mike Tyson stand at the top of such a list. There was a time when historians and boxing experts suggested Tyson MIGHT have had what it takes to become the greatest heavyweight ever, but over the years, with "Iron Mike's" losses mounting (and not all of them to fellow greats, Tyson instead being brought down by two decent, but not in any way special fighters at the end of his reign of terror), such thinking was KO'd.
It is, then, something of a shock and a surprise how a new list, put forth by Times Live, rates Tyson as THE greatest-ever heavyweight champion. "This question [of who is the greatest-ever heavyweight champion] has long been debated and it is perhaps as polarising as discussions about whether Donald Trump is fit to occupy the Oval Office," the Times Live intro reads. "All lists are pretty much based on opinion and it is for this very reason that they are always guaranteed to prompt furious debate and passionate exchanges."
Indeed. And this list seems certain to anger and inspire passion from all fight fans who read it.
Here goes:
1: Mike Tyson, 50-6(44)
2: Muhammad Ali, 56-5(37)
3: Joe Louis, 66-3(52)
4: Rocky Marciano, 49-0(43)
5: Jack Dempsey, 54-6-9(44)
6: Joe Frazier, 32-4-1(27)
7: Gene Tunney, 65-1-1(45)
8: George Foreman, 78-5(68)
9: Larry Holmes, 69-6(44)
10: Lennox Lewis, 41-2-1(32)
"Let the debate rage," the article signs off with.
And as much as many fans will strongly disagree with the lofty placing of Tyson, the glaring omission of the great Jack Johnson may prove even harder to bear. And where, oh where, is Charles "Sonny" Liston! Again, all lists are opinion and nothing much more, but this particular one just might cause more rage than most!
For what it's worth, here's another Top-10 for you to rage over:
1: Muhammad Ali
2: Jack Johnson
3: Joe Louis
4: Jack Dempsey
5: Rocky Marciano
6: George Foreman
7: Larry Holmes
8: Sonny Liston
9: Joe Frazier
10: Lennox Lewis
For me, Tyson, though he was an enormous star, in his prime an absolutely terrifying force of nature no sports fan could take their eyes off, did not accomplish enough to deserve to be place above the ten immortals listed here.
What do you guys think?