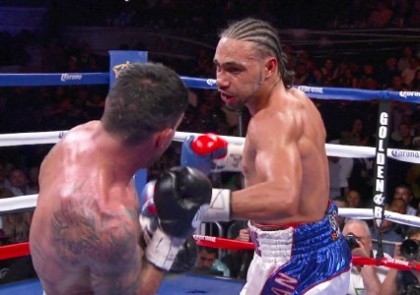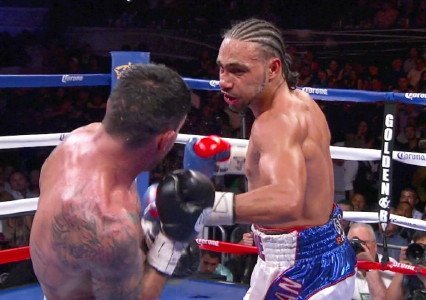 Keith Thurman (21-0, 19 KO's) won an impressive 10th round TKO victory over the tough as nails Argentinian Diego Chaves (22-1, 18 KO's) last Saturday night in San Antonio, Texas to win the interim WBA 147 lb. title. Instead of targeting WBA champ Adrien Broner, Thurman wants to fight #1 WBA, Marcos Maidana next.
Thurman said as quoted by RingTV "If I had it my way, I would fight Maidana. He's been ducking me for a year."
In a way that kind of makes sense because it seems pointless for Thurman to seek out a fight against Broner because the chances of Thurman getting a fight with him in 2013 or 2014 are probably slim at best. Broner will likely vacate and/or avoid the fight by facing other guys.
Broner may fight Maidana next before the end of the year, but even that fight isn't a given. Broner could do anything at this point, but one thing you can predict is that he won't choose to defend his WBA title against Thurman. That would be too dangerous of a fight for Broner, and I don't think he'll ever accept that fight.
Thurman stopped Chaves with a right to the head in the 10th round. Thurman had softened Chaves up with a left to the body in the 9th round that put the Argentinian fighter on the canvas. He got back to his feet and was able to make it out of the round.
However, in the 10th you could see that Chaves was trying to protect his midsection and he appeared to be still hurt from the body shot. This made him easy pickings for Thurman to finish him off with some heavy shots that backed him up against the ropes where Thurman dropped him with a long right hand to the head.
Earlier in the fight, Thurman had given Chaves way too much respect. However, once Thurman started boxing Chaves, he seemed to lose his fear of him and started to punish him with hard shots while making him miss gain and again with his punches.
At this point you have to consider Thurman as the class of the WBA. Broner might technically be the WBA champion, but in watching Thurman last night and comparing it to how Broner looked against Paulie Malignaggi last month, I think it's pretty self-evident that Thurman is better than Broner and superior to the other contenders the WBA has ranked in their top 15.