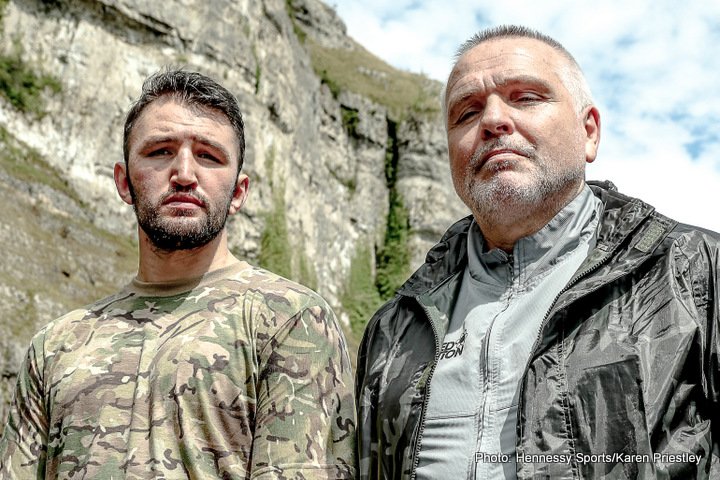 While lineal heavyweight champ and former multi-belt holder Tyson Fury has a big fight with WBC ruler Deontay Wilder to fully focus on, it is possible the 'other Fury,' Hughie, might get a shot at WBA/IBF/WBO champ Anthony Joshua next year some time. Once-beaten Hughie faces Kubrat Pulev in an IBF final eliminator in October, and the cousin of Tyson Fury says he is even more convinced after seeing AJ struggle with Alexander Povetkin that he has the beating of the British superstar.
A slick and gifted boxer, 24 year old Fury, beaten only by Joseph Parker in an unsuccessful challenge for the WBO belt (the decision that went the New Zealand fighter's way being deemed a controversial one in many eyes), would/will be a big underdog in a fight with AJ, yet he is brimming with self-belief.
"I have always been confident of winning that Joshua fight anyway, it is the fight we have always wanted and this has only made me more confident. He just didn't have much of a game-plan against Povetkin," Fury told The Independent. "And early on in the fight, when he was caught at the end of the first round, I think he really was hurt. It made him fight a lot more cautiously, and even though in the end it went the way that I thought, you have to say that he made hard work of it. There's a lot of vulnerability there."
Fury gives Povetkin credit for his fine effort but says that "in the end it came down to age difference." Should he get a shot at Joshua next year, Fury will be the youngest man to have challenged Joshua in a big world title showdown. AJ has beaten "old men" Wladimir Klitschko, Carlos Takam and now Povetkin, and Fury is convinced he has the blend of youth, skill and talent to be able to beat the three-belt ruler. But first Fury has to get last Pulev in his homeland of Bulgaria.
Should he do so, it could be that Hughie Fury indeed beats his cousin to it and gets it on with Joshua next summer some time. And wouldn't that be a turn up for the books? Times-three if Fury actually defeated AJ.