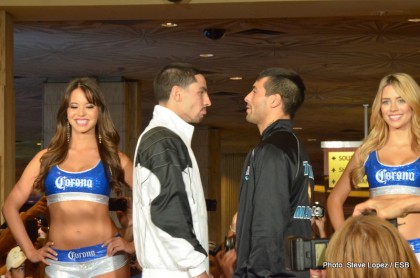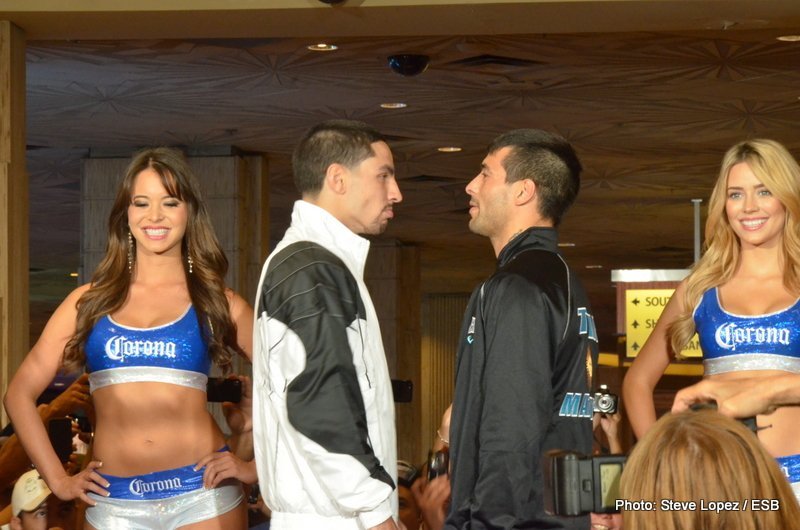 THE ONE Fight Week: Fighter Grand Arrivals
Fight week for The One is finally here!
2013 has been a really good year for boxing. The boxing world has seen Fight of the Year candidates, upsets and stellar performances. Although the year has about only one quarter left, fight fans have much to look forward to. Typically the icing on the cake, the cherry on top, the best for last…whatever you'd like to call it…comes towards the end. As fight fans and enthusiasts, we don't have to wait until the end of the year. The must-see show of the year is happening in less than a week: The One.
Earlier this Tuesday, the MGM Grand's lobby was packed with fans and the media to commence the week's festivities for the year's biggest boxing event. All of the fighters from the televised Showtime PPV event made their grand welcoming in front of screaming and passionate fans.
Ashley Theophane, Pablo Cesar Cano, Carlos Molina, Ishe Smith, Lucas Matthyse, Danny Garcia, Canelo Alvarez and Floyd Mayweather, Jr. were present to not only pose for pictures but to partake interviews and final words for the fans.
All fighters beamed with positive vibes and promised victory. To no surprise, Angel Garcia from the Danny Garcia camp seemed to have stolen the trash talk spotlight. With his usual, colorful and bold personality, Angel Garcia amped up the atmosphere by telling all fans and viewers that the Garcia camp is not fazed one bit by the momentum that Lucas Matthysse has generated for the past months.
In case you missed the stream, here are some notable quotes and visuals of the fighters' arrivals.
Fight week for The One continues on Wednesday for the main event final press conference. It's a great time to be a fight fan.
DANNY GARCIA
Question: "A lot of fight fans, a lot of critics are saying that Matthysse is going to knock you out. What do you have to say to the fans here, to the critics, to the writers, to the people that are printing stories saying Lucas Matthysse coming in with a knockout? What does Danny Garcia feel about that and what are you going to do to Lucas Matthysse?"
Danny Garcia: "I'm 26-0. Saturday night I'll be 27-0. That's all I gotta say about that."
LUCAS MATTHYSSE
"Inside the ring on Saturday we're going to talk with our fists and not our looks."
"I know that I will win by knockout and Saturday is going to be my night."
ANGEL GARCIA
"Listen, everyone wants to be Argentine on Saturday night. But they forget we live in America. We're in America, baby. U.S.A.!"
"Everyone want to be Filipinos, Argentinos, Chicojinos….Muninos! He ain't going to do shit….he ain't going to do shit! Him and his trainer ain't going to do shit!"
"Vegas don't know nothing, the world don't know nothing…only I know everything!"
CANELO ALVAREZ
"Saying anything bad (about Mayweather)…you can't. He's a great fighter. He's won everything. We're here. Everything has its timing. This is my time."
"These are the fights that make history. I'm happy to be part of history"
FLOYD MAYWEATHER, JR.
"It's not really about race or nationality. It's about your personal opinion. Mayweather loves Mexico."
Question: "Any words in Spanish?"
Mayweather: "El hombre intocable!" (the untouchable man)