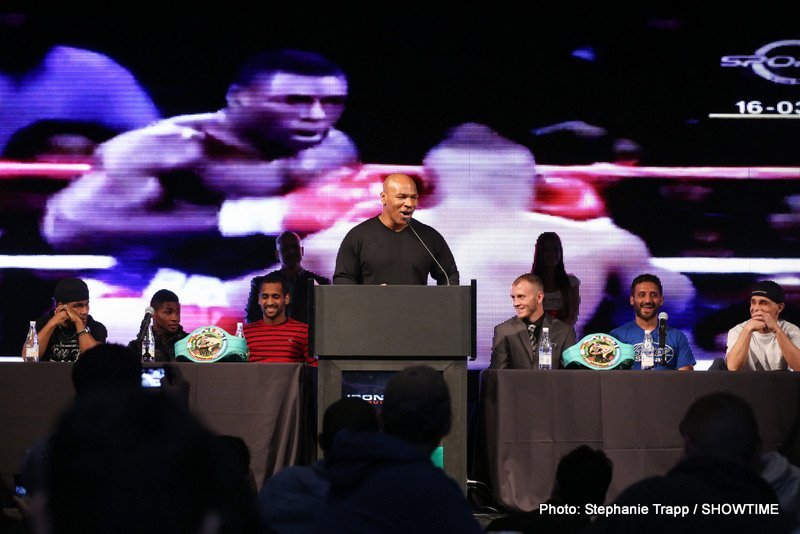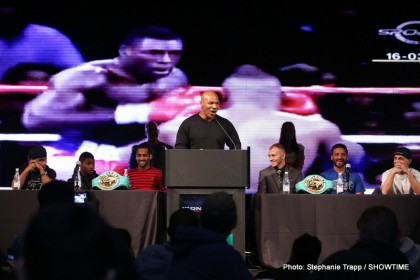 When discussing "Iron" Mike Tyson, and his Icarus-like ascent and descent from the summit of heavyweight boxing in the 80s and 90s, the debate always turns to the dream fights. How would the version of Tyson who crushed Trevor Berbick have dealt with the Muhammad Ali who carved up Cleveland Williams? How would the Catskills man have stacked up against "The Brown Bomber" Joe Louis? Could he have matched leather with Marciano, Frazier or Dempsey? While we will never have definitive answers to these questions, there are three intriguing fights that were at the negotiation stage during Tyson's terrifying and controversial rule over the sport of kings. These three bouts, had they come off, could have irrevocably changed the history of the sport's banner division for years to come. Here we take a look at the first of these match-ups: Mike Tyson vs George Foreman.
In 1990 the fates of these two fighters were at a crossroads. Foreman had crushed 19 modest foes since his comeback from a 10-year hiatus in 1987. While the industry had misgivings at first, the gift for PR that would later anoint Foreman the king of the grill had served him well in building a PPV following for his procession of knockout wins.
Mike Tyson on the other hand had just finished picking both his gumshield and his dignity off the canvas in Tokyo, Japan after his pivotal loss to James "Buster" Douglas. The now-former Heavyweight Champion of the World needed a big fight to restore the fan's faith in the Cus D'Amato-trained wrecking ball. The ever-opportunistic Don King eyeballed Foreman as the perfect foil for Tyson's rehabilitation. The shock-haired carnival ringmaster perceived "Big" George as old, slow and tailor-made for Mike's vicious flurries of devastating punches.
Various accounts from around the "Iron" Mike camp at the time depict Tyson himself as having a very different view of his 41-year old potential opponent. Schooled from a young age by D'Amato on classic fight films, the former "Kid Dynamite" knew all too well the danger Foreman presented. It is reported that the future Hangover star was a great admirer of Foreman's performances against Joe Frazier, and saw the havoc that the 6,3 behemoth could wreak on a smaller pressure fighter in the Tyson mould. The bout was mooted for much of 1990, including heavy coverage on ESPN, however it never materialised.
But what if this enticing clash had made it as far as the ring? We've established that the size advantage would have laid firmly with George Foreman. Tyson often struggled to find his way through long-armed opponents, as evidenced by his tepid performance in decisioning James "Bonecrusher" Smith. Foreman had a ramrod jab and, upon his return, a much stronger chin than he had displayed in the 70s. Even if Mike had used the head movement that served him so well early in his career, there is no guarantee his shots would have moved Foreman. Conversely, Frazier aside, Foreman had never met anyone who possessed such power. There were not many fighters who stood up to a consistent Tyson assault at this stage of his career.
There is an argument to be made however that Tyson may not even have been the hardest puncher in this bout, with Foreman's fearsome power netting him 18 knockouts in his first 19 fights back. After coming off a knockout loss to Douglas, how would Tyson have reacted to being struck by the most feared Heavyweight puncher of the division's golden era?
The other important factor in such a fight would be speed, and this category definitively favours "Mighty" Mike. If he could judge the distance of Foreman's tree-like arms, Tyson could get in and out without Foreman throwing a punch. This would be the key factor favouring a Tyson win, but would still rely on Mike either landing a knockout blow or having the stamina to last the full distance and win on points. Stamina was a question mark when it came to Mike Tyson, so you'd have to favour his larger opponent here, despite Foreman being 41-years old at the time of this potential battle.
On balance of the skillsets, it seems Tyson would have a mountain to climb if he was to defeat "Big" George and re-establish himself as the most dangerous man in the division. Perhaps shrugging off this fight was a wise decision, especially considering the struggles he would endure in two victories over another big man, Donovan "Razor" Ruddock in 1991. Foreman would go onto vie for the Heavyweight title in 1991, losing a creditable decision to Evander Holyfield. He would eventually reach his goal of recapturing the gold, knocking out Michael Moorer for the IBF and WBA straps in 1994 at the ripe old age of 45.
Join us next time for The Lost Fights of Mike Tyson, where we look at Tyson's potential title shot at Hasim Rahman in 2001.