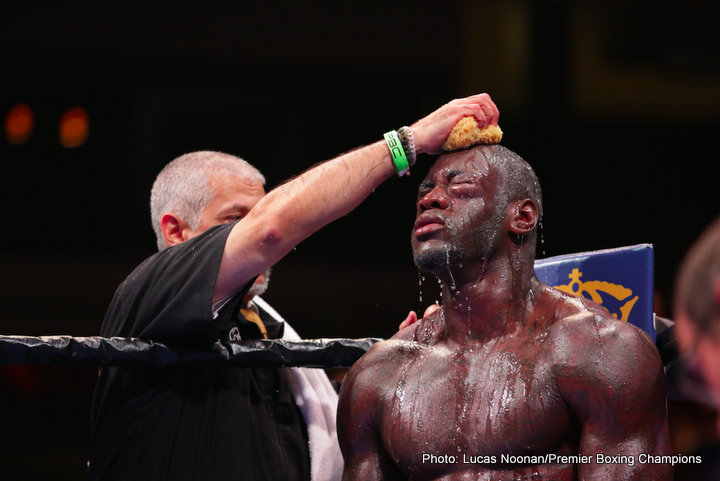 Even mentioning that Title 'The Good, The Bad, and The Ugly' makes that Sergio Leone theme music begin playing in my head. But here, I'm actually going to point out, in this order, some of The Ugly, The Bad and The Good of Boxing. Since the world seems to be so screwed up lately, I do want to end on a positive note as hard as that seems sometimes.
First, the Ugly:
Everyone who is a fan of boxing must have seen the 9/26/15 fight between lesser heavyweight champion Deontay Wilder and some guy from Europe named Johann Duhaupas. I'm sure Johann is a good guy and needed the money but did he really deserve to be in the ring with any sort of a Heavyweight Champion? The obvious answer is no.
Going into the fight he was ranked 38 by Boxrec.com and had lost two fights ago to somebody named Erkan Teper, a 13and 0 fighter. The only person who was scared when this fight was announced was probably anybody who cared about Duhaupas health.
To state it plain, the fight was Ugly. We got exactly what was expected.
Wilder beat up on a guy who just was not large enough, strong enough, fast enough, or talented enough to be anywhere near his level of fighter. We expected a beat-down and got exactly that.
The only thing that Duhaupas had was more guts than brains because after he'd get drilled he kept coming back for more. Either Deontay has less power than he appears to have or Johann takes one hell of a hard punch. I'd lean toward the second statement.
Non-competitive matches like this one do the sport of Boxing no good.
It did not add to Wilder's skills or prove anything to anyone.
It has been stated that Wilder's next opponent will be someone in the top ten. I sincerely hope so. Deontay Wilder does appear to have the raw talent and punching power to have a good chance of upsetting Wladimir Klitschko. But if he doesn't fight anyone in the top ten that has near the same physical dimensions of Wlad then we can expect Big D to fall apart when he fights Wlad if he does so before Klitschko is ready for a rocking chair.
You've got to go out and meet adversity to overcome adversity.
Come-on Deontay, clean out the top ten and give Wlad a reason why he has to prove once again he is the best heavyweight on the planet.
Fighting Johann Duhaupas didn't do that.
Second, the Bad:
Same night, same card and it's sad to say but this also could have been called 'The Ugly' although no one came out of it looking as lumped up as Duhaupas did even if the judges did deserve to get smacked around.
It's also sad that the judges' scorecards are more of a story than the fight itself.
Yes, if you saw the fight card you know I am talking about the Dominic Breazeale Judges Win over Fred Kassi. I'm calling this a 'Judges Win' because anyone who saw that fight knows the judges won that fight for Breazeale as much as Dominic did.
Bad judging has been a constant theme throughout the history of the sport of Boxing. Sometimes it's through dishonesty and sometimes it's just pure incompetence. Whatever the reason, score cards like the ones handed in on the Breazeale/Kassi fight should not be excused, tolerated or those judges be allowed to screw up fighters careers. Boxing commissions need to keep track of judges that consistently turn in questionable cards and send them back to judging amateur fights where they won't do as much damage while they can work on improving their levels of concentration. The judges of the Breazeale/Kassi fight clearly were not paying attention to the contest in front of them.
The fight itself wasn't a barnburner, but it wasn't terrible either. Both guys tried and had limited success throughout. It was a fairly close fight.
For the record I scored the fight by one point for Kassi. Maybe I am biased toward a guy who is so much shorter than another, who is able to work his way inside past the long arms, and get in some quality shots. So I would not have argued with a close decision either way. I even wouldn't have argued with the scorecard of Judge David Hudson's 97-93. That one is within the scope of reality even if it is wider than I agree with. A couple close rounds scored the other way and you could have 97-93 for Breazeale.
What was getting a bit farther from the real world was Judge Irwin Deutsch's score of 98-92. I guess Deutsch gives points for height. Then we get to the scorecard that came entirely from Fantasy Park. Judge John Westeterp turned in a score of 100-90. He didn't even give one round to Kassi. That was just totally ridiculous. He must have decided who was going to get his vote even before he showed up to score the fight or he just took a nap and gave his scorecard to one of Breazeale's corner men to fill out. It's the same result either way.
Kassi got screwed. That's all there is to it.
Bad judging is an old story. Every time it happens it lessens the credibility of the sport of Boxing. Unless the structure of Boxing is changed and Finish Fights are brought back (and that's not going to happen) the only solution is to make the judges accountable for their bad judgement. Bad judges unfairly damage fighter's careers.
I didn't post those judges names just to show it's no problem finding out who judges prizefights. Believe me, it's not hard. They are listed on BoxRec.com. But to shine a light on the damage that doing a bad job can do to a fighter's career. If you do a bad job then be prepared to take the heat.
If you judge prizefights then do it fairly and impartially and for God's sake pay attention!
Third, and Finally, the Good:
Boxing's future is on the upswing!
Mayweather is gone.
Pacquaio has stated that he's doing '1' then he'll be done.
There will be fewer boring pay per views.
Let the good times roll.
This is the reason why I wanted to leave this part for last. On 10/17/2015 a great pay per view card has been put together. The pound for pound best fighters who are fun to watch are actually going to be in the spotlight.
Gennady Golovkin will be fighting David Lemieux and Roman Gonzalez will be fighting Brian Vilorio. Believe it or not, it's on the same fight card!
These are two fights where anything can happen.
All four of the fighters in the Co-Main Event are known to be aggressive, knockout punchers.
Expect big fireworks to explode on October 17th. It is practically guaranteed.
And also something else, when was the last time that the top two Pound for Pound fighters were fighting on the same card? It's almost unknown.
I've said it before, I will not buy a pay per view unless I know it's highly probable to be a really entertaining show. I won't spend my money unless I know I'm going to get value for my dollars. The show on 10/17/2015 is one of those fight cards. There's no way this cannot be a great show.
Everybody knows Gennady Golovkin is a knockout machine. But he does have flaws that make it a whole lot of fun watching him. He is not unhittable. There are holes in his defense. The problem is, to catch him you got to put yourself in range of his counter shots and when he lands the opponents hit the floor. Here is a link to some Golovkin highlights:
David Lemiew although less controlled, has the same kind of strengths and the same weakness. He's not hard to hit but he's ultra-aggressive and punches like a madman. Here is a link to some Lemieux highlights:
https://www.youtube.com/watch?v=ndKp5-IWH9Q
With this fight we could have a Middleweight version of that incredible Foreman/Lyle slugfest only with the fast forward button stuck, or we could end up with something far better. This is as close to a guarantee of a wild fight as any could be since the first Gatti/Ward rumble. And if you haven't seen that one, you are missing a serious Youtube treat.
The co-main event is Roman Gonzalez vs Brian Vilorio.
Gonzalez is the current #1 Pound for Pound fighter in the world because he is without a doubt the most dangerous Flyweight in the world. His record is 43-0 with 37 knockouts. Whoever said that small guys can't punch obviously never saw Roman Gonzalez. Here is a link to some Gonzalez highlights:
Brian Viloria is a seasoned former world champion who packs a big punch also. With a record of 36-4 with 22 KO's he knows how to put guys to sleep. There is a reason why Brian is called The Hawaiian Punch. Viloria is 34 years old and knows either he wins the championship back in this fight or he probably never will get another chance.
Viloria will be hungry. While Gonzalez has to be the favorite taking Brian Viloria lightly would be a huge mistake. Here is a link to some Viloria highlights:
Things are looking up.
Coming next month on November 21st is Miguel Cotto vs Canelo Alvarez in another excellent match-up.
Happy Days are Here Again.
*****
Author's Bio: Mike Keeler is a Mystery Man.
You could say Mike Keeler is even a mystery to himself.
Mike Keeler is a Pen Name of an author who has had several genre novels published. He has also written for numerous publications and has over twenty short stories published… all under another name.
Don't search for Mike Keeler.
He does not exist.