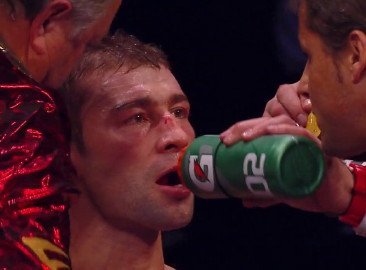 Former IBF super middleweight champion Lucien Bute, has insisted he was surprised at James DeGale's decision to travel to his Quebec backyard on Nov. 28 to make the maiden defence of the belt he won in Boston back in May.
IBF champion, DeGale, will be giving the now 35 year old Bute a golden opportunity to win his old belt back – a title he held for 9 successive defences before travelling to the UK himself in 2012 and being destroyed by hometown hero Carl Froch.
"I was surprised he accepted to come to my hometown to defend his title. He shows big courage to come [to Quebec] and defend the title for his first time," Bute said to fighthub.tv.
"I was champion and I came here in 2012 to defend my title," he said, referencing the loss to Froch that he insists he has bounced back from. "That is in the past and now I focus on the future. I feel good, I feel healthy, I've changed my team and I'm ok."
Bute looked good last time out in August against the heavily overmatched Andrea Di Luisa, although has suffered from both inactivity and injury since the loss to Froch, which many believe broke him as a fighter. An average showing against Jean Pascal up at light heavyweight in Jan 2014 – his last outing before Di Luisa – has also led some to speculate that he is tight at 168 lbs – though he claims that his weight will not be a problem.
"I have 7 weeks, I will be ready. I'm looking forward to the 28th to become world champion. [DeGale] has a lot of skill, a good fighter, an Olympic champion. It will be an interesting fight.
"It is a big advantage for me in front of my own fans. It will not be easy for James DeGale, I'm sure."
Twitter @Undilutedpoison