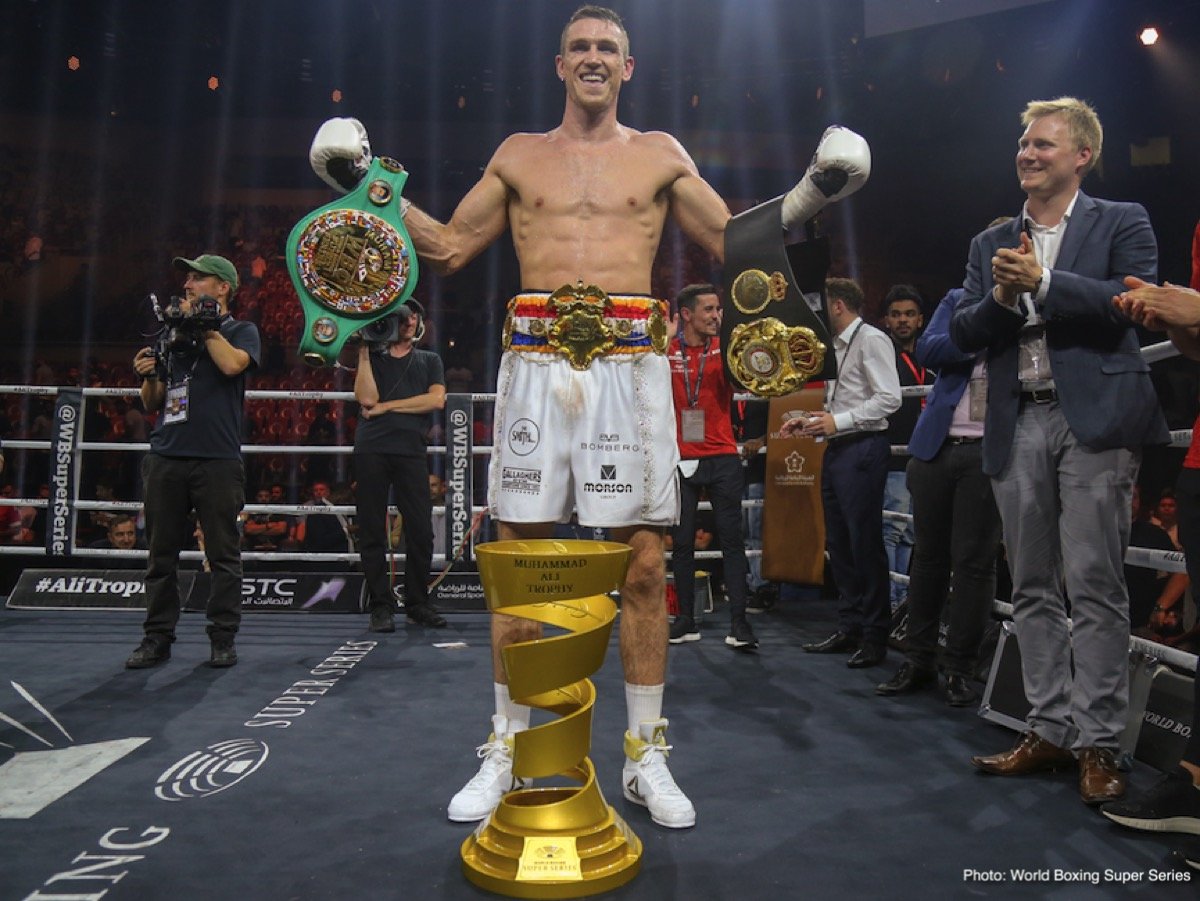 WBA super-middleweight champion Callum Smith wants the biggest of big fights. The unbeaten 28 year old who won the recent World Boxing Super Series tournament with an impressive stoppage win over countryman George Groves is now aiming at becoming one of the best pound-for-pound fighters on the planet. Smith, 25-0(18) says he has more to do at 168, before he will move up for big fights at light-heavyweight.
Speaking with Sky Sports, Smith and his ace trainer Joe Gallagher said that a fight with retired former pound-for-pound king Andre Ward would be the ultimate.
"We're after the big guns, [Canelo] Alvarez, Andre Ward is the preferred one, we'd love to get him out of retirement," Gallagher said. "Gennady Golovkin is another one. Badou Jack, Adonis Stevenson."
With regards to a possible Smith-GGG fight, promoter Eddie Hearn has informed Sky Sports how "initial contact has been made with Golovkin." This fight would be huge, for Smith and for British boxing. GGG has fought here before, and he might well do so again.
"I want to test myself against the best to see how good I really am," Smith said. "I believe the future is bright. There are big names in my division or around my division. I have unfinished business at super-middle before I move to 175."
Smith, huge for the weight, might just be the best super-middleweight in the world right now. It is to Smith's credit that he wants to find out and, rather than just looking to cash in with "easy" or "safe" title defences, is calling out these big names. Ward has shown no real inclination to come out of retirement, so that fight seems unlikely, and fights with the likes of Jack and Stevenson won't have any chance of being made until Smith makes his move to 175. Could it be that it is the Golovkin fight that goes ahead, next year?
GGG has yet to decide on his immediate future, but some fans feel he will follow rival Canelo's lead and also move up to 168. Imagine both Canelo (in his fight with secondary WBA champ Rocky Fielding) and GGG (against Smith) becoming world champs at 168 and then having their rubber-match at the weight.
Of course, British warriors Fielding and Smith aim to stop that from happening.