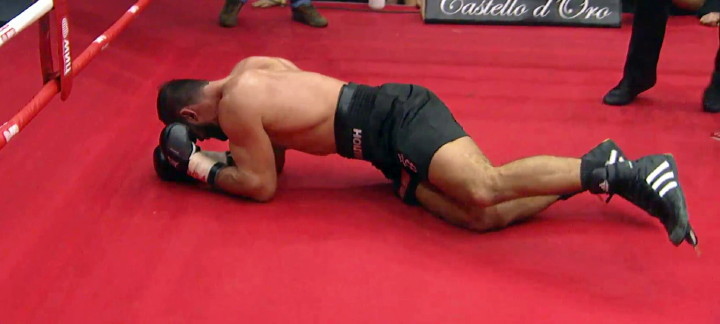 The action in the chief supporting bout to the Denis Lebedev-Murat Gassiev fight in Moscow, Russia delivered as advertised, as cruiserweights Maksim Vlasov halted Rakhim Chahkiev in a thriller of a slugfest. The two punchers went at it and exchanged knockdowns before Vlasov finally got the KO win early on in the 7th-round.
Now 37-2(19) and never having been stopped, 30 year old Vlasov has won his last seven fights, all at cruiserweight with him having moved up from 168 almost two years ago. 33 year old Chakhkiev, who falls to 26-3(19) has now lost two of his last four and the southpaw may struggle to get back into title contention.
Fans expected an exciting fight going in and these two did not disappoint. Chakhkiev is almost always involved in thrilling fights, what with his all-out aggressive style, and the battle was soon underway. The early rounds were exciting enough, with both men exchanging hard and heavy shots. Chakhkiev went down in the 2nd and he was soon marked up. The sixth was a wild round, with both men going down. A hard body shot decked Vlasov and it looked as though he was all done. Instead the younger man came back and put his rival on the canvas right at the end of the session, only for Chakhkiev to survive the torrid session.
Then came the end in the 7th as Vlasov's superior speed and power finally proved too much for the former Olympic gold medal winner who was still hurt from the knockdown he suffered in the previous round. It was all over after just 17-seconds of the 7th, Vlasov's right hand getting the job done.
The whole card at The Ice Palace in Moscow represents good value for money and with the huge-punching Dmitry Kudryashov-Santander Silgado clash and the main event between lebedev and Gassiev still to come, fans could be in for a treat. The Vlasov-Chakhkiev slugfest will take some beating as the fight of the night though.
The cruiserweight division is red-hot right now and it could be argued that the 200-pound weight division is better and more exciting than the current heavyweight division. How times have changed.