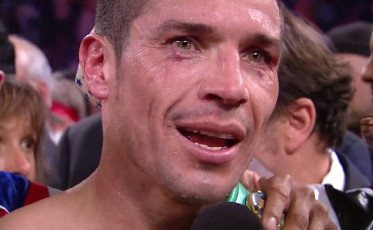 By Andy Brooks: WBC middleweight champion Sergio Martinez (50-2-2, 28 KO's) will be slipping in what amounts to being a stay busy fight against #3 WBC Martin Murray (25-0-1, 11 KO's) in Argentina on April 27th. Martinez, who is coming off of knee surgery, can't fight an immediate rematch with Julio Cesar Chavez Jr. during that early part of the year because the chances are high that Chavez Jr. will be under suspension for his marijuana violation.
A rematch with Chavez Jr. will be taking place on September 14th, according to RingTV. So instead of that fight, Martinez will stay busy with the Murray bout. The fight will likely be good enough to satisfy HBO given Murray's unbeaten record, and his good performance in his fight with former WBA Super World middleweight champion Felix Sturm last year.
However, it's not a fight that will interest boxing fans because few of them have heard of Murray in the U.S other than hardcore fans. British boxing fans will likely the idea of Murray facing Martinez, but those are likely the only ones. If Martinez isn't fighting Chavez Jr, fans want to see Martinez fight Gennady Golovkin, Peter Quillin or Daniel Geale. Those are interesting fights for Martinez, and you can't blame fans for preferring to see Martinez against one of them rather than the little known fighter Murray.
Murray fought well in his last fight in beating an experienced Jose Navarro by a rare stoppage. Murray's no puncher but he found out in that fight that he didn't need much power to stop Navarro.
Martinez defeated Chavez Jr. by a 12 round decision last September by a one-sided 12 round decision. Fans want to see a rematch because Chavez Jr. was able to hurt Martinez in the 12th round and knock him down. It's not much of a reason for there to be a rematch, but Chavez Jr's fans are clearly reaching for any hope they can get that he can maybe avenge his defeat. It's not likely. Chavez Jr. would be better off avoiding a second fight with Martinez because the punishment that he absorbs could shorten his career.