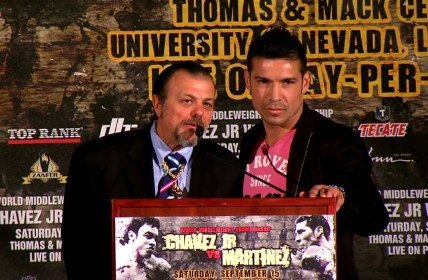 By Marcus Richardson: Sergio Martinez's win over WBC middleweight champion Julio Cesar Chavez Jr. last month on September 15th has earned the 37-year-old Martinez WBC's Fighter of the Month for September. Saul Alvarez was given Honorable mention for his win over Josesito Lopez on the same date.
Martinez's win was extra special though as he wasn't fighting someone a division or two below him like Alvarez was with Lopez. Martinez was actually out-sized by the 180+ pound Chavez Jr. in this fight and yet was still able to dominate him with ease for 11 rounds before having to hang on in the 12th to preserve the win after getting careless and knocked down by the young 26-year-old Chavez Jr.
Martinez never flinched as he got back to his feet and kept firing away with his own power shots until the bell rang. That little bit of drama helped Martinez because now boxing fans are interested in seeing a rematch between him and Chavez Jr. Had Martinez not been dropped then there would be demand for a second fight between them.
What may get in the way of a second fight between Martinez and Chavez Jr. is Chavez Jr's positive test for marijuana, which could lead to a lengthy suspension for the young Chavez Jr. However, Martinez has his own problems with his broken left hand and torn cartilage in his right knee that may require surgery to heal.
Martinez was able to get out of the way of Chavez Jr's big power shots by using constant movement and sharp single shots to keep from getting hit. With Martinez not standing still for him to land, Chavez Jr. was unable to fight on the move with any ability despite his father Julio Cesar Chavez Sr. telling him to fight this way. Another problem that made things difficult for Chavez Jr. was that was being told different things by his trainer Freddie Roach and his father, and he just looked confused. Chavez Sr's instructions were piped in each round to Chavez Jr. through a carrier and it made things difficult, as you couldn't tell who was in charge of Chavez Jr.