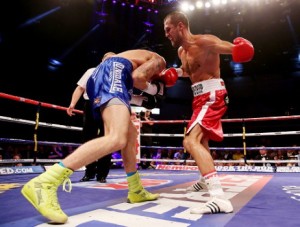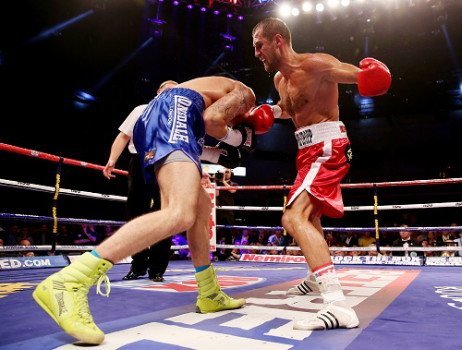 (photo credit: Main Events) Sergey Kovalev has emerged as a force to be reckoned with and he is like a breath of fresh air. Fans like to see boxers winning decisively beyond doubt and leaving no room for controversy and politics. Kovalev did just that and perhaps established himself as a leading pay-per-view star. Here is a quick breakdown of his winning effort:
Round 1: Not much of initial probing and testing, the differences in their stances reflected the difference in their styles. Cleverly leaned a little forward most of the time smoothly shifting weight between offense and defense. Kovalev had a puncher's stance and kept his weight on the back foot as a rule but shifted form foot to foot with punches. His footwork was much faster and sharper than Cleverly's as was his hand speed. His superior range orientation allowed him to keep his guard low and the hands free for punching. His defense relied heavily on counter punching and reflex. He used the jab only as a range finder for his left hooks and right hands. Cleverly did not throw or land anything significant and this would become a worrying pattern for him.
Round 2: Kovalev started very confidently perhaps knowing that Cleverly couldn't hurt him before he hurts him. Sergey started luring his opponent into opening up by going in and out of range. He started peppering Nathan with combinations that used head-body-head punches. Cleverly started to lower his head dangerously against his rushing opponent. Kovalev pointed to his right eye after he closed in and Nathan lowered his head desperately. It was Kovalev dictating the action again and Nathan could not find an answer to the overpowering game of the mobile and hard hitting Russian boxer.
Round 3. The cut on Kovalev's lid treated b/n rounds was most probably caused by an unintentional head butt. It had little effect on the Russian as he came out determined to do damage. He slowed down just a fraction and reduced his attack to two or three punch combinations but he committed with every shot. He went for impact and one of his right cross-left hook to the ribs-right cross combos opened up Cleverly and put him in survival mode. Perhaps he hit the liver and Cleverly lost all hope. The fight was technically over after the second knock down and the referee symbolically carried Nathan Cleverly to his corner.
Round 4: The stoppage was imminent and no one needed to make sure, least of all Cleverly. The referee did what he had to do in the end of the previous round and waved it off after the unnecessary third knock down.
Nathan did not mount a meaningful attack of his own for the whole fight; he did not even go for full power at least once. You should always try your best shot with maximum power once in a while. Be it out of excitement or even out of desperation he should have at least tried a combo or a hay-maker. He may have been seriously hurt physically but his credibility as a game opponent and surely his self-confidence have been disparaged.