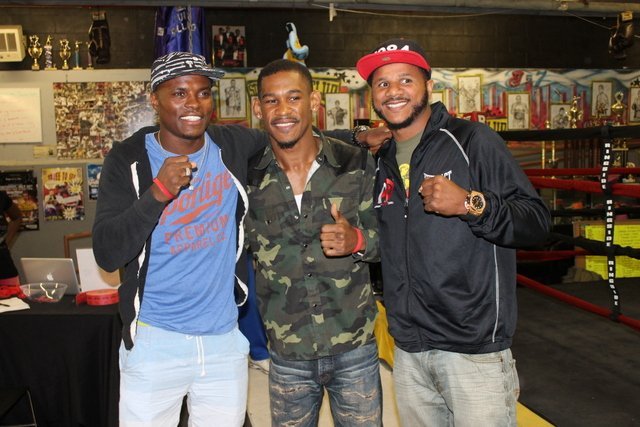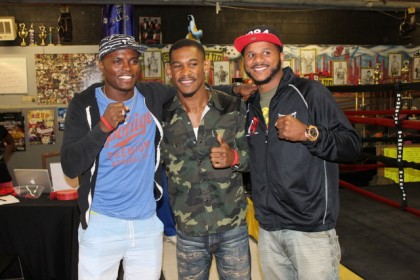 Yesterday, at the Starrett City Boxing Club in Brooklyn, the "Get In The Ring" foundation held its first ever awareness event. The charity targets childhood cancer, obesity and bullying and has been raising awareness since its inception earlier this year. Founder and cancer survivor Daniel "The Miracle Man" Jacobs was joined by WBO middleweight champion Peter "Kid Chocolate" Quillin and super middleweight Anthony Dirrell.
Raffles were held to help raise money. With guests winning anything from signed boxing gloves, to a pair of tickets to see Jacobs fight Giovanni Lorenzno, August 19 at the Best Buy Theater in New York City.
"This feels better than the fight itself. I'm happy that a lot of people came out to support me," Jacobs said. "I'm really trying to target some key issues in our community, so to know that people have my back means a lot to me."
Dirrell, himself a cancer survivor, was diagnosed with non-Hodgkin's Lymphoma in 2006. He returned to the ring two years later after receiving chemotherapy and radiation treatment.
"It feels good to show Danny support, we've been through the same thing. We both had cancer," said Dirrell. "So I'm definitely going to come out and support a fellow cancer survivor."
Jacobs is undefeated since returning to the ring in October after a 19 month layoff. He's happy his charity is taking off and hopes to carry that momentum into his upcoming fight.
"From this natural high that I'm on now, I'm going to ride the wave until Monday and we're going to take care of business, "said Jacobs.