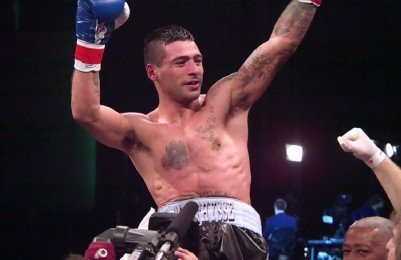 Golden Boy Promotions CEO Richard Schaefer is going to try his best to put together a fight card with Danny Garcia facing Lucas Matthysse and Lamont Peterson taking on Zab Judah for September 7th in Washington, D.C.
Dan Rafael said on his twitter "Schaefer says he has September 7 on hold at Verizon Center in DC for Garcia-Matthysse, hopes to do Peterson-Judah in co-feature."
I can definitely see Peterson and Judah facing each other because Peterson is pretty fearless and Judah knows he'd have a decent chance of winning this fight if he can get to Peterson's chin the same way Matthysse did in destroying him in only three rounds last night at the Boardwalk Hall in Atlantic City, New Jersey. But I don't think Danny Garcia is going to take the fight with Matthysse.
Garcia seemed reluctant to take the fight with him in the past despite it being the most obvious choice for him, and last night Garcia looked shaken after Matthysse demolished Peterson in the third round.
Showtime kept the camera on Garcia for a long time following Matthysse's KO of Peterson, and Garcia didn't look like he was happy with what had just happened because it would potentially mean that he would be the next guy in line to face Matthysse.
This is a great fight card if Golden Boy can arrange because both fights promise a lot of action, but I just don't think Garcia's going to say yes to a fight against Matthysse. Garcia's father Angel Garcia said recently that they're not taking part in Golden Boy's unofficial tournament and they wouldn't necessarily be facing Matthysse.
Golden Boy may have to do some convincing if they want to persuade Garcia into facing Matthysse because right now I have a feeling that Garcia may end up vacating his WBC title rather than taking that fight. It'll look bad if he does so, but he'll at least have one time in his possession and he can milk that one for a while against the competition the World Boxing Association has ranked in their top 15.
Matthysse is a very tough fight for Garcia if that fight happens Matthysse is a much better puncher, and he can punch with both hands, not just with his left. We saw Judah stun Garcia late in their fight and get the better of him in the last three rounds.
Matthysse would be all over Garcia from the 1st round, and I have a feeling he wouldn't make it past three or four rounds in taking the kinds of heavy shots that Peterson was hit with last night.