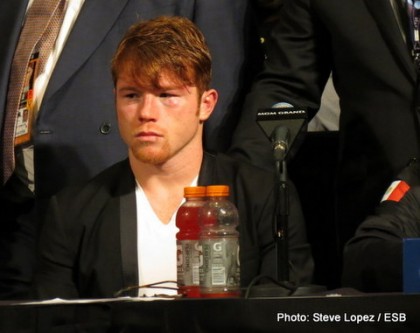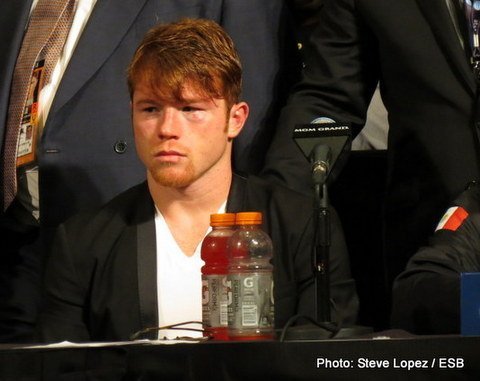 If this were baseball, Floyd Mayweather, Jr. just pitched a no-hitter.
Fight week in Las Vegas, NV for the biggest boxing event of the year ended on Saturday with another stellar performance by the Pound for Pound king. In front of a pro-Canelo crowd, "Money" Mayweather tamed the Mexican superstar en route to a 12 round decision. Skills certainly pay the bills for Mayweather. Speed, accuracy, precise counter punching, ring generalship…you name it. It was another showcase fight.
Earlier in April of this year, Saul "Canelo" Alvarez unified the WBA Light Middleweight title against Austin Trout and established himself as "the man to beat" at the division. Mayweather just beat the man of the division. At 36 years of age and four more fights left on his exclusive Showtime contract, Mayweather is running out of opponents as he continues to make things look easy. Regardless of who Mayweather chooses to fight next, you can bet the world will still be tuning in.
Also on the fight card, just two divisions south of the main event, another "man to beat" was solidified from the Garcia-Matthysse Super Lightweight showdown. Danny Garcia continued to prove the critics wrong as he fought his way to a unanimous 12 round decision against the Argentina's powerhouse of Lucas Matthysse. With the hype surrounding the fight, the majority of experts were not expecting this fight to go the 12 rounds. Lucas Matthysse headhunted for the knockout throughout the night while being leery of Garcia's swift counterpunching power. Garcia found a way to win as he stuck to his game plan with timed clinching and improved defense as he frustrated Matthysse with a swollen eye and even dropping the Argentine.
With the victory, there is no one left in the division for Swift. A move to the Welterweight division is the likely option.
Pablo Cesar Cano, Carlos Molina, Danny Swift, Saul Alvarez and Floyd Mayweather, Jr. were the fighters that attended the post-fight press conference. Lucas Matthysse did not attend due to having to visit the hospital for precautionary purposes. Here's an exclusive look at the notable quotes, comments, visuals and reactions from the fighters, media and promoters.
For more of Steve Lopez, follow on Twitter: @LopezPPVBoxing
PABLO CESAR CANO
"It was a hard fight as I expected, but we came out with the victory."
"The contracted weight was 143 for this fight. I want to make it down to 140."
CARLOS MOLINA
"When they said and 'New' I felt relaxed. The hard work was all worth it."
"Who's next? I want Mayweather. I'm happy with this belt, but I want all four. Whatever I need to do to get that fight, I'll be willing to earn it. Cotto, Canelo, whatever."
DANNY "SWIFT" GARCIA
"A lot of hard work, a lot of speed, a lot of power and STILL WBA, WBC and Ring Super Lightweight champion."
"I know he's dangerous in the early rounds. He's a strong puncher. I knew if I just used my legs a little bit, make him miss, I'd get him at the end."
ANGEL GARCIA
"If Floyd and Danny fought, it would be a holy war."
BERNARD HOPKINS
(In regards to Garcia-Matthysse)
"It reminded me of 2001 when I fought Felix Trinidad and everyone was saying how hard his left hand is. So, the gun that he brought, Matthysse, tonight, was taken away from him by a little movement as I shared in Danny Garcia's new gym in Philadelphia."
"You give him a little slight movement. No running. Save the legs! There's times where you have to take some punches to prove that you've got a chin. But don't take a lot of them to prove a point."
"Danny fought a perfect fight. They say you can't do anything perfect. Tonight was one of those fights where he did what he was supposed to do. He took the man's gun away that everyone said was so powerful, and it was, and we see Matthysse really fall apart in the last rounds and was desperate trying to hit him with any bomb he could hit him with."
"Danny at that time was encouraged by the eye at that point and took advantage of that. He was such an underdog. 7-1? 6-1? 3-1? With a guy that's undefeated and the champion of the division and he's an underdog? To me, that's like 17-1. This man is a superstar tonight"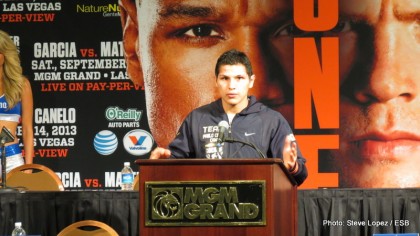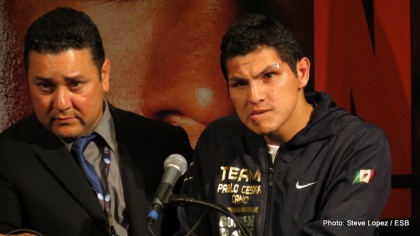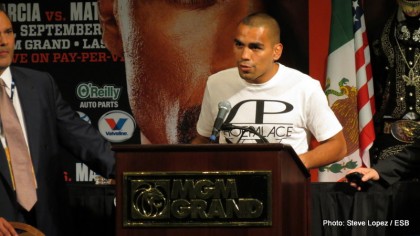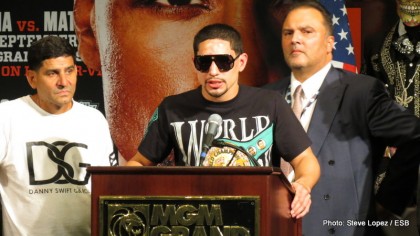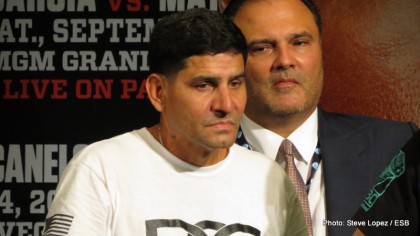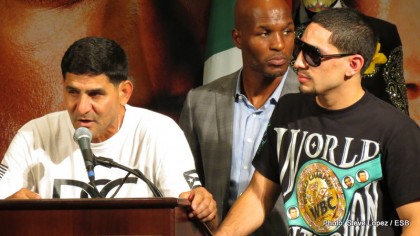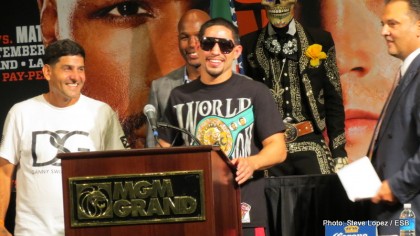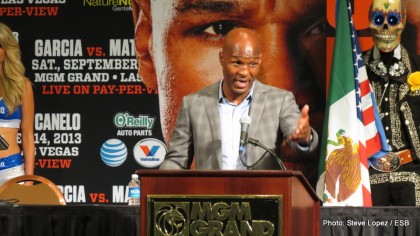 SAUL "CANELO" ALVAREZ
"Obviously, I didn't want to leave here with a defeat. No one wants to leave with a defeat. It hurts me on my pride. But that's how it is and today it's me."
"His punches don't have power. They're to win the fight, to score points. That's what makes him to be a fast fighter."
"He was very good. Took me out of my game plan. He began doing different things and I didn't have an answer for it."
FLOYD MAYWEATHER, JR.
"I want to commend this young, strong lion because he will carry the torch. Tonight, experience played a major key. Canelo has everything it takes to be a legend in the sport. Tonight was just my night. What else can I say? We did it again."
(In regards to 114-114 scorecard)
"From what I found out, I asked questions. It was the same judge from the Pacquiao and Bradley fight. The best commission in the world isn't a bad commission. I'll just leave it in the hands of the commission. If they feel that person should still be out there judging fights, it is what it is. That person could be older. I think it's a woman. She could be older. Things happen."
"A lot of young champions that are going strong. Danny Garcia, Matthysse…of of these guys. They're tremendous."
"We started throwing combinations, then we bumped. I think that's when I dislocated my elbow. From the 6th, 7th, 8th round I was just basically pawing with the jab. When I went back to my corner and looked at my family, I said: 'I gotta use it. I got the will the win. I was born to win.'"
"I was still going for it. I was still going for big shots. He hit me with big shots. He threw a hell of a thigh shot. It was a good shot. I'm walking with a limp right now."
(In regards to Manny Pacquiao as a possible future opponent)
"Right now that's not my focus. My focus is spending time with my family. Taking a vacation and continue to take my promotion to the next level. That's what it's about. I'm not focused on Manny Pacquiao at this particular time."