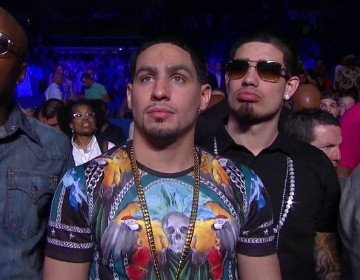 Showtime analyst Paulie Malignaggi thinks WBA/WBC light welterweight champion Danny Garcia has enough power and talent to give WBC interim light welterweight champion Lucas Matthysse problems if they face each other in September.
Earlier tonight, Matthysse obliterated Lamont Peterson in a 3rd round TKO at the Boardwalk Hall in Atlantic City, New Jersey in a three knockdown performance by Matthysse.
Malignaggi said "Lamont Peterson came out actually trying to box. I thought he had a pretty successful 1st round, but once Matthysse stepped up the pace, stepped up the pressure, started roughing him up in clinches, it became much more difficult for Peterson to deal with. This guy Matthysse has not just power; it's scary power. Old time boxing fans will remember the name Julian Jackson. That guy used to touch you and you'd go to sleep. The thing about Julian Jackson though is you might touch him back and he'd go to sleep himself. This guy [Matthysse] has got an iron chin, and he hits you and you go to sleep. It's a scary proposition to know that to beat him you have to be in the ring with him for 12 rounds. I do think Danny Garcia has enough power to earn some respect. How he earns Matthysse's respect I'm not sure, but I think he can use two approaches. He either has to box him very well or to try and gain his respect by hitting him really hard. You need to make him think twice about throwing his own power. If you can make him gun-shy, make him not believe in himself a little, then maybe you'll have some success."
It might be difficult for Garcia to make Matthysse gun shy because he only has a left hook to give him problems. Matthysse throws with more power with either hand and he's got a better chin. We've already saw Garcia get hurt by Zab Judah in his last fight, and that was with Judah not fighting hard until later in the fight.