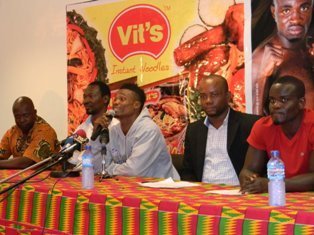 By Prince Dornu-Leiku: History making BabyJet Promotions are set to rewrite the record books in Ghanaian boxing when this week they hold a media work-out for the two boxers headlining their 'Clash of the Kings' bill. Reigning Commonwealth Junior Lightweight champ, Ashie (23-3, 16 KOs), squares up to former WBO Africa and IBF Intercontinental Junior Lightweight titlist Tagoe, 19-1, 8 KOs, for the WBA International Lightweight belt on November 10.
The maiden promotion by the syndicate founded, owned and headed by newly appointed Ghana national football team captain, Asamoah Gyan is scheduled for the Accra Sports Stadium on November 10 but BabyJet Promotions have released an itinerary of unprecedented events leading up to fight night never seen in the history of the sport in the West African country famous for nurturing Azumah Nelson, Ike Quartey and Joshua Clottey, all former world champions.
BabyJet promotions have already held media briefings to announce the fight and later the formal signing of fight contract by the boxers. The final countdown to the fight between George Ashie and Emmanuel Tagoe was also launched at a press conference last week amid revelation of a comprehensive line-up of activities to herald the dawn of a new era in Ghanaian boxing promotions.
Among a host of new initiatives introduced by BabyJet Promotions is the media workout for both boxers and a further meet-the-fans and autograph signing sessions by the pugilists at the Accra Mall and elsewhere.
Foremost to make history and become the first boxer in Ghanaian history to have his pre-fight gym workout session with media presence is George Ashie AKA Red Tiger at the Seconds Out gymnasium in the heart of Accra on Wednesday afternoon before Tagoe AKA Game Boy takes his turn on Friday at the same venue.
Media work involves rope skipping, push-ups, punching of bag, punch of mitts and physical exercise before granting the media interview on preparations towards the fight. In essence, Ashie would have a light training session and later grant interview to the Ghanaian media.
BabyJet Promotions President, Gyan, also a part time musician who plays in the United Arab Emirates for that country's top league champions Al Ain, has promised to be present for the big fight himself with many of his football and musician colleagues also expected to be in tow to entertain and thrill away what could arguably be the grandest boxing promotion ever staged in the history of Ghana.