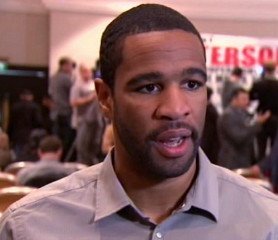 By Joseph Herron – It's been a rough year for the IBF Junior Welterweight Champion.
On December 10th, 2011, Lamont "Havoc" Peterson (30-1-1, 15 KOs) fought the fight of his life and pulled off the improbable upset over former IBF and WBA 140 pound champion, Amir Khan. Although the DMV based fighter won by way of controversial split decision, Lamont turned a lot of heads with his gritty performance by battling the heavy favorite in a very physical but entertaining contest.
After the highly publicized surprise victory, things quickly went downhill in a hurry for the Junior Welterweight "maverick".
With no rematch clause inserted in the pre fight contractual agreement, Golden Boy Promotions and Team Khan formally contested the December fight verdict, attempting to either reverse the official fight decision to reflect a "no contest" judgment or strong-arm the newly crowned champ into granting the former title holder an immediate return bout.
Subsequent to much deliberation, the 28 year old fighter eventually decided to turn down an offer made by Bob Arum and Top Rank, Inc. to face Juan Manuel Marquez in Cowboys Stadium, and enter into an agreement with Golden Boy Promotions to fight Amir Khan once again on May 19th, 2012.
One of the stipulations made by Team Peterson during the pre-fight negotiations was a request for random drug testing to be administered by VADA, an anti-doping agency created by longtime Nevada ring physician Dr. Margaret Goodman, sporadically during both fighters' pre fight preparations.
Little did anyone realize that a seemingly innocent request for pre-fight drug screening would ultimately become the virtual opening of a "Pandora's Box" for Lamont Peterson.
On May 6th, less than two weeks before the second scheduled showdown between Khan and Peterson, VADA reported that the defending IBF and WBA Champion had tested positive for a banned substance in two of the random pre-fight samples taken by the anti-doping agency.
With premature allegations of intent to defraud cited by several respected members of the media, Golden Boy Promotions, and Keith Kizer of the Nevada State Athletic Commission, the Los Angeles based promotional organization decided to hastily pull the plug on the entire fight card without a proper discovery or examination of supportive evidence.
The WBA quickly jumped on board the incrimination bandwagon and rashly stripped Peterson of his Junior Welterweight title without the benefit of a proper hearing and a thorough review of relevant evidence presented by Team Peterson.
Although Lamont was eventually exonerated by the IBF after an extensive examination conducted in August, the damage had already been done by several of the most influential parties in boxing. Despite being found innocent of any malicious intent to achieve an athletic advantage in the ring, it seems that the current IBF 140 pound Champion is now having a hard time making his first title defense.
Yesterday, it was reported that Peterson's mandatory challenger, former world champion Zab Judah, turned down the opportunity to face Lamont for the coveted title in a proposed December pairing. It seems that no promoters or television networks were interested in staging the championship fight.
In fact, Headbangers Promotions, an ostensibly makeshift promotional organization formed by Peterson's longtime trainer and manager Barry Hunter, was the only promotional outfit to attend a purse bid for the Peterson/Judah contest, which was held by the sanctioning organization in New Jersey on October 2nd.
The Hunters won the purse bid for a meager $50K, more than likely in an effort to keep Lamont from being stripped of his IBF title.
Also, it's been reported that current WBO Welterweight title holder Timothy Bradley recently turned down a hefty proposed payday of $2.3 million offered by Top Rank to face Lamont Peterson in what would have been a rematch of their 2009 meeting.
Since testing positive back in May, it almost seems as if Lamont is being forced to wear a figurative scarlet letter on his boxing trunks.
What exactly is the 28 year old champion guilty of?
In retrospect, the decision made by Golden Boy Promotions to scratch the entire May 19th fight card and defame the character of Lamont Peterson as a result of the positive test result now seems hypocritical and duplicitous after the promotional group recently gave future Hall of Famer Erik Morales every benefit of the doubt upon testing positive for a banned substance last week before his big fight with Danny Garcia in Brooklyn, New York.
Is the figurative cold shoulder from the power brokers of boxing due to Team Peterson's reluctance to sign an extensive promotional deal with any of the top promoters in boxing?
Throughout his entire professional career, Lamont has never held a binding contractual obligation with any major promotional organization. Have the "Big Five" become resentful as a result?
Also, why the snub from the premium cable networks?
Are match-ups like Rodriguez/Escalera, Broner/Escobedo, and Dulorme/Abregu really that much more enticing than an IBF Junior Welterweight title fight between Lamont Peterson and Zab Judah?
Has HBO's alliance with the top promoters in boxing indirectly created an unwillingness to feature Lamont Peterson on the popular cable network?
Hopefully, this misunderstanding soon becomes rectified and one of the most promising young American fighters gets completely exonerated in the eyes of the boxing industry.