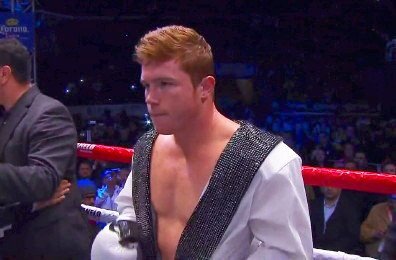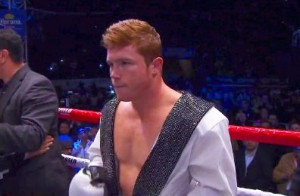 By Bill Phanco: Whether WBC junior middleweight champion Saul "Canelo" Alvarez (41-0-1, 30 KO's) fights on Golden Boy Promotion's May 4th fight card at the MGM Grand in Las Vegas, Nevada, may come down to whether Golden Boy can get him a fight with Floyd Mayweather Jr. later on in the year on September 14th.
According to fightnews.com, a source has reported that Alvarez hasn't agreed yet to fight on the Mayweather pay per view undercard on May 4th against possibly WBA junior middleweight champion Austin Trout.
Apparently, the deal that Alvarez is looking for is a guaranteed fight against Mayweather Jr. on September 14th before he'll agree to fight on the May 4th card. If Alvarez can't get that deal then he'll fight on another date. He could even fight in Mexico.
I think Canelo is giving Golden Boy more credit than they deserve in their ability to get Mayweather to do what they want him to. If it was that easy for Golden Boy to persuade Mayweather who to fight then we'd have seen Mayweather fight Manny Pacquiao many times over by now. It's just not that easy. It's Mayweather who calls the shots about who he wants to fight. If he wants Canelo Alvarez on September 14th then he'll choose him on his own. However, the fact that Mayweather has pre-selected September 14th, the Mexican Independence Day, to fight on suggests that Mayweather will be fighting a Mexican fighter on that date. Mayweather's selection of May 4th comes on the Mexican Cinco de Mayo weekend, and obviously he's going to likely fight a Mexican fighter – or Mexican American – on that date.
It's smart for Canelo to try and work a deal with Golden Boy to get a fight with Mayweather for September because he'll be bringing a lot to the table in terms of pay per view buys if he fights on the undercard of Mayweather's fight on May 4th. At least Canelo should be able to get something from that by getting a Mayweather fight, even if he arguably doesn't deserve it because of his lack of quality opposition at 154.
One thing that could cause problems for Canelo is if does agree to fight Trout on May 4th and then loses to him badly. If that happens it's going to be a real tough sell for a Canelo vs. Mayweather bout on September 14th. I'm sure a lot of boxing fans will want to see the fight, but it might be kind of a joke if Canelo is coming off of an embarrassing loss to Trout.