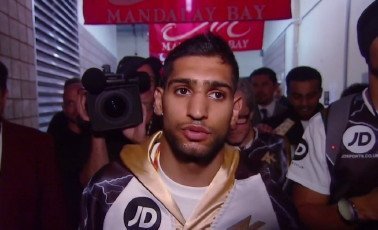 Trainer Abel Sanchez feels that WBA/WBC light welterweight champion Danny Garcia and WBA 147 lb. champion Marcos Maidana both deserve a fight against Floyd Mayweather Jr. more than Amir Khan does right now. However, Sanchez thinks that Khan will be the one that gets the fight against Floyd on May 3rd because he gives him the biggest money fight available compared to Maidana or Garcia.
Sanchez sees it ultimately business decision in Mayweather likely going with the better known Khan than the guys that have stayed busy with their careers and accomplished things recently like Maidana and Garcia have.
"A guy like Maidana, a guy like [Danny] Garcia deserves it more," Sanchez said to Hustleboss. "Amir Khan hasn't done enough to merit. It's a money thing, it's a business thing, it's a network thing…He may not be deserving, but he may be the biggest money fight for Floyd."
The fact that Mayweather hasn't named Khan as his next opponent could be a situation where he's trying to get him to accept less money rather than Mayweather being torn between Khan a fight against Maidana. If Mayweather wants Khan to come in at a lower rate then using Maidana's name as a pawn is a good way of getting Khan to accept less money.
Maidana is 6-1 in his last 7 fights, and recently captured the WBA welterweight crown last month in beating the highly hyped Adrien Broner by a 12 round unanimous decision. Maidana has shown a lot of improvement since his loss to Devon Alexander in 2012 and his defeat to Khan in 2010. Maidana's trainer Robert Garcia has changed his style to have him using his jab and head movement a lot more than he ever did before he started training him in 2012.
Danny Garcia is unbeaten with a stoppage win over Khan from 2012, and a victory over Lucas Matthysse recently. Those two victories would seem to make him a more deserving opponent for Mayweather than Khan.
As for Khan, he's 2-2 in his last four fights with a stoppage loss to Garcia and a decision defeat at the hands of Lamont Peterson in 2011. Khan barely won his last fight against a past his prime Julio Diaz last April, and he turned down a fight against former IBF welterweight champion Devon Alexander last December.