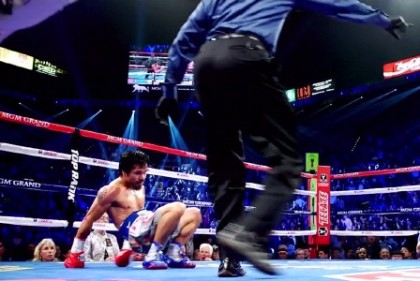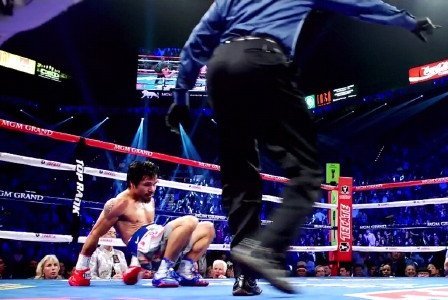 Floyd Mayweather Sr. thinks Manny Pacquiao has lost his one respected power in the past 4 years since the time he and Floyd Mayweather Jr. were in negotiations for a fight in 2010. Back then, Pacquiao was knocking guys out left and right, and blown out the likes of Miguel Cotto, Oscar De La Hoya and Ricky Hatton.
The knockout wins have dried up for Pacquiao with him failing to register a knockout since 2009, and this hasn't been unobserved by the elder Mayweather Sr. He feels that Pacquiao has lost the only thing that he had going for him – his power – and without that he would have no chance whatsoever against Floyd Jr.
Floyd Sr. told On the Ropes Boxing Radio "How are you gonna whoop Floyd with no power? That was the only thing he had going when they were talking before, that he may have a lucky chance to hit my son and get my son out. Now what he got in him now, what he fought that guy [Brandon Rios] with, he ain't gonna whoop my son, period. He's gonna get his a** tore up. I'm telling you the truth. He don't have a chance."
Yes, Pacquiao would be kind of the creek without a paddle in a fight with Mayweather Jr. if he didn't have the ability to knock him out, because he certainly wouldn't be able to out-box Mayweather. That's just not going to happen. It would come down to whether Pacquiao could knock Mayweather Jr. out or not. If he couldn't then he would lose the fight; it's as simple as that.
It is hard to argue with Floyd Sr's belief that Pacquiao has lost his punching power after 2009. When you see a fighter is no longer knocking people out then common sense tells you that they've lost their punching power. For example, Bernard Hopkins used to be a good puncher, but he hasn't knocked out an opponent in 10 years since his stoppage of Oscar De La Hoya back in 2004. It's easy understand the aging process that goes on with a fighter that causes them to lose their punching power. Once the power is gone it tends to stay gone. I can't think of any fighter who lost his power and he was able to bring it back.
Some of Pacquiao's fans think he's no longer knocking guys out because he feels sorry for them, and backs once he has a fight under control. I'm not so sure that's the case. Pacquiao looked like he was going all out in his fights against Juan Manuel Marquez, Brandon Rios and Tim Bradley, but he just couldn't get the knockout. It wouldn't come for some reason.