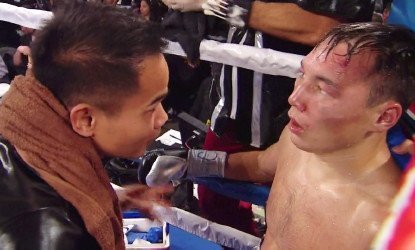 With Ruslan Provodnikov (23-2, 16 KO's) talking himself up as a possible next opponent for Manny Pacquiao (55-5-2, 38 KO's) for his next fight on April 12th in Las Vegas, Nevada, it could be that this is as good it'll get for Pacquiao for the remainder of his career if he stays with Top Rank until retirement.
A rematch with WBO welterweight champion Tim Bradley promises to be a boring affair, because Bradley will no doubt choose to move around the ring for 12 rounds like he did with his recent win over 40-year-old Juan Manuel Marquez. We're not going to see Bradley use the same fighting style that he did in barely beating Provodnikov last year. Bradley already said that he won't make that mistake again.
Unless Top Rank can add some talent to their stable in the 140-147 lb. divisions, the Provodnikov vs. Pacquiao fight could be the last interesting fight for Pacquiao that we see him in. Provodnikov has the power and the pressure style of fighting to give Pacquiao a lot of problems in this fight. Provodnikov isn't a punching bag like Brandon "Bam Bam" Rios was, so you can't expect him to end up like that. He's got a lot more going for him in the speed, power and skills department to make Pacquiao look his age in this fight.
Once Pacquiao gets past Provodnikov, there really isn't much for him if Bob Arum of Top Rank is going to stick with just matching him pretty much against his Top Rank fighters. There's Bradley, Rios [again], Mike Alvarado and not much else there for Pacquiao. Arum has lightweight Terence Crawford that he can move up to match against Pacquiao in the same way that Rios, a former WBA lightweight champion, moved up in weight over a year's time to fight Pacquiao. But a Pacquiao-Crawford fight isn't that appealing, but that doesn' mean that we won't see it happen.
If Arum was willing to match Pacquiao against Top Rank fighters Joshua Clottey and Rios, then Crawford and Mike Alvarado are definitely strong possibilities as future opponents for Pacquiao if he decides to stay with Top Rank beyond this year. Pacquiao's contract with Top Rank expires in 2014, so there's slight chance that he'll leave them go go after bigger fights. I don't think it's going to happen, and that's why Provodnikov could be as good as it gets for Pacquiao for the remainder of his career.
A Pacquiao vs. Provodnikov fight isn't a huge fight in terms of potential pay-per-view buys, but it's definitely the most competitive for him on paper. A rematch against Bradley for Pacquiao will likely come down to Pacquiao chasing Bradley around the ring for 12 dull rounds while fans boo and fall asleep. It's hardly worth even having a rematch between them because very few fans recognize Bradley's win over Pacquiao as being a legitimate one.