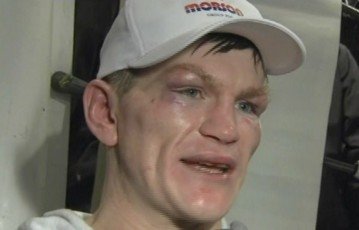 By Rob Smith: Ricky Hatton reportedly will be revealing who his next opponent during a press conference this Friday to discuss his upcoming comeback fight on November 24th in Manchester, England. It was thought that Australian Michael Katsidis would be Hatton's next opponent, but those rumors were quashed earlier today when Katsidis's agent Matthew Tripp told Sky Sports News "At this stage there has been no discussions. But it is something that we would consider depending on the purse and depending on the weight."
So there it is. If Katsidis was going to be the next guy to fight Hatton, he would have been contacted by now, but that's obviously not the case. It's probably helped Hatton by boxing fans thinking he's fighting Katsidis because it gave the impression that Hatton would be fighting someone decent. It might be a huge letdown on Friday if Hatton reveals that he's fighting someone lesser than Katsidis. For Hatton and the sake of boxing fans, hopefully Hatton is going to be fighting someone at least on par with Katsidis.
All this attention for Hatton's comeback fight only to see him fight some guy that has no chance of winning. You can make a strong argument that Katsidis would have had no chance of winning either given that he's a small lightweight and would likely be asked to move up two divisions to fight a heavy-bodied Hatton at welterweight. Hatton has been looking slender lately but he still appears to be around 160. I'm sure he'd melt some of that weight off before his November 24th fight, but I wouldn't be surprised if Hatton came into that fight weighing near 160 if the fight takes place at welterweight.
If it's not going to be Katsidis then it's anyone's guess who Hatton will be fighting. He might want to fight someone at least recognizable to the British boxing public, if not the worldwide public. We could see an old name trotted out to give Hatton some rounds in a fight that might look more like exhibition fight than an actual bout if it turns out to be someone really ancient.
Hatton looked pretty shot when he retired three years ago, and I can't imagine that three years of excess food and drink has done him any good. And all that weight he's packed on. Hatton's fighting style was all out brawling style that is usually only done by younger fighters. Hatton isn't young at 33, and he's about to turn 34. That's a ripe age for a small guy, especially one that's been retired for three years getting fat on good food and drink. In a way it would be good if Hatton fought someone like Katsidis in his first fight back, because Hatton might get a clue that the comeback idea isn't a good if he has to struggle to beat Katsidis or if he gets beaten by him.
To be sure of success in his November 24th comeback fight, Hatton needs a 2nd tier fighter that doesn't pose much of a threat to him. He can't fight someone that has talent because they may be able to land something hard enough to put Hatton down. We don't know whether Hatton can take any punch anymore after his loss to Pacquiao.