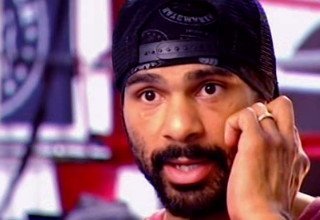 By Michael Collins: Former WBA heavyweight champion David Haye desperately wants to get a fight against WBC heavyweight champion Vitali Klitschko before the 41-year-old longtime World Boxing Council champion retires from the sport. However, there are limits to what Haye is willing to put up with in order to get the fight. Haye doesn't want to fight Vitali in his native Ukraine because he feels it could be dangerous for him to travel there due his fears of being attacked by racist people.
Haye said to the Guardian.co.uk "I've never been to Ukraine but I have heard it's very dangerous for a black man. There are crazy racists who have already sent me death threats. So Germany would be the best and safest place for me to beat Vitali and get out of the stadium alive."
Haye isn't exactly in the position to be calling the shots given that he's just a mere challenger now and no longer a title holder. If Vitali decides he wants the fight to take place in Ukraine, then Haye will have to decide whether he really wants to fight Vitali or not, because the offer will likely be final.
The reason why Vitali might want to fight in Ukraine rather than Germany is because this could be Vitali's last fight of his career. He's from Ukraine and it would be like a going away present to them. Besides that, it would help Vitali's political career to have the Haye fight staged in Ukraine. That's the smart move. If Haye is truly worried about getting hurt by some rowdy Ukrainian locals then he can always hire around the clock security to protect him.
It would be easy for him and his management to do, and he probably get it for a good price as well, not that Haye is hurting for money or anything. Vitali could easily sell out a huge football stadium in Ukraine and it would do tremendously well. But you can't expect Vitali to be dictated to by Haye in terms of where the fight will take place.
Haye lost his bargaining power when he was whipped by IBF/WBO heavyweight champion Wladimir Klitschko last year in July. That when Haye was dominated by Wladimir in a 12 round decision loss. Vitali doesn't need Haye to make huge money for his final fight, if that's what this will be. Vitali can fight the likes of Bermane Stiverne, Denis Boytsov or the winner of the Kubrat Pulev vs. Alexander Ustinov fight and it will do really well. It obviously wouldn't do as well worldwide as a Haye vs. Vitali fight, but Vitali would still make a huge amount of money no matter who he fights.
What Haye needs to do is decide whether he really wants the Vitali fight or not. If he does, then he needs to think hiring private security to be protected in Ukraine if that's where Vitali decides he wants to have the fight take place. Right now, there hasn't been anything said about a Haye-Vitali fight from Vitali, so this is all just paranoid talk from Haye.