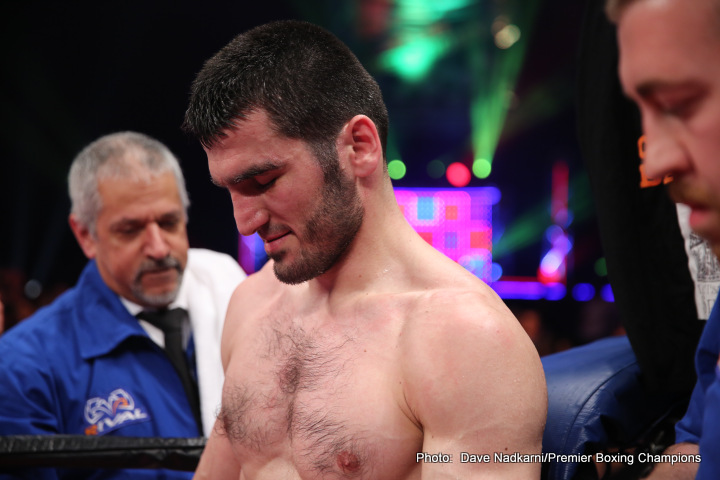 Unbeaten WBA NABA light heavyweight champion Artur Beterbiev (11-0, 11 KOs) racked up his 11th consecutive knockout victory in beating Isidro Ranoni Prieto (26-2-3, 22 KOs) by 1st round technical knockout on Friday night Lac Leamy Casino in Gatineau, Quebec, Canada.
The fight looked like a good one on paper before the bout started, but once it was underway, Beterbiev was out of Prieto's league entirely in knocking the Argentinian down twice in the 1st round before referee Michael Griffin called a halt to the fight at 2:44 of the round. The knockout came after the 31-year-old Beterbiev stunned Prieto with a left to the head that caused him to stagger backwards. Beterbiev then followed after him and hit him with a right and then a left to knock him down. That was the end of the fight. The referee had seen enough, so he halted the contest right there.
Earlier in the 1st round, Beterbiev knocked Prieto down with a scorching right hand that put him down hard. Prieto was trying to land one of his own shots, and Beterbiev's right hand got there before his. As hurt as Prieto was, it's a miracle that he got up at all. He was very hurt. It's kind of surprising that the referee let the fight continue after Prieto got to his feet on shaky legs.
Beterbiev could have finished Prieto off immediately, but he let the fight continue a little while longer while he stalked him around the ring. The patience that Beterbiev showed in the fight was impressive. I don't know of too many fighters that would have been as patient as Beterbiev was after he got Prieto hurt. The reason why Beterbiev was so patient is because he knew that he had the kind of power that could hurt him again and finish him off at any time.
That's the hallmark of Beterbiev's fighting style. He's never overanxious when he gets a guy hurt. He takes his time and lets them survive for a while longer. Usually when Beterbiev gets someone hurt, he knocks them out in the same round. He doesn't treat them like a mouse that he's toying with. He gets it over with.
The win for Beterbiev shows that he's in the same league as the top light heavyweights in the division in Andre Ward, Sergey Kovalev and Adonis Stevenson. Beterbiev will be getting a title shot against one of them in 2017. The big money would come if Beterbiev can get a fight against Ward if he beats Kovalev. That would be tough on Ward to have to go from fighting Kovalev in consecutive fights to face Beterbiev. Kovalev might take something out of Ward in their second fight. By the time Beterbiev gets a shot at Ward, he might not have much left.