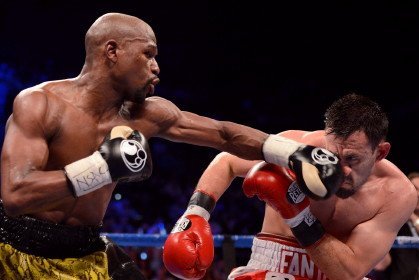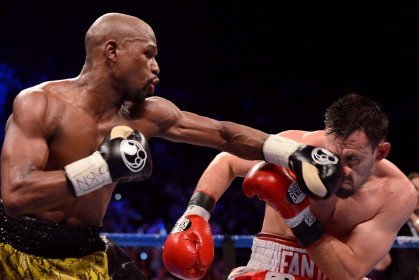 (Photo credit: Naoki Fakuda) My pre-fight 'just the facts' article made reference to a quicker, sharper, Money Mayweather with the return of good legs which were rested and not overtrained. Rest and pace were the recipe of success for the 36 year old. Following the Rigondeaux and Canelo fights where both men won using 'boxing skill', Mayweather had to put on a show to rival or exceed both men's performances and that he did. Floyd Sr. working 'Lil' Floyd's corner as chief 2nd for the 1st time in 13 years, did his part strategizing and giving good corner instructions between rounds.
Floyd fought toe-to-toe for spells and then used his legs for better ring generalship, lateral movement and advantage when needed. He beat Guerrero to the punch throughout the fight and made the Gilroy Ca., native MISS 80% of his punches. Defense that was 'so so' for the Cotto fight was 'great' for the 'May Day' main event. Floyd's offensive output was conservative but most dominant and effective in rounds 3, 4, 5, 6, 8, 9, 10, and 11; especially rounds 8 and 11. In close Floyd smothered and tied up Guerrero's punching in most cases forcing a referees break, negating the in-fighting that Guerrero used with great results to defeat Andre Berto.
The legs that that the Guerrero's and even Freddie Roach claimed were gone, were back, as Mayweather moved and used the whole ring to defeat 'The Ghost'. The quickness and speed, that Mayweather showed early in career was also back with Mayweather landing 60% of his punches. And defensively,Mayweather was more 'Ghost-like' then his opponent this night.
Many of Mayweather's detractors and naysayers who picked Guerrero to win via KO, by now are back on the 'hate train' proclaiming Mayweather a 'cherrypicker, or worse. Most of the Mayweather critics will also say that Mayweather ran all night refusing to stand and fight 'like a man'. Other anti-Mayweather rhetoric will tell the story of this fight being a boring fight, insinuating that Mayweather is a boring fighter.
Boring is a matter of Opinion!
The 3 official judges ALL scored the fight 117-11, 10 rounds to 2 in favor of Money Mayweather. Winning is a matter of Fact!