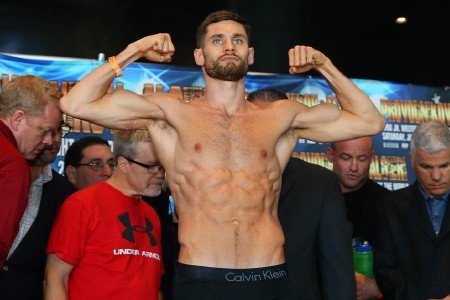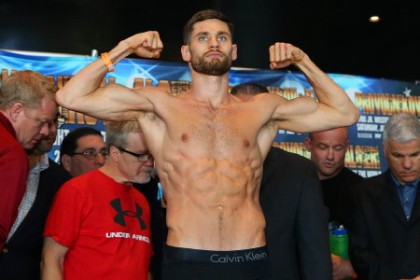 (Photo credit: Ed Mulholland/HBO) If you're looking to witness a boxing match that's defined by the differences that exist between the two combatants, then you'd be well served to watch the upcoming WBO Jr. Welterweight bout that's scheduled to take place this evening between Ruslan Provodnikov and Chris Algieri. For, in terms of their background, as well as in terms of their fighting style, these two present about as stark a contrast as a boxing fan could ever hope to find.
The champion, Provodnikov (23-2, 16 KO's) is a stocky, barrel-chested Siberian with facial features that appear to have been hewn from pure granite. He looks to be the very epitome of the term "battle-hardened warrior", and in this case appearances aren't the least bit deceiving.
For, Ruslan's willingness to engage in combat has never once been in question. It was apparent in his youth, when he routinely travelled ten hours in order to train; and it was present throughout the course of a one hundred and fifty fight amateur career. It's most certainly been evident throughout the course of professional career that has spanned seven and a half years- especially in the way in which he's rebounded from each of his two professional defeats. After dropping a hard fought (and highly disputed) decision to the tough, tricky Mauricio Herrera, he rebounded with five consecutive wins. And, after taking then WBO welterweight kingpin Timothy Bradley to, and very nearly beyond the limit in last year's Fight of the Year, he proceeded to come back and wrench the WBO Jr. Welterweight crown from Mike Alvarado in his very next fight.
Yet, Provodnikov's warrior spirit is probably best reflected in the way he fights inside the ring. Once the opening bell rings, the man known as "The Siberian Rocky" invariably begins to advance relentlessly toward his opponents with the intent of bludgeoning them into submission. It's a simple, straightforward strategy, but the Russian's incredible ability to walk through his opponent's incoming in order to deliver continuous barrages of power punches makes this approach awfully effective. Put simply, Ruslan comes to hurt his opponent, and usually succeeds in doing so. Hell, even when he's lost, he's been able to either bust them up (as was the case against Herrera), or to badly hurt them (which occurred on more than one occasion in his fight with Bradley).
It's not easy for any opponent to face someone like this. It requires extraordinary talent and toughness to overcome a fighter who possesses a single minded desire to keep fighting until such time as his foe's body and willpower are completely and utterly broken. And most observers are inclined to believe that the first challenger for Ruslan's newly acquired title lacks what's needed to complete the task before him.
It might not necessarily be fair, but part of the reason why Chris Algieri (19-0, 8 KO's) isn't considered a serious contender might be due to the image he projects outside the ring. He's clean cut, articulate, intelligent, and well educated- indeed, he holds a Master's degree in Healthcare Science from the New York Institute of Technology- and therefore comes across as being not the least bit intimidating. It's difficult for the average boxing fan to envision the possibility that someone like this might have the wherewithal needed to overcome a beast like Provodnikov- and only natural that some fans would dismiss his chances as a result.
Still, even if Algieri projected a different image, the fact remains that he's relatively inexperienced as a boxer, and largely untested at the world level. Unlike his opponent, he served no apprenticeship in the amateurs (though he did have an extensive and successful career as a kick-boxer); and by and large the selection of opposition that he's defeated as a pro hasn't approached the caliber of the fighter's he's about to face this evening .
That being said, there's reason to believe that the native of Huntington, New York might be capable of troubling the champion when they step inside the ring at Brooklyn's Barclay's Center.
For starters, he's four inches taller than his opponent, has a six inch edge in terms of reach- and utilizes the type of style that would allow him to fully exploit the physical advantages he holds over his opponent. Algieri's a quick-fisted boxer who uses a consistent jab to set up a variety of combinations from long range; while demonstrating an ability to fire sharp uppercuts with both hands when forced to fight in close. The challenger has also proved himself capable of throwing close to a hundred punches a round in previous outings, and has displayed the stamina to maintain this pace throughout the course of the entire fight.
Of course, it takes more than speed, stamina, and a steady stream of punches to keep a fighter like Ruslan Provodnikov at bay. Fortunately for Algieri, he's also displayed improved defensive awareness in recent fights. He's used awkward but effective lateral movement to keep opponents off balance in previous outings; but, in his most recent fight against Emmanuel Taylor he was able to block or slip the majority of his opponent's shots and proved difficult to hit with anything more than a single punch at a time.
So, Algieri has some tools to work with- and it's important to note that they're similar to those utilized by the two fighters who hold victories over the Siberian. Herrera was able to use superior work-rate to capture the eyes of the judges, while Bradley was able to out-box Ruslan for extended portions of their fight. Algieri has yet to prove that he's at the same level as these two, but he does utilize a style that has presented Provodnikov with problems in the past. And, while he might lack the ability to knock out or seriously hurt his rival, it's not out of the question that he might be able to cut his opponent, or to create some swelling around his eyes. Provodnikov has been susceptible to this in the past, and it's entirely likely that this will continue to trouble him as his career progresses.
Of course, it's entirely possible that by the time that occurs, Provodnikov will have once again found a way to impose his will upon an opponent. It's well within the realm of possibility that he'll eventually grind Chris Algieri down through constant pressure and power punching and secure another stoppage victory on his record. In the most of most boxing fans, this is the scenario that's most likely to occur when these two step inside the ring tonight.
However, it's the opinion of the author that the scenario that most would consider to be most likely isn't the one that's about to take place.
Algieri is smart enough not to willingly engage the champion in a fire-fight, as Bradley decided to do when he faced Ruslan in March of last year. He's talented enough to keep the fight at his desired range throughout enough of the early rounds to bank them on the judges' scorecards; and to land with enough frequency that the champion will have a bit of steam taken out of him when he attempts to surge in the later rounds. And, based on the way that Algieri has reacted in the past when tagged, the guess here is his conditioning and focus will allow him to survive some moments of difficulty and make it to the final bell.
Tonight, a battle-hardened warrior will provide a young student of the game with his most difficult test to date…
And, against conventional wisdom, the pick here is that the student finds a way to pass the test, and graduates to a whole new level in the process.
The pick: Algieri by Majority Decision.