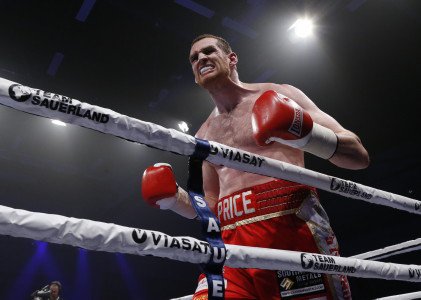 David Price really wants a shot at IBF heavyweight champ Anthony Joshua – the man he revealed last week he flattened in sparring many moons ago. Price, under new trainer Dave Coldwell, is finally finding his "nasty side," according to the trainer who spoke with Sky Sports today. Coldwell says Price is "fed up of being ridiculed and written off," and now has "the devil in him" as he trains and looks for his next fight.
Coldwell says Price will fight like the huge puncher he is from now on; so it's goodbye, nice guy, hello merciless puncher. At least that's what Coldwell says, and he is "loving it."
"I've always said he's too nice, too amiable, too soft," Coldwell said of Price, who has scored one comeback win under his new coach. "I've told him he needs to get that dog in him, that devil. I love it! I like this attitude that Pricey is getting – he's a massive, 20-stone man and he needs to impose himself by being a vicious animal. If you're a big puncher you've got to let them know you're a big puncher. That's what's going to happen in his fights now."
Price is expected to box a tune-up type fight on the Oct. 15 Bellew-Flores card in Liverpool, but Coldwell says that if Joshua needs a challenger in November, Price is totally up for it. In fact, Coldwell says that if A.J won't face Price in a voluntary defence, he will look to fight unbeaten New Zealander Joseph Parker so as to earn a shot at the IBF champ. Parker of course, is Joshua's mandatory but he might have to wait a few months before he gets his shot – would the talented New Zealander look to take a risky fight with Price as he looks to keep himself sharp?
Price can and always could punch, and that KO he scored over Joshua sure has got people talking. If we really do get to see Price the bad guy, the nasty puncher, the merciless slugger, it will be most interesting. Frank Bruno was always tagged as being "too nice," yet he finally managed to win the big one, the WBC crown, at the fourth attempt. Maybe Price will use the criticism against him in his own quest to prove the doubters wrong.
Just who will Joshua fight next? We must wait and see, but if it is Price, and if a vicious and determined Price uses his size, strength, power and aggression against the still-learning champ, anything could happen.