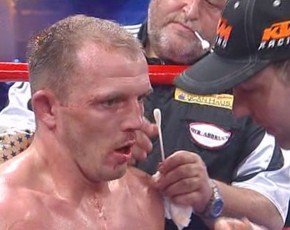 WBA light heavyweight champion Juergen Braehmer (44-2, 32 KO's) retained his WBA 175lb title with a 12 round unanimous decision win over Robert Bolonti (35-3, 24 KO's) on Saturday night in a largely one-sided decision at the Sport and Congress Center, Schwerin, Mecklenburg-Vorpommern, Germany.
Braehmer did little more than jab and grab for 12 rounds to get an easy win over Bolonti. Braehmer didn't have to worry about anything big coming back at him because Bolonti didn't have the power or the size to make a fight of it. He looked like an averaged size middleweight trying to fight at an aging light heavyweight in 35-year-old Braehmer.
The final judges' scores reflected the mismatch with the judges scoring it 118-109, 119-109 and 119-108.
The fight was won the moment the contract was signed though because Bolonti had already been badly exposed by Tony Bellew two years ago in losing a 12 round decision. Why Braehmer's promoter selected the #14 WBA Bolonti instead of a more credible opponent is unclear, but with match-making like this, Braehmer could stay a champion into his 40s.
—
British heavyweight David Price (18-2, 15 KO's) defeated journeyman Yaroslav Zavorotnyi (16-7. 14 KO's) by a 10 round unanimous decision. Price landed a lot of big shots to the head and body of the Ukrainian Zavorotnyi, but he was unable to seriously hurt him no matter how big punches he landed.
The judges scored the fight 97-92, 100-90 and 98-92.
You've got to give Zavorotnyi a lot of credit for being able to take some tremendous punishment in the fight and still keep coming forward. For his part, Price showed a good chin as well in taking some good shots. Price also did a good job of pacing himself, and remaining relaxed during the entire 10 rounds. He didn't stress out like he did in his second loss to Tony Thompson last year.
—
Former WBA cruiserweight champion Firat Arslan (34-7-2, 21 KO's) beat journeyman Tomas Bajzath (9-11-1, 5 KO's) by an 8 round unanimous decision. Arslan put Bajzath down on the canvas in the final round.
—
Other boxing action on the card:
Enrico Koelling US 12 Patrick Bois
Cecilia Braekhus UD 10 Jessica Balogun
Vincent Feigenbutz KO 3 Gheorghe Sabau
Noel Gevor TKO 2 Bela Juhasz