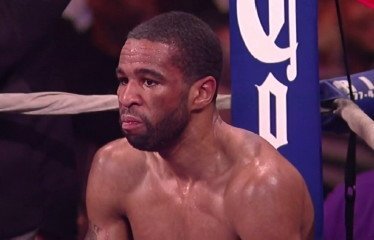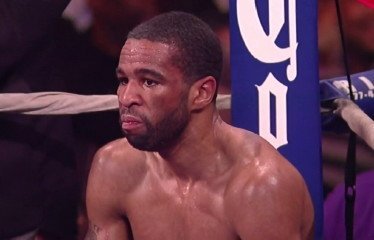 By Bill Phanco: In an impressive performance, IBF light welterweight champion Lamont Peterson (31-1-1, 18 KO's) retained his IBF title on Friday night in stopping Kendall Holt (28-6, 16 KO's) in the 8th round at the DC Armory, Washington, District of Columbia, USA.
Referee Tony Weeks stopped the fight after Peterson unloaded with a storm of shots while Holt stood helpless against the ropes futilely trying to block the nonstop rain of shots. The official stoppage was at 1:42 of the round. Peterson put Holt down in the 4th and 6th rounds, and had him hurt in every round from the 4th on.
Peterson, coming off of a 14 month layoff, looked out of sorts in the first three rounds. Holt was landing well with fast power shots during those rounds, and Peterson just wasn't letting hands go like he had in his last fight against Amir Khan in December 2011. In the 4th round, Peterson finally woke up after connecting a big left hook to the head that caught the attention of the Washington, DC fans at ringside.
Peterson then transformed into a power puncher as he unloaded with some vicious shots that had Holt backing up and looking uncomfortable. With little time left in the round, Peterson landed a scorching left hook that put Holt down.
http://youtu.be/KBWwVzkja1E
Peterson had Holt hurt again in the next round after flurrying on him with some hard body shots. Holt held on tight, and had to be peeled off of Peterson by referee Tony Weeks.
In the 6th, Peterson caught Holt on the ropes and unloaded a salvo of shots on him that ended with a badly hurt Holt taking a knee. He made it up at the 8, and continued to take one-way punishment until the round ended shortly thereafter.
http://youtu.be/UeTe41vSAh8
Holt stayed on the move in the 7th, using his jab to keep Peterson from getting close to him. Holt fought well in the round, but was hurt late when Peterson cornered him against the ropes and flurried. The round ended just in time for Holt because he likely would have been stopped in that round had there been a little more time left.
In the 8th, Holt used his jab and tried to stay out of range of Peterson's shots. However, Peterson caught up to Holt and unloaded with a blizzard of shots while he was covering up on the ropes. Referee Tony Weeks then stepped in and stopped the fight at 1:42 of the round.
http://youtu.be/g_TArHUNgnQ
***
Other boxing results on the card:
Roman Morales KO 5 Jesus Antonio Hernandez
Raul Lopez UD 6 DeWayne Wisdom
Elvin Sanchez TKO 2 Venroy July
Gevonte Davis KO 1 Desi Williams
Danny Kelly KO 1 Schyuler Marshall