Former WBO heavyweight champion Joseph Parker (30-2, 21 KOs) left no doubt who the better man was in defeating Dereck Chisora (32-12, 23 KOs) by a 12 round unanimous decision on Saturday night in the main event on DAZN at the Manchester Arena in Manchester, UK.
Fighting for the second time, Parker knocked a tired-looking 37-year-old Chisora down in rounds 4, 7, and 8th.
The fight was almost stopped when Chisora backed up against the ropes in round nine and was shelled by Parker. That sequence was painful to watch, as Chisora was hit with repeated left hooks to the head.
Perhaps sensing the referee was close to halting the contest, Chisora started firing back and finished the round strong with him turning the tables on Parker.
The scores were:
Parker fought well enough to win by much wider scores than those three, but the judges gave Chisora rounds on effort rather than on which of the two were landing the cleaner, harder shots.
Taking a page out of David Haye's playbook, Parker had a lot of success landing his uppercuts against Chisora. Parker took advantage of Chisora's Joe Frazier style of fighting in which he was always leaning forward, wide open for uppercuts.
After the ninth, Parker looked like he had very little left, as he let Chisora take the fight to him in rounds 10, 11, and 12. It wasn't a good way for Parker to finish the fight, but he had nothing left in the gas tank after the ninth.
Kevin Lele Sadjo stops Jack Cullen
The powerful Kevin Lele Sadjo (17-0, 15 KOs) wore down and stopped the game Jack Cullen (20-3-1, 9 KOs) by a sixth round knockout to claim the vacant EBU European super middleweight title.
Cullen used his height and reach to stay in the fight through the first five rounds, but in the sixth, the shorter 5'8″ Sadjo of France caught with a textbook left hand to the body that folded him like a suit, putting him on the canvas.
The body shot that Sadjo landed would have stopped a heavyweight. He put everything he had into it, and it was like a knife piercing through Cullen's midsection.
Despite dealing immense pain, Cullen somehow rose to his feet to beat the count, but the referee John Lathan decided that he wasn't in any condition to continue fighting and waved it off. The time of the stoppage was at 1:11 of the sixth.
Sadjo got the pro-Cullen crowd riled up by parading around the ring, shouting with glee moments after dropping him.
At one point, Sadjo threw fuel on the fire by doing pushups while the crowd screamed bloody murder, letting him know what they thought of his showboating tactics. Sadjo was literally rubbing it in by being excessive with his celebrating.
The referee then walked up to Sadjo and told him to tone it out, as he was going overboard. At the time, Cullen was still flat on his back on the canvas with a look of pain on his face.
It was obvious that Sadjo was going to stop Cullen at some point in the fight, considering he was nailing him with looping right hands that were connecting with tremendous power behind them.
What made the shots even more devastating is that Cullen didn't see them coming. He was doing a terrible job of tracking Sadjo's right-hand shots when he would loop them and was getting hit hard beginning in the third.
Zelfa Barrett dominates Bruno Tarimo
Highly ranked Zelfa Barrett (26-1, 16 KOs) outboxed a very aggressive Bruno Tarimo (26-2-2, 5 KOs) in beating him by a thrilling 12 round unanimous decision in an IBF super featherweight world title eliminator.
The scores were 117-110, 117-110, and 116-111. Initially, Tarimo gave Barrett issues with his nonstopping attacking style in the first two rounds.
However, in the third round, Barrett caught the 26-year-old Tarimo with a perfectly placed left to the head that knocked him on his backside.
Interestingly, that didn't change Tarimo's fierce attacking style, but it did set the tone of how the fight played out. In each round, Tarimo continually to rush forward, leaving himself open for Barrett's counter shots.
It was a fun fight to watch, and arguably the best on the card thus far.
Lerrone Richards defeats Carlos Gongora 
Unbeaten #10 WBO super middleweight contender Lerrone Richards (16-0, 3 KOs) put on a masterclass performance in beating highly ranked previously undefeated IBO 168-lb champion Carlos Gongora (20-1, 15 KOs) by a 12 round split decision.
Richards controlled the action from the outside using his jab, and being slick the entire fight. When the heavy-handed 32-year-old Gongora came forward looking to land, Richards would circle the ring or tie him up in a clinch.
The scores were:
115-113 – Richards
115-113 – Richards
116-112 – Gongora
The fight was winnable for Gongora if he had an inside game, but he looked untrained in that department. When Gongora would get inside, he would use the time to rest rather than work.
It was an odd approach because Gongora was getting beaten to the punch all night by Richards on the outside, and his only chance of winning was to work on the inside.
After the fight, promoter Eddie Hearn gave Richards a little hint by saying that he would like to see him being a little more entertaining so he can turn him into a star.
Hearn was right about Richards needing to be more entertaining because it was incredibly boring watching him pulling back all night, and clinching frequently.
That style of fighting is difficult to watch and similar to bantamweight Guillermo Rigondeaux, but less entertaining them because he has good power in his left hand.
Hearn might be asking too much of Richards because he doesn't possess the power. If Richards tried to be entertaining against a fighter with power and an inside game, it would likely end badly for him.
Gongora has a lot of work to do if he wants to come back from this loss because he was exposed tonight by Richards. Without an inside game to speak of, Gongora would stand no chance against the better fighters in the 168-lb division.
Alen Babic stops David Spilmont
Undefeated bridgerweight contender Alen 'The Savage' Babic (10-0, 10 KOs) survived a scare to stop a motivated David Spilmont (11-8-1, 7 KOs) by a sixth round knockout,
Babic, 31, gave a lot of size to much bigger southpaw Spilmont, and found himself close to being knocked out in the second round after getting nailed repeatedly by a left hand from the big 252 lb Frenchman.
The superior conditioning of Babic took over with him dropping the tired-looking Spilmont in the fourth and sixth rounds. The time of the stoppage was at :53 of round six.
It was NOT a great performance from Babic, who could soon be facing Oscar Rivas for the vacant WBC bridgerweight title.
In other action on the card, cruiserweight prospect David Nyika (2-0, 2 KOs) defeated journeyman Anthony Carpin (5-7-2, 2 KOs) by a first round knockout in a scheduled four round bout.
Nyika dominated the round, hitting Carpin at will with shots. After the round ended, Carpin wisely opted not to come out for the second.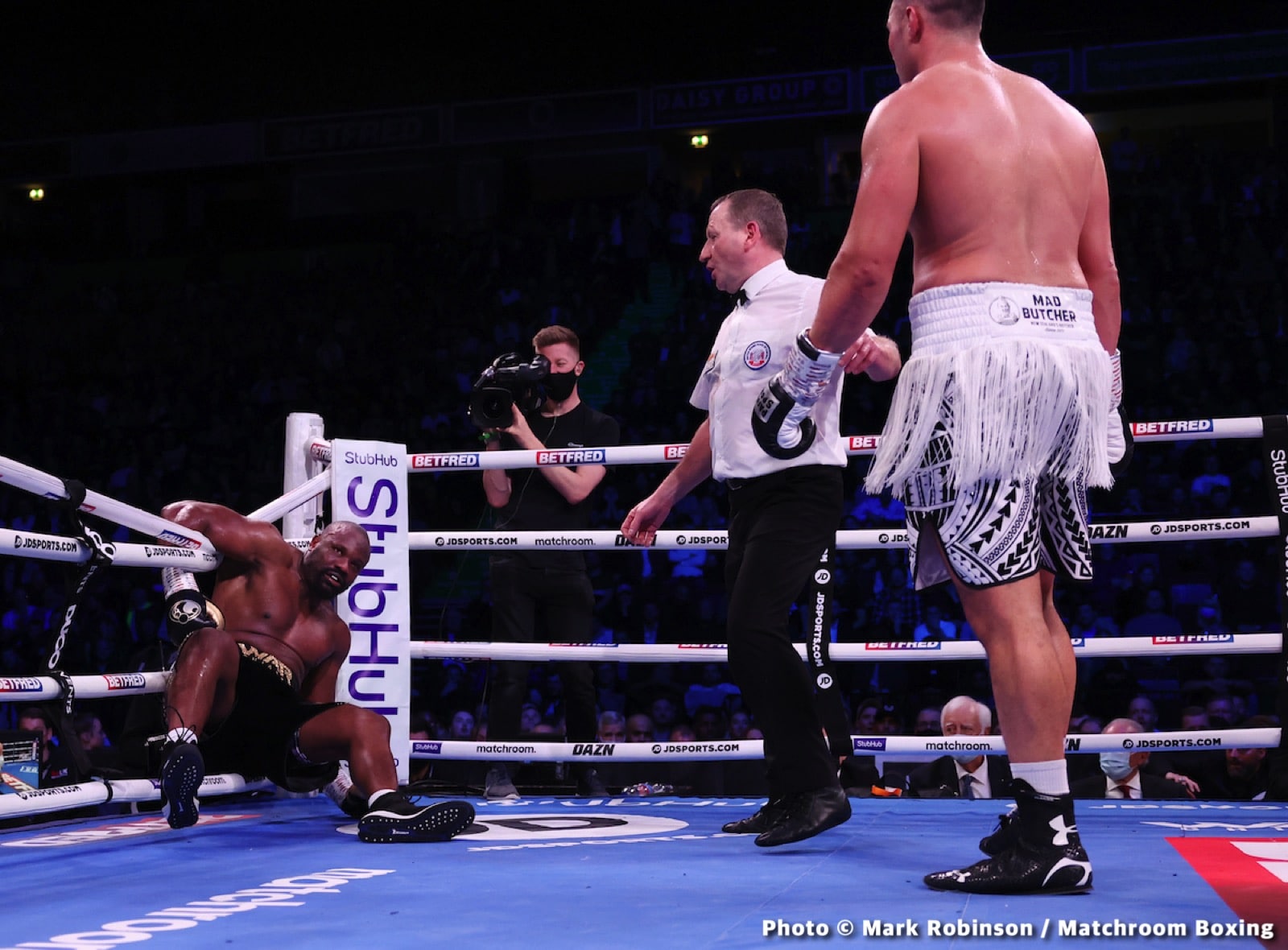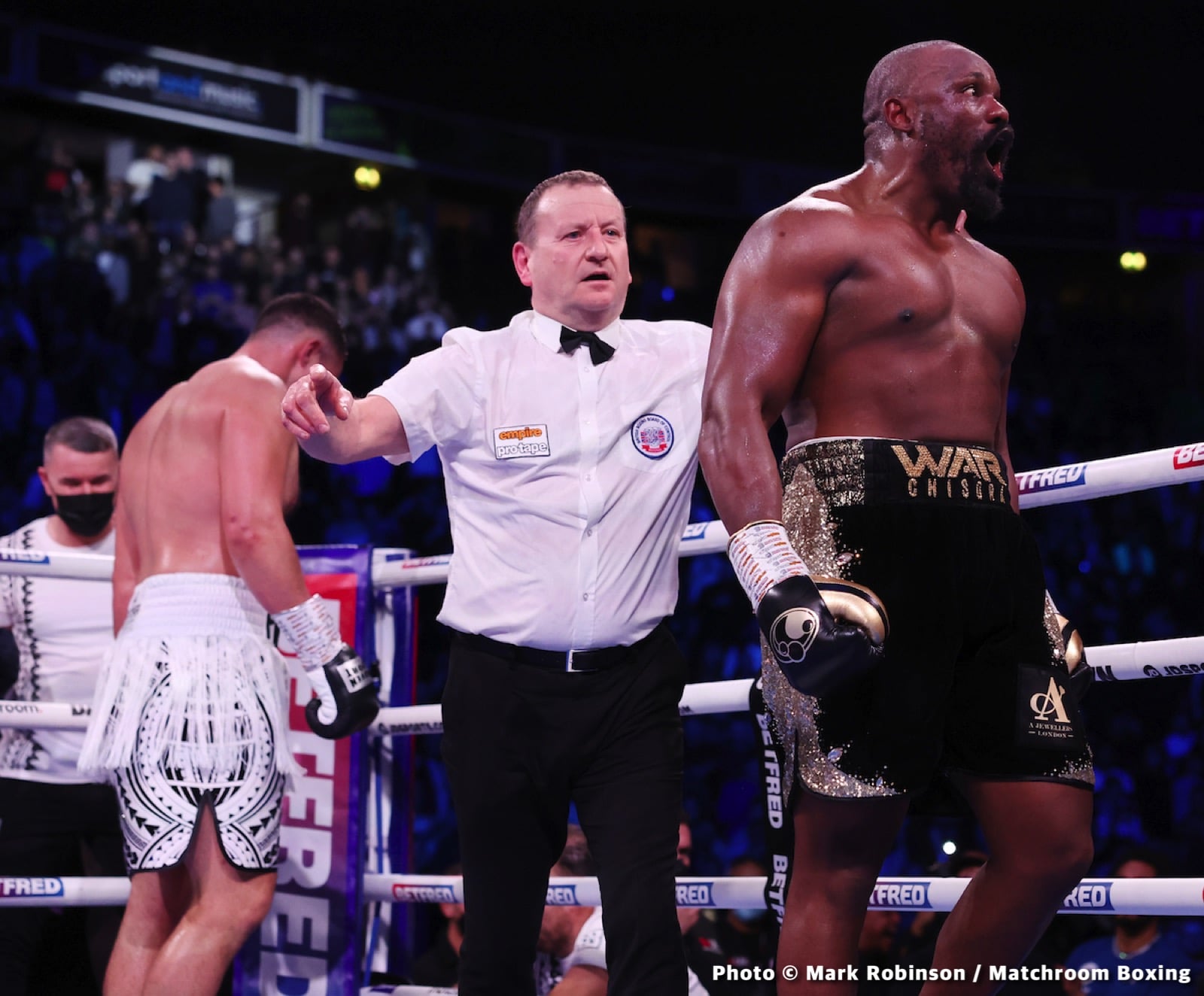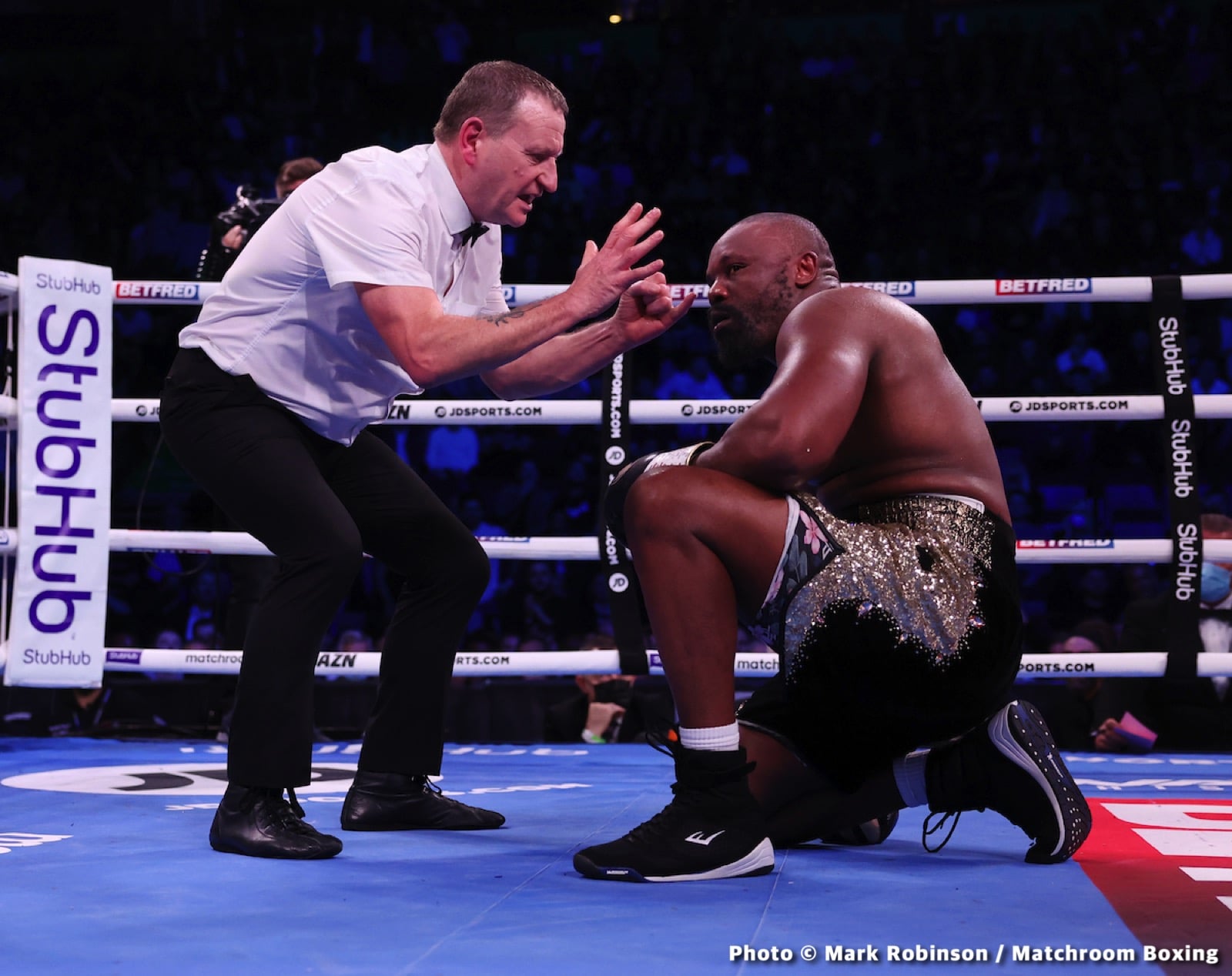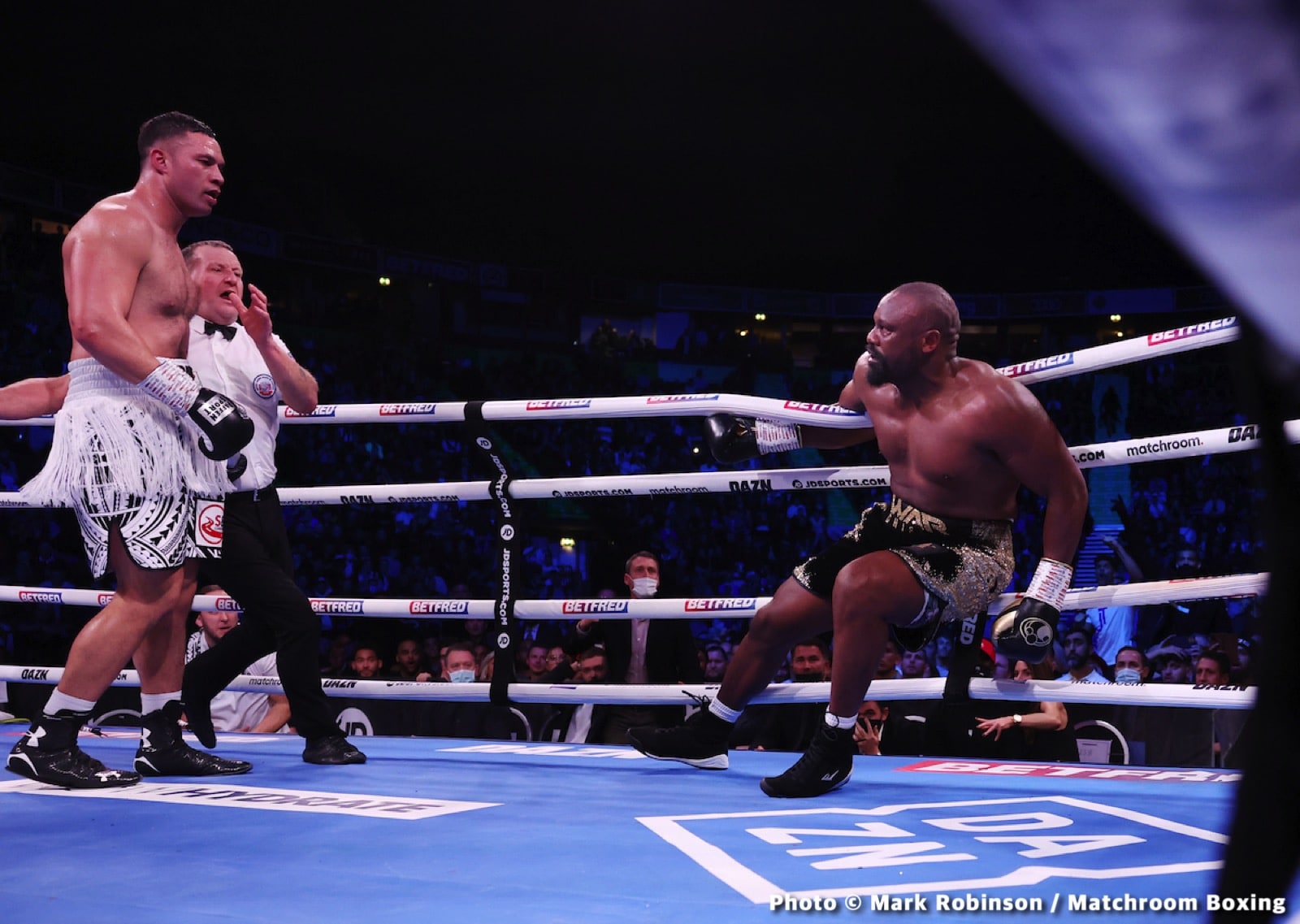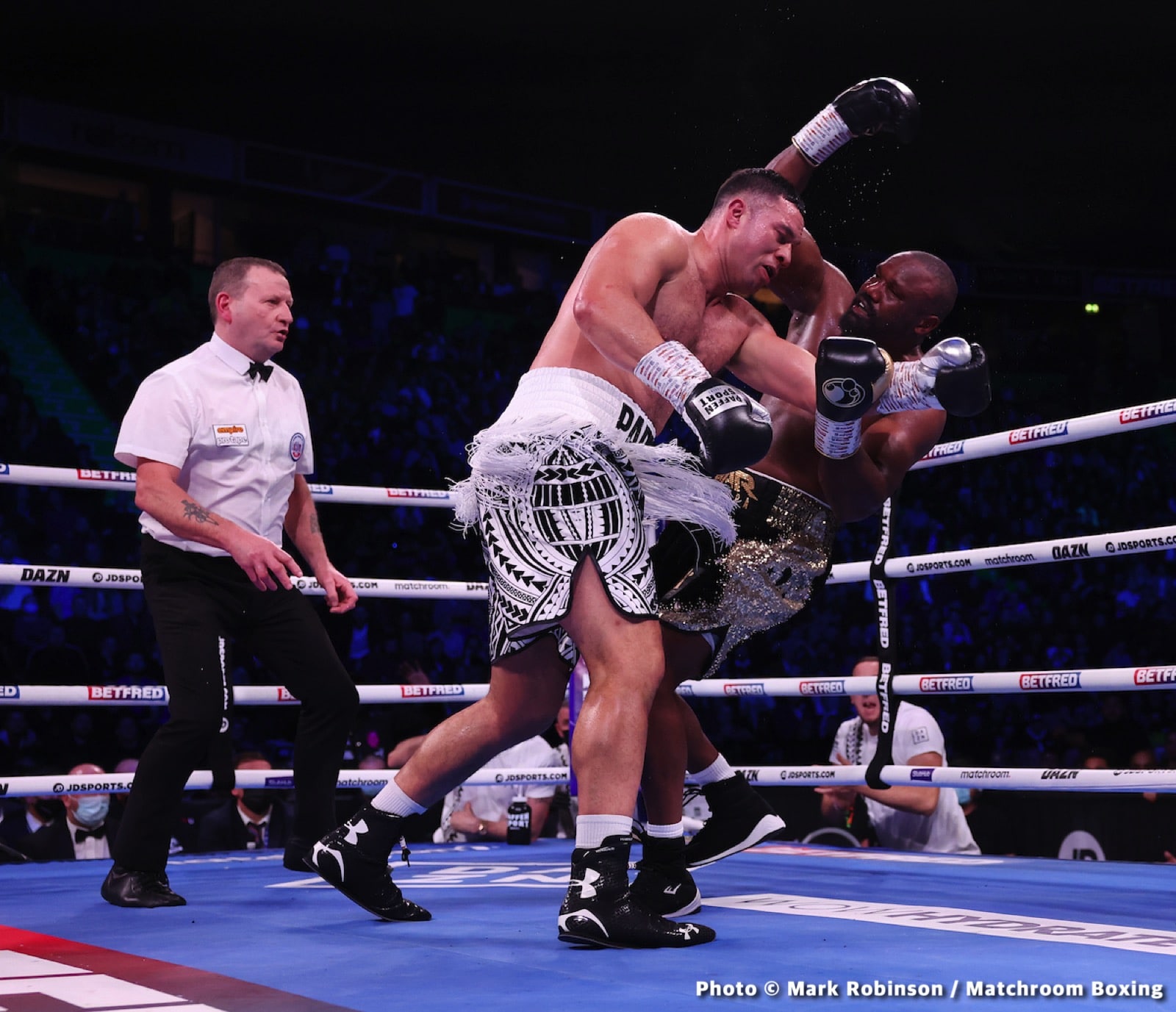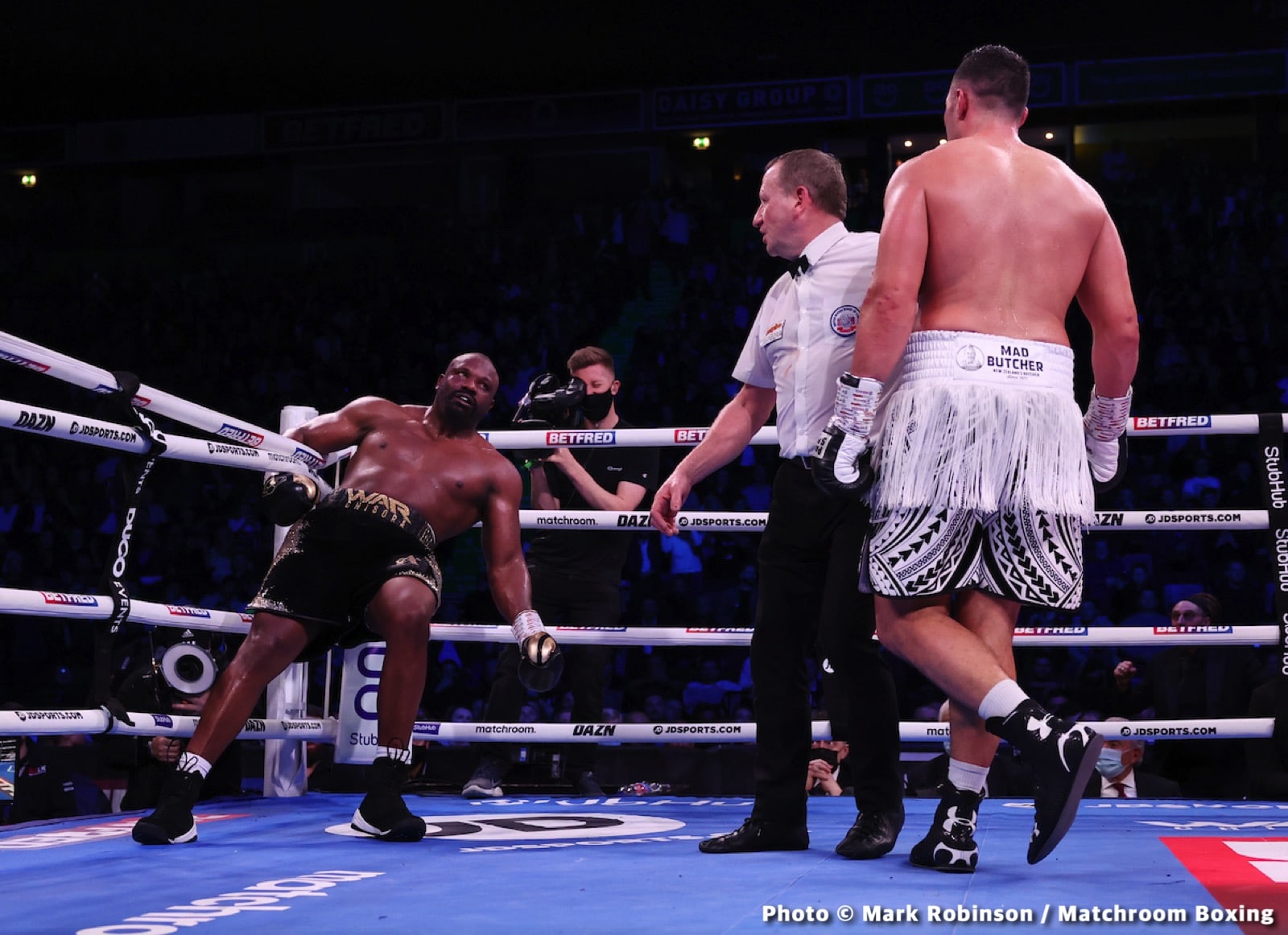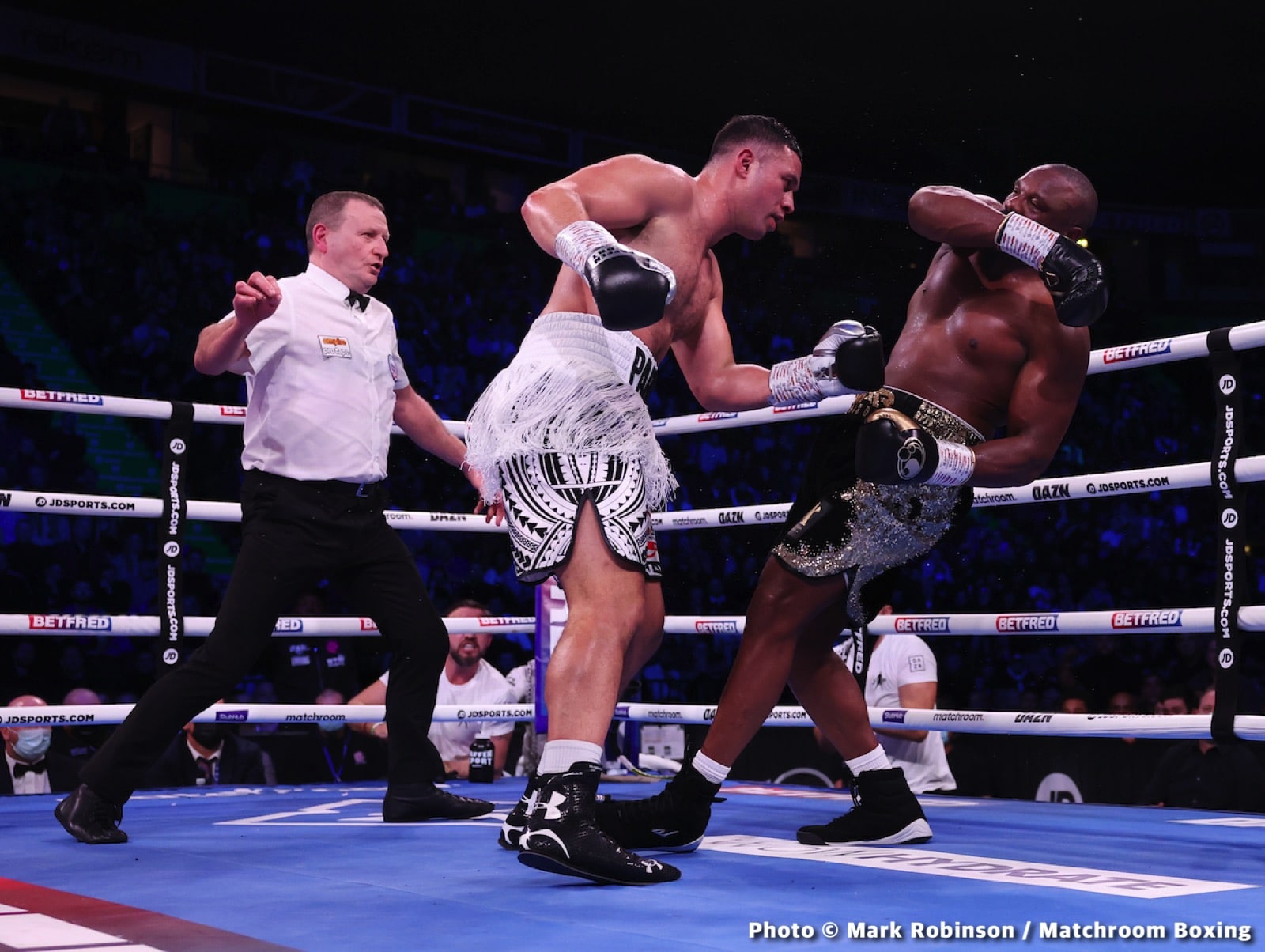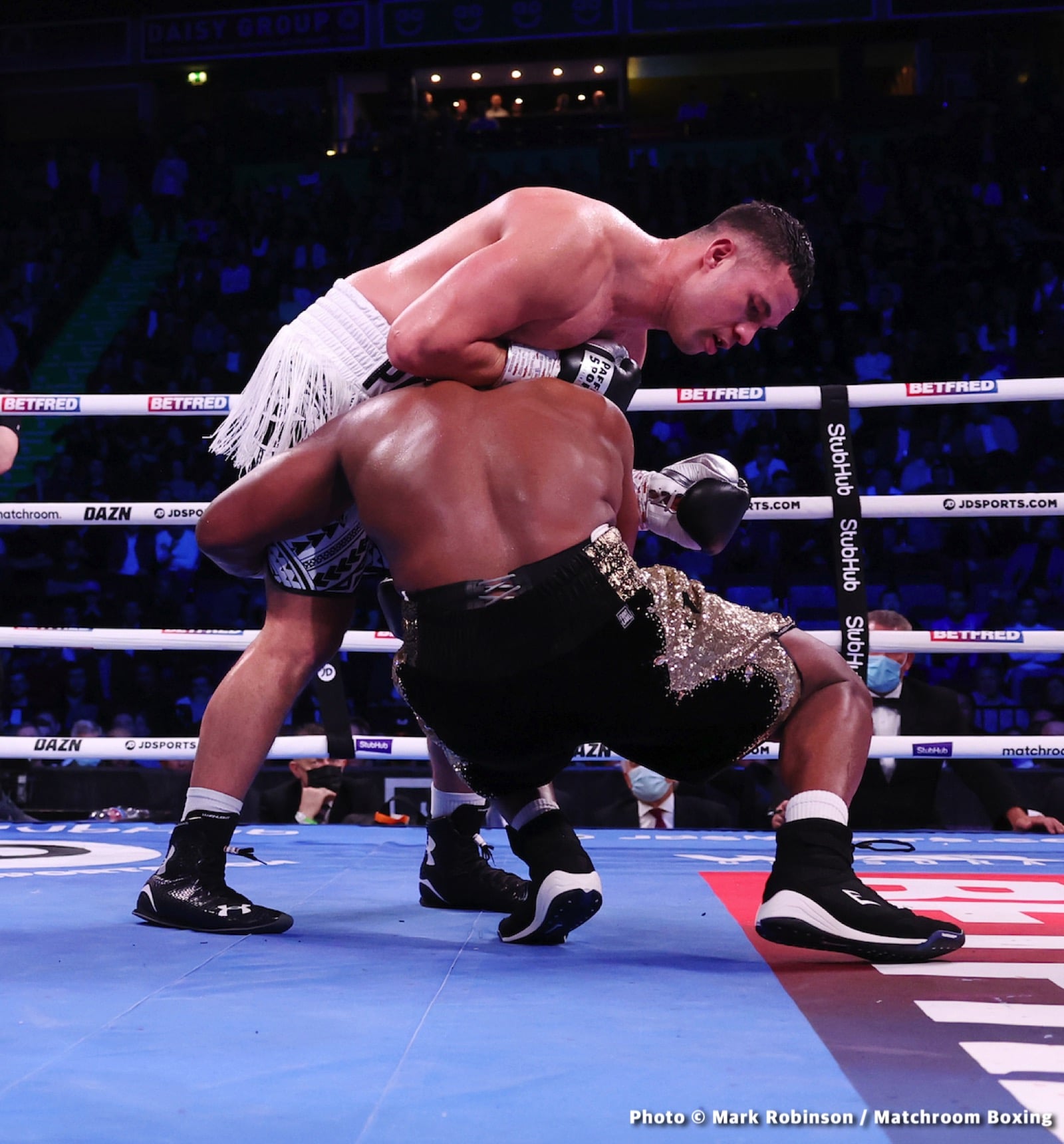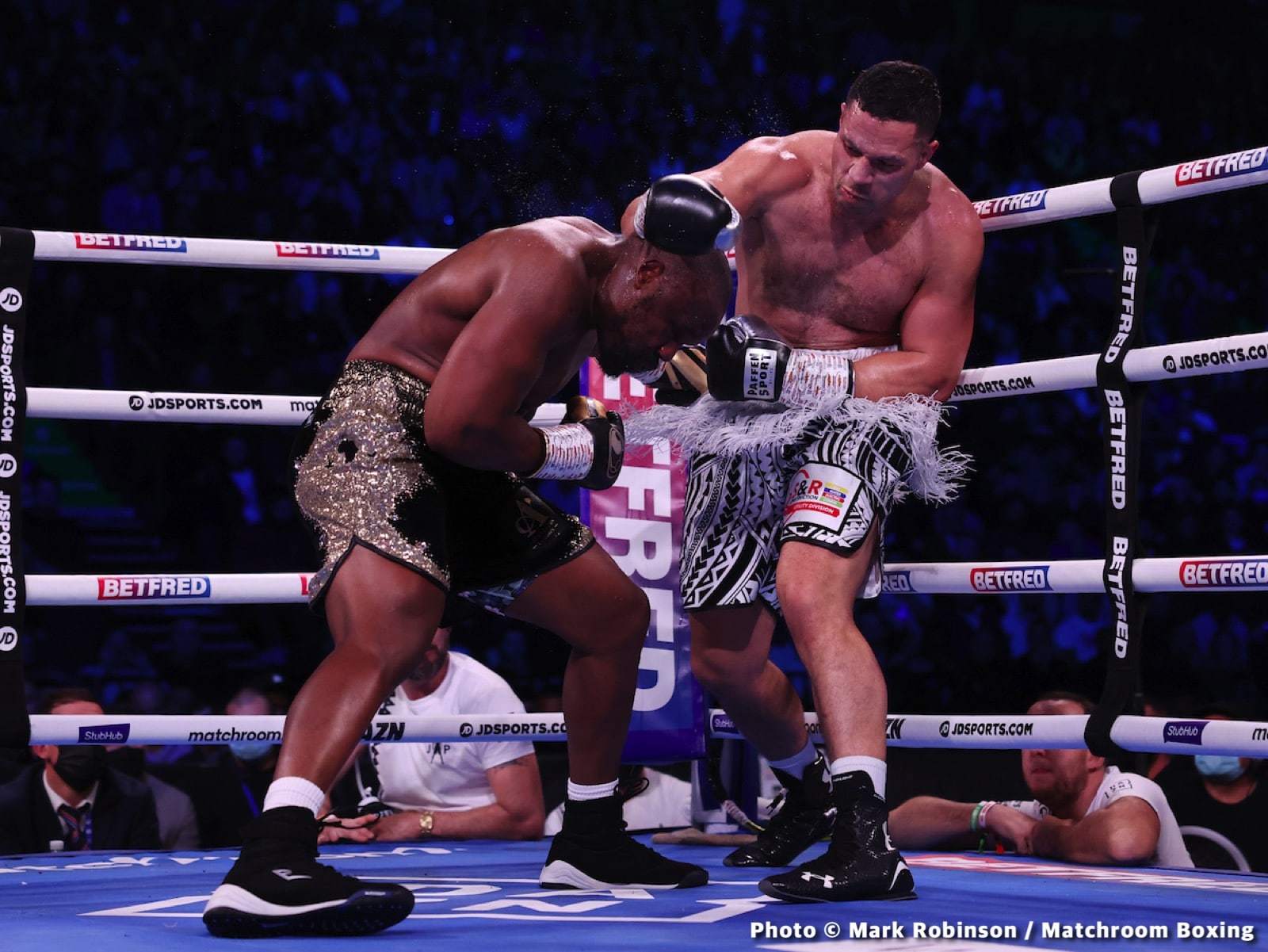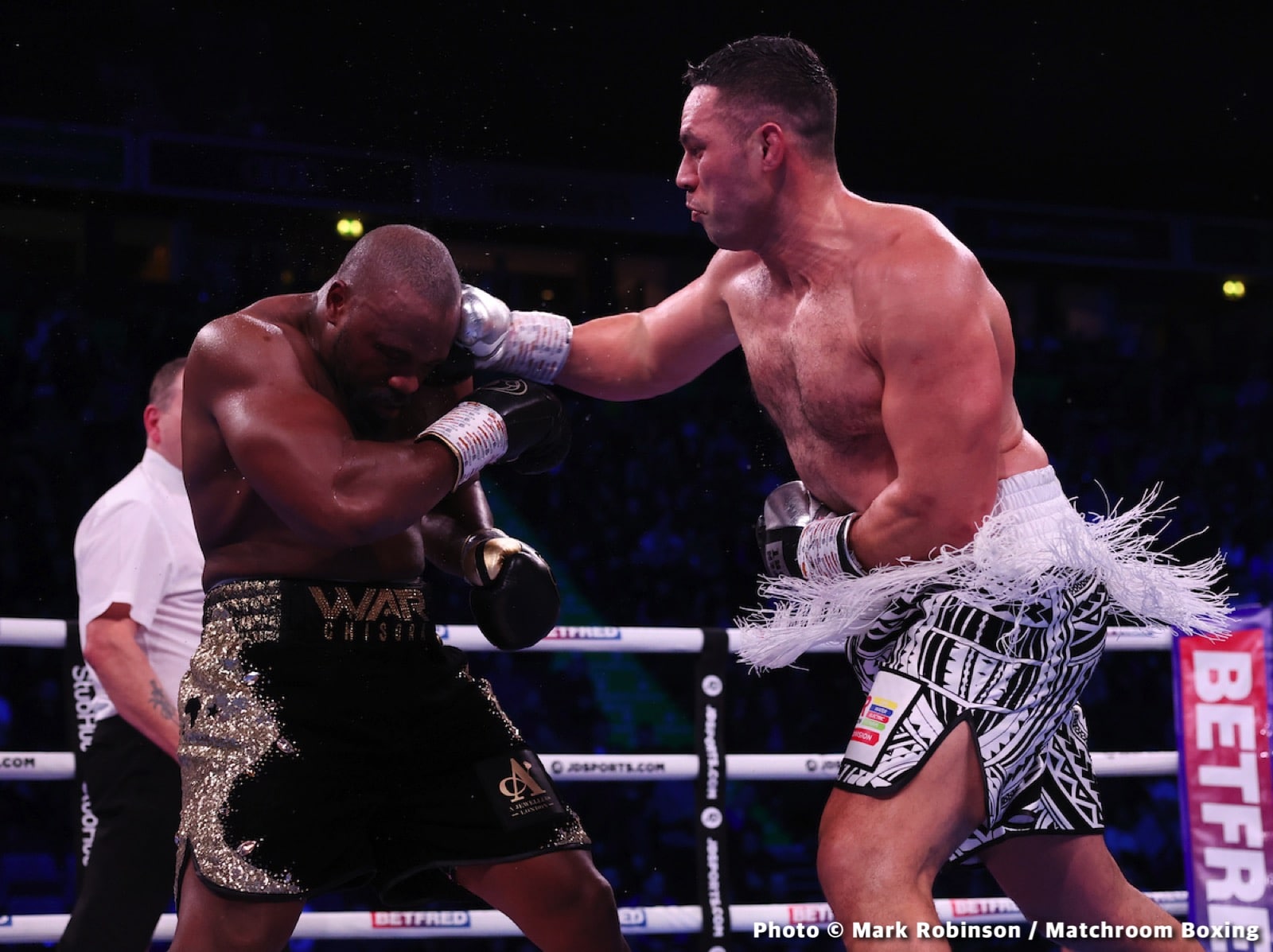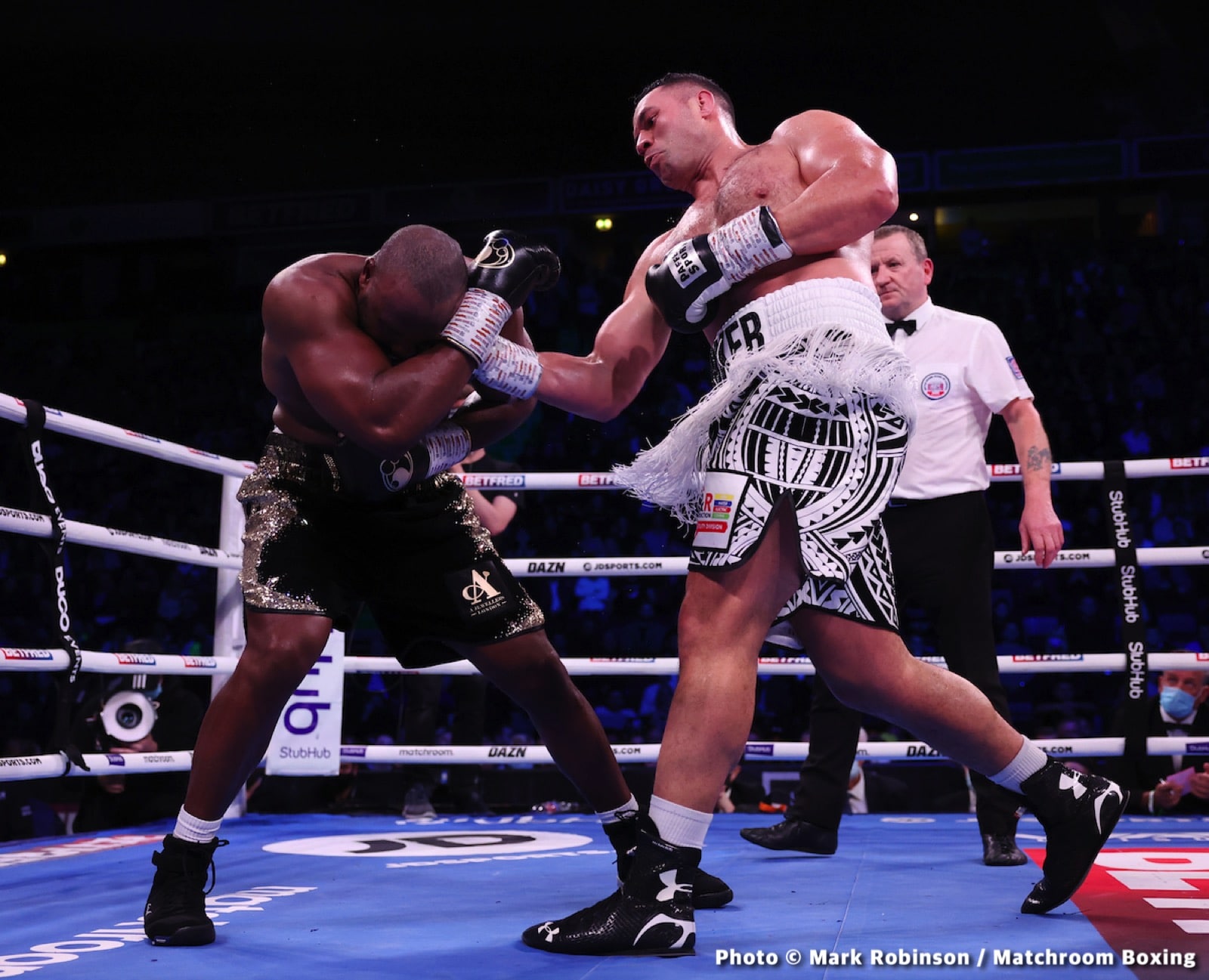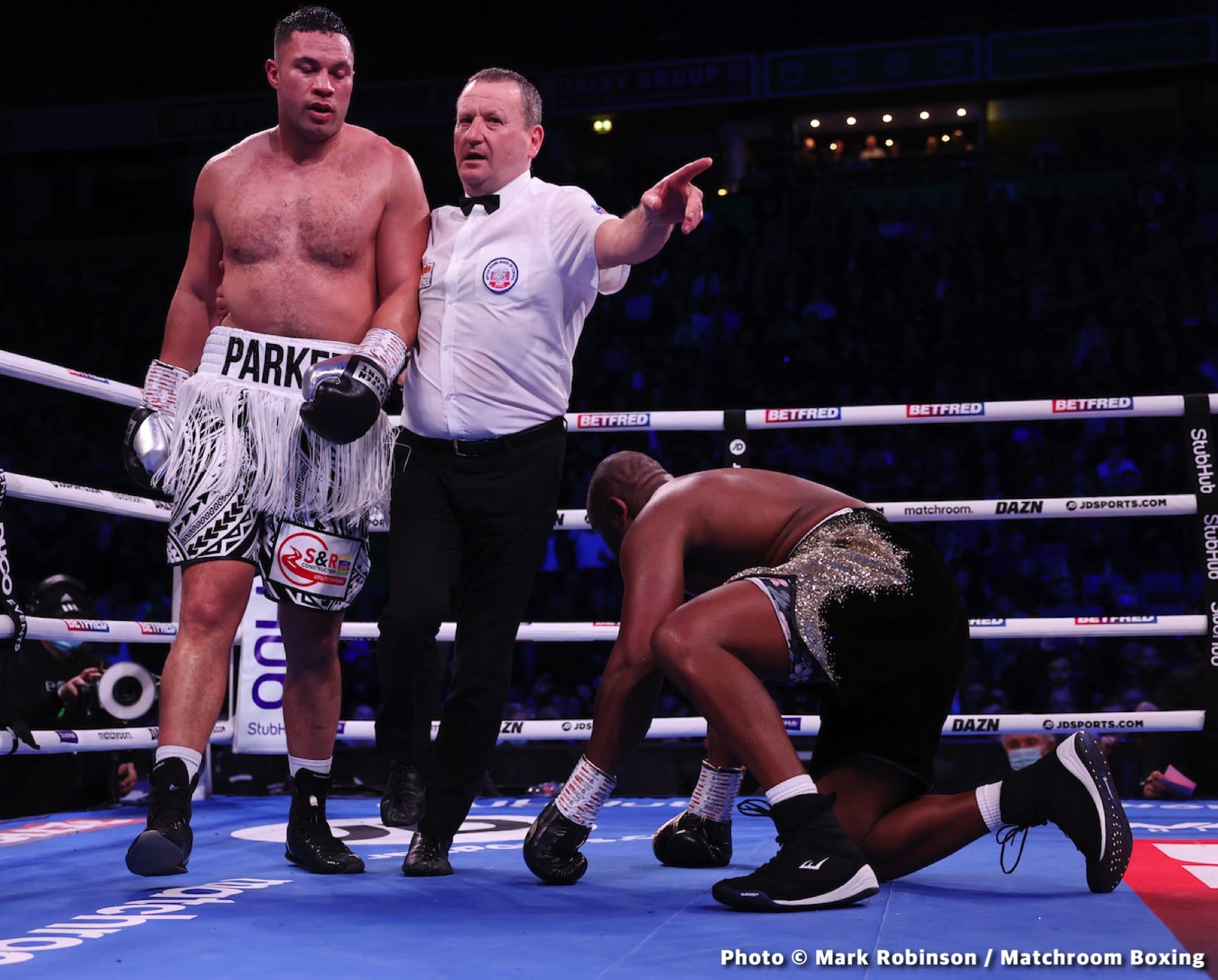 Preview Joseph MUST dominate Chisora
Parker gave Chisora TOO much respect, and he should run him down like an 18-wheeler the way that the quality heavyweights would have done if they'd been in there with him.
Rather than moving on, the 29-year-old Parker felt it was important that he give Chisora, 37, a rematch so that he could clear up the controversy. Indeed, Parker had no choice but to fight Chisora again.
It's clear that if the New Zealander Parker is incapable of beating a fringe-level heavyweight like Chisora, he has no business trying to fight for a world title because he won't make it that far.
For Parker to get a shot at taking on IBF/WBA/WBO heavyweight champion Oleksandr Usyk or WBC champion Tyson Fury, he's got to breeze through Chisora tonight and then beat one of the highly ranked contenders in a title eliminator.
Full Parker vs. Chisora card:
Carlos Gongora vs. Lerrone Richards – 12 rounds
Jack Cullen vs. Kevin Lele Sadjo – 12 rds
Zelfa Barrett vs. Bruno Tarimo – 12 rds
Alen Babic vs. David Spilmont – 8 rds
Sandy Ryan vs. Maria Soledad Capriolo – 6 rds
 Rhiannon Dixon vs. Vaida Masiokaite – 6 rds
Jordan Thompson vs. Piotr Budziszewski – 6 rds
David Nyika vs. Anthony Carpin – 4 rds
Hearn says Parker should start fast
"That's interesting, but I'm not sure if he has the natural ability to switch it up," said promoter Eddie Hearn to Behind The Gloves in reacting to Joseph Parker hinting that he might fight out of the southpaw stance against Chisora.
"I wouldn't [fight southpaw] if I was Joseph Parker. I would actually come out fast and explosive, which is what he might do," said Hearn about Parker.
"Chisora likes to start fast, but Chisora can be hurt. With Chisora, sometimes he gets wobbled in a fight early. When he boxed Dillian Whyte in the rematch, he took a huge right hand, and he was all over the place at the end of the first round.
"Then it's like he [Chisora] improves and gets stronger as the fight goes on. In the eighth, ninth, and tenth, he's taking shots, and you're thinking, 'How is he taking them?'
"So, I would try and stun him early because this fight could be over early if they both decide to go for it," Hearn said of the Parker – Chisora 2 rematch.
Why Parker MUST win and look good
"Joseph Parker wants to fight for the world heavyweight title. He wants to become a two-time heavyweight world champion. Chisora is a prizefighter who fights for money and thrill.
"So if Chisora loses this fight, he can fight [Deontay] Wilder, [Andy] Ruiz, [Luis] Ortiz, [Filip] Hrgovic or [Zhilei] Zhang.
"I mean, he will always be a guy that people want to watch in heavyweight fights, but he has had a number of defeats. So to continue to box at that heavyweight level, Chisora must win.
"The focus is different for Parker. He actually wants to fight for the world heavyweight title. I'm sure Delboy would like to as well. I don't think Delboy is going, 'If I win, I might get a shot at the world heavyweight title.'
"He just loves it. He loves to fight and loves to entertain, and he does all those things every time he steps foot inside those ropes," said Hearn about the 37-year-old Chisora.
"Should I rugby tackle Joseph Parker? I feel like strangling him," said Chisora to Behind The Gloves. "I won't do that. The problem is, where is he going to go?" said Chisora when reminded that he suggested that if he were Parker, he would have moved on rather than take a rematch.
"He needs to fight me; he can't sell. If Joseph Parker announces a fight in London, people won't buy and watch it. People won't go," said Chisora in stating the obvious.
Chisora said Joseph lacks heart
"The last time he announced a fight with Hughie Fury, people didn't care. People didn't go; it was on YouTube. Even if it goes to America, it won't sell. So this was the fight for him to take right now," said Chisora of Parker.
"He must have gone and seen Jesus Christ himself to get a new heart because he doesn't have a heart," said Chisora about Parker lacking courage. "He fights, but he doesn't have a heart.
"He hasn't got it. He's here, but it doesn't mean he has the heart to come and do what he wants to do. I can walk anywhere in the world, and they'll show me love, because they know I'm a warrior.
"He [Parker] dreams about being a warrior," said Chisora. "There are more tougher guys than him in his own rugby team, but I know how I fight. I've fought like that way from day one.
"He fights the way he fights because that's how he fights, but when he tells people that he's going to change the way he fights, it's a lie. Do you know how many people said they were going to knock somebody out?
"He can say whatever he wants to, but it doesn't bother me," said Chisora in reacting to Parker saying he's going to knock him out. "A win for me means me going home and fighting that turkey on Christmas eve. That's it," said Chisora.
"Both trainers know that," Chisora said about the fight with Parker not going the distance tonight. "It's going to be a war.
"I'm cool with him, but back in the days, he didn't play fair, that's it," said Chisora about Tyson Fury. "But he's a good athlete," said Chisora.
Former WBO heavyweight champion Joseph Parker and Dereck Chisora meet tonight in a 12 round fight in a rematch on DAZN at the Manchester Arena in Manchester, England. The start time of the event is at 1:00 p.m. ET.
Earlier this year, Parker (29-2, 21 KOs) squeaked out an unpopular 12 round split decision over Chisora (32-11, 23 KOs) at the same venue in Manchester
Earlier this year, Parker fought timidly, treating Chisora like a top-rung heavyweight rather than a borderline journeyman in their clash last May.
Boxing 247 will be giving live update results below: