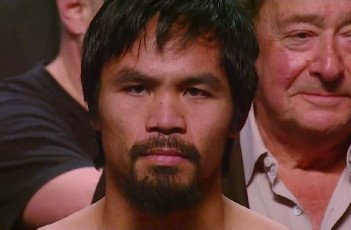 By Johnathan Culver: How does Manny Pacquiao regain status as an elite fighter and as a top-ten pound-for-pound fighter? He needs to fight a credible, respectable opponent, but also, he needs to WIN the fight. I'm a serious fan of Manny Pacquiao, but I don't believe his next fight should or will be a pay-per-view-fight. I believe Pacquiao's next fight will be televised live on the American premium cable/satellite TV network HBO, but I don't think it should be a pay-per-view fight.
I give Manny Pacquiao a lot of credit for fighting top-ten, pound-for-pound fighters in his last 3 fights – Timothy Bradley and Juan Manuel Marquez twice. Pacquiao was competitive in his last 3 fights, but he didn't dominate those fights and he didn't win all of them. So where does Pacquiao go from here, after this low point in his career? I think Pacquiao should fight a rematch with Timothy Bradley for 3 reasons – Bradley has a world title, he is a (relatively) light puncher and he is an elite fighter, on the top-ten pound-for-pound list of many boxing writers and publications.
If Pacquiao fights Bradley recklessly in a rematch, the way he fought Marquez in his last fight, I believe Bradley has very little chance of knocking out or even hurting Pacquiao, even with a punch that Pacquiao doesn't see coming. I believe Pacquiao-Bradley 2 could be a financial success, even though it isn't likely to be a blockbuster event. The next option I see for Pacquiao's comeback fight would be against Paulie Malignaggi, because Malignaggi is a very beatable opponent for Pacqauiao – Malignaggi doesn't have much power (or chooses not to use much power due to chronic hand injuries) and that is reflected in his record of only 7 professional knockouts.
The third-best fight-option for Pacquiao would be a fifth fight with Juan Manuel Marquez. I think Pacquiao-Malignaggi is the most winnable fight for Pacquiao, but comercially, it would be the weakest of the 3 possible fights I've mentioned in this article. Pacquiao-Bradley 2 is the best fight-option for Pacquiao as a commercially profitable and (equally) winnable fight. Pacquiao-Marquez 5 would be the best fight for Manny Pacquiao to get respect from boxing experts and regain status as an elite fighter. Which of these 3 comeback fight-options do you think is best for Manny Pacquiao and why?