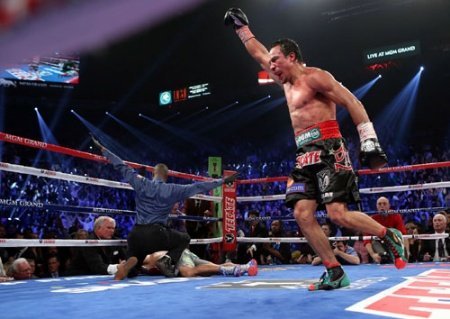 By James Slater, Photos Chris Farina – Top Rank — The great, often troubled sport of boxing delivered in style last night; with all the good, the fabulous and the awe-inspiring things that make it so special being witnessed in glitzy Las Vegas. Going into the fourth instalment of the fierce, controversial and utterly compelling Manny Pacquiao-Juan Manuel Marquez rivalry, fans knew they could once again expect something special.
What they got was something totally unforgettable.
Never will any fan privileged to have seen this barnburner of an epic fight – the 5th-round being utterly remarkable – forget the way the action made them feel. Then came the wholly unexpected ending. Never will any fan who saw Mexican legend Marquez send Filipino idol Pacquiao to the canvas in a face first manner be able to shake the image from their mind. Up there with the incomparable Sugar Ray Robinson's 5th-round icing of the steel-chinned Gene Fulmer, Tommy Hearn's annihilation of Roberto Duran and, more recently, Pac-Man's KO over Ricky Hatton, "Dinamita's" KO was as disturbing as it was electrifying.
The questions came thick and fast after the shock of seeing the seemingly unstoppable (Forget Manny's early career stoppage defeats to Rustico Torrecampo, when he was a skinny novice, and to Medgoen Singsurat, when a body shot felled the weight drained 112-pounder. We all know that Manny Pacquiao was a raw learner, not yet with Freddie Roach) Pac-Man KO'd so brutally: will Pacquiao fight again? If So, will there be a fifth fight with Marquez? Will a Pacquiao-Mayweather fight now never happen (and don't we all want to know what Floyd has to say about last night's earth trembler!)? Is there anything at all to the suggestions that Marquez has taken illegal stimulants?
What we do know is we saw 2012's FOTY last night, as well as a slam dunk for this year's KO of The Year award and very probably the Round of The Year also. A still-groggy Pac-Man did say he would fight again (leaving it to his promoters as to whether there will indeed be a fifth encounter with his nemesis), but Manny's mindset could well change a number of times in the coming days/weeks/months.
For a year or so now, there has been talk that Pacquiao has slipped a little and is not the force he once was. That aside, last night's KO shocker was no less stunning!
The brand new P-4-P Ratings (according to one writer):
1: Floyd Mayweather Junior (defeated Marquez and made it look easy!)
2: Juan Manuel Marquez (can anyone other than Mayweather beat him?)
3: Sergio Martinez
4: Nonito Donaire
5: Andre Ward
6: Wladimir Klitschko
7: Timothy Bradley
8: Carl Froch
9: Abner Mares
10: Vitali Klitschko