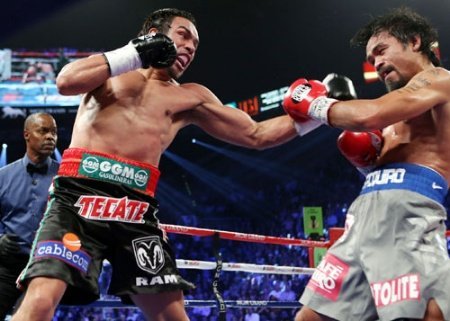 By Dave Cacciatore, photo: Chris Farina – Top Rank – The fourth edition of this rivalry far exceeded most boxing fans expectations. Usually a measured defensive fighter in his biggest encounters, JMM showed one punch power in stopping the Filipino superstar. Pacquiao also showed the same gradual decline in both power and activity from his recent contests. This fight was also important for it's implications, lets examine how this will effect the boxing landscape moving forward.
Losers
Manny Pacquiao – The great trainer Emanuel Steward taught us that youth and aggression fighters have a shorter shelf life. That lesson was painfully drilled into Pacquiao's head by a single Marquez punch in this fight. His time at the top is clearly over and there is little hope that Manny can regain the devastating tornado like fury that allowed him to blaze to the top of the pound for pound rankings.
Freddie Roach – The trainer of Manny Pacquiao's reputation took a significant blow on Saturday night. The damage though was largely self inflicted because of Roach's past success. Some regarded him as a living legend in the sport. His stock climbed so high with the achievements of his fighters and the accuracy of his predictions that there was almost no where to go but down.
Floyd Mayweather Jr – Just like cartons of milk, big money fights also have an expiration date. Money Mayweather lost a lot of money when Marquez sent Pacquiao into dreamland. The showdown with Pacquiao had already been losing it's luster over the years. Pacquiao's loss to Tim Bradly definitely hurt it but the fight was still viable as a mega event. The loss to Bradly being debatable to most of the boxing public. However, after this past Saturday night a fight between Floyd and Manny will not be viewed as anything more than a complete mismatch. A mismatch Floyd created by waiting out the prime of another fighter's career. His wallet and his reputation will both take a hit for not fighting Manny Pacquiao when everything was at stake.
Winners
Juan Manuel Marquez – Unless you are a hardcore fight fan, you probably did not know what a special fighter Marquez could be. His signature win was almost six years ago when he beat Barrera in a huge all-Mexican clash. However, against Floyd and Manny he had come up short on the world stage until the 6th round on Saturday night. The 39 year old from Mexico City is going to get paid whether it is in a 5th fight with Pacquiao, a showdown with the undefeated Timmy Bradley, a rematch with Mayweather, or a catch weight fight with up and coming Mexican star Canelo Alvarez.
Floyd Mayweather Jr – Even when loses he still wins, just ask Jose Luis Castillo. Yes it is true that Floyd has blown the biggest payday in boxing history by letting it slip through his hands like Wes Welker in the Super Bowl. And that he also blew a chance to cement his legacy as the best fighter of a generation by beating Manny Pacquiao in the ring (when it still mattered). However, even if Floyd does nothing else in the sport of boxing, he has managed to achieve the status of being a greater fighter than Manny Pacquiao. Two pound advantage aside, Floyd owned the ring against Marquez in their fight. The same Marquez who has given Manny fits and knocked him out. In legacy terms the Marquez win more than erases any argument Pacquiao could claim based on his demolition of De La Hoya after Floyd's struggle to gain a split decision. Further, Floyd has likely found his next opponent in Marquez. He fits all of the major Floyd categories. Marquez is much smaller than Floyd, older than Floyd, slower than Floyd, and has less power than Floyd. Marquez also has a huge following in his home country of Mexico and in the United States to ensure a great turnout at the gate and PPV. The rematch will be very low risk and high financial reward just the way Mayweather likes it.
Boxing – The sport needed this event on Saturday night to have the exciting and dramatic end that it did. Too many major PPV events have been complete yawners in recent years. Or they have lacked action and been the subject of controversy like the Pacquiao-Bradley fight. This latest installment of Pacquiao-Marquez lived up to the hype with an exciting back and forth contest ending in a knockout. In a rare recent moment for boxing, it completely out-shined the competing MMA card that was put against it. Boxing needs more events like this to stay relevant in the US market. Big fights with close match ups ending in a knockout is a recipe to get Americans interested in the sweet science again.