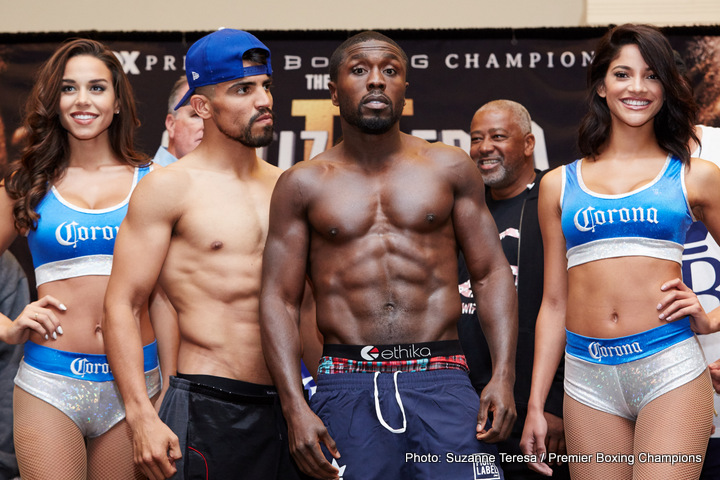 Andre Berto and Victor Ortiz square off once again in a rematch from their 2011 war. The second meeting will take place at the StubHub Center in Southern California, a fitting venue that ignites a certain magical spell almost guaranteeing a brawl on Saturday night. The tripleheader will be broadcasted on free-to-air Fox. Normally a rematch from nearly 5 years ago wouldn't gander much interest amongst fans. All too often in this scenario, one fighter has slipped too far from grace making the second go around a mismatch. (fourth fight between Marquez vs. Vazquez) Unfortunately a chance does exist that this bout could fit the bill just described due to the unknown that surrounds Victor Ortiz.
Clearly, Victor Ortiz's career reached a higher level both profile and prestige than Andre Berto's. Ortiz's victory over Berto helped springboard Vic to fame and a fight versus the best pound for pound in the game Floyd Mayweather. It also silenced detractors who claimed Ortiz had no heart. Facing adversity in that fight and coming through it the way he did swayed many of fans in his favor.
After a controversial ending in the Mayweather fight on HBO PPV, Ortiz had his mind set on another huge name in Canelo Alvarez. A broken jaw by the hands of Josesito Lopez derailed the Canelo opportunity and sent Ortiz's boxing career in to a tailspin. To his credit, Vic used the downtime from injury to grow his brand on the popular show 'Dancing with the Stars', which led to a few movie roles. More injury and a non-effort in a stay-busy affair with Luis Collazo creates more mystery in to which Vic will show up on fight night and just how 'Vicious' will he be?
Andre Berto never lived up to what many inside the boxing world billed him as a man capable of beating Mayweather. Once he entered the contender stage he showed flaws that Ortiz would finally expose officially. Prior to Ortiz, many thought Luis Collazo had done enough to get his hand raised instead of Berto. Andre had a fairly strong performance in a bout last spring when he TKO'd Josesito Lopez. Got shutdown by Mayweather last fall but most do, so at least he comes in to Saturday's matchup healthy and the more active fighter of the two.
In their first meeting Ortiz started fast and forced Berto on to his back foot, a position he found himself in for most of the night. Time and time again Vic was able to trap Andre on the ropes and flurry in combination. Berto found success in timing Ortiz with beautiful right hands and seem to get the better of the two in exchanges.
Vic made an adjustment by staying smart and pivoting or stepping to the side after delivering a blow. Berto was unable to use his jab effectively to keep his opponent honest on the way inside. Both guys have athleticism, power, and hand speed. Lucky for us they also have a few major flaws that will once again equate to an action fight.
If Ortiz is mentally and physically prepared it's his fight to lose. But as we know that's a big if. This scribe will take comfort in siding with the more dependable and active Andre Berto. It should be noted that Berto's health in the ring hasn't been too consistent either. Expect a pretty damn good fight with ebbs and flow that Berto is overall more prepared for. Oh yeah forgot to mention that both men will hit the floor.
My official prediction is Andre Berto by Majority Decision.
Side Note: The two other fights on this PBC on Fox card will produce fireworks as well. In the opener grizzled-vet Fernando Montiel takes on up-and-comer Jorge Lara in what should be an entertaining scrap. A possible show-stealer in the co-feature between Edwin Rodriguez and Thomas Williams Jr. Don't forget on Showtime after the Fox show, Lucian Bute challenges Badou Jack for his 168 pound title. Bute represents the toughest opponent to date for Jack, which is enough for this scribe to pick Bute as the winner. James Degale defends his title against tough-as-nails Rogelio Medina, who scored a 1st round KO over J'Leon Love and is on a bit of a hot streak of late.
Written by Chris Carlson Host of Rope A Dope Radio blogtalkradio.com/ropeadoperadio
Visit The Rope A Dope Report on YouTube & Follow on Twitter @RopeADopeRadio