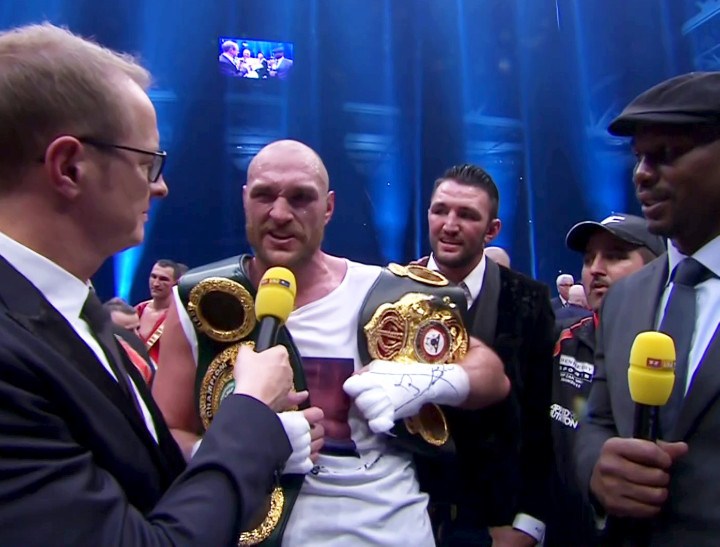 It's a tough job getting heavyweight king and self-proclaimed "joke" Tyson Fury in a serious mood, keen to answer questions with sincere thought. But yesterday in Germany, Kugan Cassius of IFilmTV managed it. Catching up with the unbeaten and overweight heavyweight ruler, Cassius got apparently genuine answers to his questions.
Will you retire if you lose the rematch to Klitschko, Tyson was asked, replying:
"Probably, yeah…..unless I can get some big money somewhere else."
Fury went further, saying how he genuinely does not care if he does lose on July 9th. Fury said he is "sick" of boxing and he stated, "the better I can get out of it, the better."
And to repeat, Fury, often talking tongue in cheek, giving us no idea really if he's talking seriously or not, DID appear and sound serious yesterday. Fury appeared down, depressed even, as he spoke of "never being able to fit in anywhere." Of course, Fury may well bounce back from his apparent lethargy, get himself into great shape, beat Klitschko for a second time and then proclaim how he will fight anyone and knock them out. That's the Tyson we know best: boastful, arrogant and willing to back it all up.
And at age 27, it really would be a shame for as charismatic a fighter as Fury, a man who really can fight, to walk away after just 26 pro fights and a couple of world title bouts. There are, if Fury can win in July, potential blockbusters with the likes of Anthony Joshua and Deontay Wilder, to name just two monstrous fights out there for him (and us). There would be plenty of money on the table for Fury if he were to take these fights, and even if he did lose to Klitschko in Manchester, his career would be far from over if it were a close, competitive fight. That's unless Fury himself wants it to be over.
If he is as bored, as sick of it and as tired as he appeared yesterday, then Fury should perhaps walk away. If he cannot give the sport 100-percent, he should indeed go back to the normal life he speaks of wanting to have again. But as entertaining, as controversial and as good at getting boxing mainstream attention (not all of it good attention but what's that saying – there is no such thing as bad press) as he has been, we will miss Fury when he eventually leaves the sport.
This could be as soon as this year, it could be a number of years from now. With Fury only one thing is clear: we just don't know!