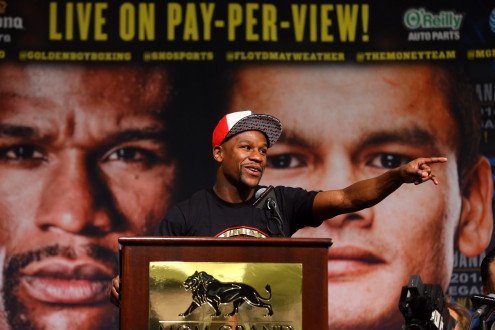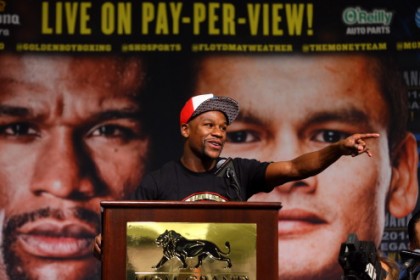 On May 3, 2014, the hungry heart of Marcos Maidana (35-3 with 31 KO's) will attempt to dethrone the unofficial Pay-Per-View and Pound-for-Pound king Floyd "Money" Mayweather (45-0 with 26 KO's)
ABOUT THE FIGHTERS
Floyd Mayweather Jr., the American fighting out of Las Vegas, NV, is the current WBC Super Welterweight Champion, WBA Super Middleweight Champion, Ring Magazine pound-for-pound Champion, Ring Magazine Welterweight Champion, and Ring Magazine Jr. Middleweight Champion.
A native Michigander, Mayweather has a stellar amateur career as a three-time Golden Gloves Champion and a 1996 Olympic Medalist. Since turning professional, Mayweather has achieved World Champion status in five weight classes, ranging from Super Featherweight to Jr. Middleweight, and is a two-time Ring Magazine Fighter of the Year. Most notable about Mayweather's career is the caliber of opponents faced. He has fought, and beaten, twenty world champions. His list of victims reads like a who's-who of boxing, including Oscar De La Hoya, Zab Judah, the late great Arturo Gatti, Carlos Baldomir, Ricky Hatton, Juan Manuel Marquez, Shane Mosley, Victor Ortiz, and Saul Alvarez.
Marcos Maidana, the Argentine dubbed "El Chino," missed his Olympic opportunity in 2004 when he lost a close qualifying match. He immediately entered the professional ranks, knocking out six of his first seven opponents in the first round. Maidana has notable victories against Josesito Lopez, Jesus Soto Karass, Erik Morales, Victor Ortiz, and DeMarcus Corley, but he has been beaten by both Devon Alexander and Amir Khan, both by decision.
At first glimpse, this fight appears come down to a boxer versus a puncher. While Maidana is indeed a dangerous puncher, do not expect a great boxer/puncher matchup the likes of Ali vs. Frazier III or Hagler vs. Leonard. Rather, boxing observers should expect to see something more along the lines of Mayweather vs. Hatton: a lovable and hard-hitting puncher being masterfully outclassed, outmatched and out-boxed by Mr. Mayweather. Boxing observers should also expect similar results.
Marcos Maidana has heart and a strong punch, but the quality he possesses that is most likely to give him a chance at beating King Mayweather is his ability to follow instructions and adapt. Marcos Maidana has an asset in this regard with trainer Robert Garcia. Garcia is a former Ring Magazine Trainer of the Year, and has trained the likes of Nonito Donaire, Brandon Rios, and the great Mickey Garcia. Under Garcia's tutelage Maidana's footwork has begun to resemble that of a World Class fighter and his defense has improved exponentially. This was all on display in his shocking shellacking of Adrien Broner.
Unfortunately for Maidana and Garcia, Adrien Broner is no Floyd Mayweather Jr. Prior to their match, Broner was a hyped-up, relatively untested lightweight. Maidana vs. Broner proved just that.
KEYS TO VICTORY
Team Maidana must first and foremost dismiss any delusions that Maidana's big overhand right is going to be available against Floyd Mayweather the way it was against Adrien Broner. Mayweather is too quick, too smart, and too adapting. Team Maidana must also dismiss any notion that Mayweather's shoulder roll defense is going to be anywhere near as vulnerable as Broner's similar style was. In other words, Team Maidana needs to accept the fact the Adrien Broner is not Floyd Mayweather. Floyd Mayweather Jr. is the only Floyd Mayweather Jr.
For Broner, the shoulder roll was a way in which he emulated his hero Floyd Mayweather Jr. when fighting the likes of Maidana. For Mayweather, the shoulder roll is second nature. His father Floyd Mayweather Sr. did it successfully, as did his Uncle Roger. Both of them have spent a lifetime ingraining this defensive maneuver into Mayweather Jr.'s overall boxing style. For Mayweather, the shoulder roll is merely a starting point for a defense that left Canelo Alvarez standing in the middle of a Las Vegas boxing ring, in frustration and defeat, explaining to Showtime Boxing reporters that he simply could not find Mayweather throughout their fight.
https://www.youtube.com/watch?v=SbN_Q_dDo14
Additionally, trainer Garcia still has a long way to go in getting Maidana's footwork ready for a Floyd Mayweather fight. In order to stand a chance against a fighter like Mayweather, Maidana must be balanced and steady at all times. Another key to a Maidana victory is to control the fight with a good solid jab. The jab seems to be the only punch that an orthodox boxer can consistently score against Mayweather. This is most notably on display in De La Hoya's close fight against Mayweather.
Floyd Mayweather Jr. needs only to do what he has done for the bulk of his career: fight with the same poise, patience and quickness that has won him so many world titles. Mayweather needs to spend the first two-three rounds getting a feel for Maidana's style and approach. Maidana's willingness to listen to Garcia and adapt his fighting accordingly means that Mayweather will likely not know until mid-fight what kind of approach Maidana employs. If Mayweather remains patient, he can counterpunch an exhausted, foot-tangled Maidana in the late rounds.
https://www.youtube.com/watch?v=-NEZhvXt-j4
PREDICTION
Mayweather in a late-round TKO. I predict this fight to play out much like Mayweather vs. Hatton. Maidana will come out swinging. He will throw a lot of power punches and try to catch Mayweather off guard. However, Mayweather will likely use his defensive and counter-punching skills to wear down Maidana, leaving him vulnerable to a late-fight TKO – one birthed largely from Maidana's own exhaustion.
Bill Barner is a former USA Boxing Judge and a former sparring partner for several amateur and professional fighters. He currently practices law for BarnerRossen PA in South Florida.