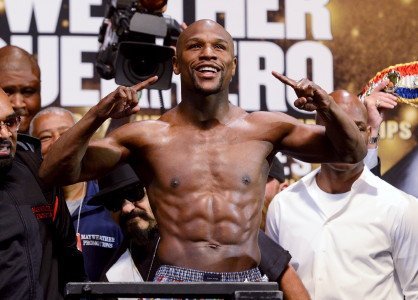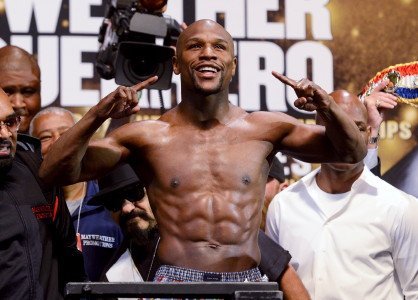 (Photo credit: Naoki Fakuda) By Joseph Herron: As the world awaits the highly publicized Mayweather/Guerrero clash for the WBC Welterweight Championship, undefeated Welterweight prospect Benjamin Whitaker of San Antonio, Texas, gives Eastsideboxing.com his expert opinion of what fight fans should expect to see from the MGM Grand Garden Arena in Las Vegas, Nevada, this evening.
"I know most fight fans and boxing writers are expecting to see the usual brand of Mayweather dominance in the ring, but I see a much more competitive fight playing out tonight in Las Vegas," claims the highly touted, Alamo City prospect. "Both men will be coming into the ring with a very confident frame of mind, which always makes for an entertaining scrap."
"There are a lot of questions about both fighters going into this bout. Will Floyd be the same 'Money' Mayweather after a year lay-off and 90 days in the hole? He's 36 years old and has only fought three bouts in the last three years."
"Guerrero has never fought at this level prior to tonight's title fight. Will he be able to handle the pressure of a huge global event of this nature against the best pound for pound fighter in boxing?"
"These unanswered questions have created a lot of intrigue surrounding tonight's main event."
While most experts indeed believe Mayweather to be head and shoulders above the interim WBC title holder in terms of ability and athleticism, Whitaker believes heart and desire will play a big factor in tonight's featured bout.
"There are so many intangibles that you just can't measure in boxing, like heart, as well as mental and physical durability. During a fight, most casual boxing fans have no clue what we have to deal with in the ring. Anything can happen in the squared circle on any given night."
"At every level of the sport, upsets happen regularly in boxing. That's the way the sport has always been throughout its history, and that's ultimately why fight fans love to watch the sport. Boxing fans should expect to see a lot of drama unfold in the ring tonight."
Although the 28 year old boxer/puncher anticipates a much more competitive bout than most, Benjamin Whitaker still sees Floyd Mayweather Jr. as the clear favorite.
"It's hard to justify betting against Floyd Mayweather Jr," states the undefeated prospect. "His speed and reflexes are the best in boxing. He is the best defensive fighter in the world, and maybe the most confident man in sports, period. If anyone is expecting to see Floyd grow old before their eyes tonight, I think they're going to be disappointed. He's 36 years old now, but he's never taken the kind of damage that his peers have sustained. A lot of people view his lack of activity as a negative going into this fight, but he is a well preserved 36 year old fighter as a result. He doesn't have the wear and tear most fighters who are half his age possess."
"Floyd is also a much tougher fighter than most of his critics realize. He's a naturally tough guy with a lot of pride. Even though he's shown a safety first approach in his most recent outings, Mayweather loves to fight and fears no man in the ring. His boxing IQ is second to none, and doesn't make very many mistakes in the ring as a result."
"This is why I ultimately favor Mayweather in this fight. Guerrero is a very underrated fighter who can box from various angles and distances, but he's never had to deal with this blend of athleticism and intelligence before. 'The Ghost' showed a lot of toughness in the ring in his last fight, but Floyd is a much smarter fighter than Andre Berto."
"I see Guerrero giving Floyd some problems early in the fight because of his ability to adapt and fight in different styles, but Mayweather will eventually start showing his class in the mid to late rounds. Once Floyd finds Guerrero's weaknesses and vulnerabilities, it will be all over for 'The Ghost'."
"I predict a competitive but convincing unanimous decision victory for Floyd Mayweather Jr. tonight in Las Vegas. I can see the fight being scored eight rounds to four or nine rounds to three in favor of Money Mayweather."
Benjamin Whitaker will attempt to keep his undefeated record intact on May 17th, when he faces the always tough Cory Yett at the Floresville Event Center in the co-main event of the evening. The Texas fight card is being presented by Triple-A Promotions and Team Morones Boxing of San Antonio, Texas.
For ticket information, please contact Rick Morones at 210-589-7654.