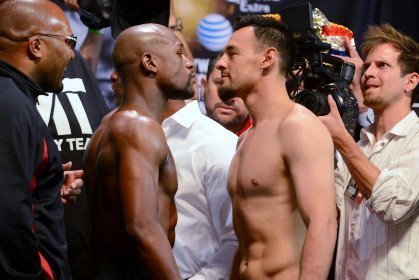 (Photo credit: Naoki Fakuda) Almost without exception, the boxing experts pick Mayweather to win. Most say it will be by UD. That's because they don't see Mayweather getting reckless and take any unnecessary chances to win by kayo. They go right down the line and are forced to pick Little Money. Over the years Mayweather, Jr. has had a chance to grow into the weight class, so he will be stronger and more comfortable at the welterweight level.
He is used to fighting bigger men. This will be only the third time for Guerrero. There's no argument when the experts go down the list of necessary skills and all the assets are on Mayweather's side. He is faster. He is more skilled, both defensively and offensively. He is a great counter puncher. He can fight rough if he has to, using his elbows, and leverage to maneuver his man. He will take seize any moment of relaxation or careless Guerrero might provide.
His punches will carry more power and will be more accurate. He's never lost and doesn't know how to. If pressured, he will step things up. He just doesn't seem to have weaknesses, and that's what make him a seven or eight to one favorite.
Guerrero, on the other hand, feels he is destined to win. He truly believes God has put him in this position to humble both Mayweather and the boxing community in general. He fully understands the apparent reality that of all the things stated above that seem to be mounted up against him. Yet, he remains calm and confident. Over the years, we've seen some pretty big upsets. Jimmy Braddock shocked the world with win over the frightening Max Baer. Joe Louis was unbeatable until Max Schmeling "saw something" and became the first man to defeat the Brown Bomber. Buster Douglas might have pulled off the biggest one when he destroyed Iron Mike Tyson. Even the great trainer and announcer Teddy Atlas admitted he wasn't even interested in paying much attention to that fight, because he was sure Douglas would simply be another Tyson kayo victim. Can Guerrero be that kind of history maker? Are his faith and confidence enough to overcome all his disadvantages? Well, about all we can say is it's possible. Stranger things have happened. But, oh so few and most of us have to admit chances are this isn't going to be one of them.
One strange thing that's already occurred is Robert "The Ghost" Guerrero full well knows everything is against him. He's no dummy. He is a student of boxing. He has to know that everything he can do, Mayweather can do better. But, yet he has that calmness and confidence that goes with a winner. Where's it coming from. Is he delusional? Is he kidding himself? Are those around him feeding him full of malarkey? Is it true that none of On the other hand, is it true Mayweather's pre-fight mind games haven't worked with this thirty year old kid, who already has been through so much in his life? He and his wife and family know first hand how fragile and precious life is and why it should not and cannot be taken for granted.
Maybe the one mistake Floyd Mayweather, Jr. has made, leading up to this fight, is to think Guerrero and his family have used the story of what their family has gone through just to garner sympathy. He has called Robert a hypocrite. The implication being Robert is being manipulative and not genuine. If Little Money is right, then undoubtedly he will come out of tonight's main event victorious.
But, win or lose, Guerrero's story is definitely truthful and inspirational. He and his wife are already winners, and winners of the best kind, in the biggest fight one can face. They're spiritual winners, and that kind of victory can give a guy like Robert the kind of inner strength, calmness and confidence he is demonstrating before the biggest fight of his boxing life. He knows Saturday night doesn't measure up to the fight he and his wife have already won. He also knows that God tells us "My power is made perfect in weakness"……and Robert also knows."…..knows he can delight in (his) weakness, in insults, in hardships, in persecutions, in difficulties. For when I am (he is) weak, then I am (he is) strong." Ask Andre S.O.G. Ward whether he believes that. I think you will find that he too depends heavily on Corinthian 12:9-10. So, regardless of what happens at the MGM Grand Garden Arena, Las Vegas, tonight, Robert knows he is already a winner, and has won something no one can take away from him.