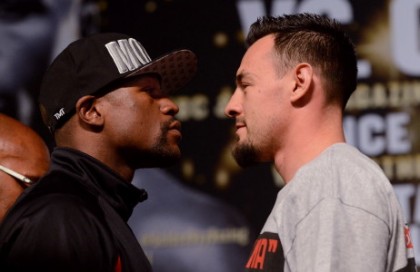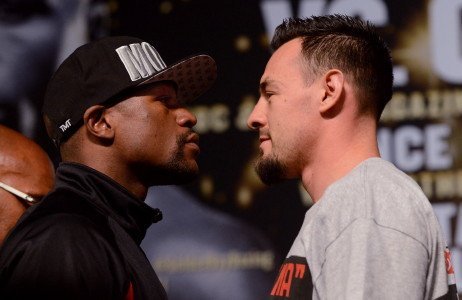 Tonight, the world of boxing welcomes the return of P4P King, Floyd Mayweather. Another year away from the ring and a short incarceration stint will play their hand at leveraging what most consider to be sheer greatness. Whether or not the man across from him (Robert Guerrero) holds the key to exploit this possibility is another story. That question we can't answer. What we can answer is the fact that between the calendar year of 2012 and current, something very interesting happened in the world of Boxing.
All the men who dominated the sport in close proximity to Mayweather saw things come to an abrupt end. Cotto, Pacquiao, Margarito, Williams, and Mosley were each ushered one by one to the doorstep of retirement. Some refuse to walk in, yet each clearly have one foot in, one foot out. Mayweather remains the last man standing of that golden era. Quickly, we take a look at the odds of him remaining that way beyond tonight:
FLOYD MAYWEATHER – KEYS TO VICTORY
Mayweather's keys to victory are very simple, as they only require him to do what comes natural to him. That avenue of approach all stems around speed and movement. Judging by his recent weigh-in weight, seems this gameplan is made for order. Mayweather will need to go back to his speed patented jab, and blend it with the type of footwork that serves as both a bewildering element and an escape route, helping him avoid the mugging style of Guerrero. If Mayweather can create space and use his speed to land timely shots, he could pitch a shutout on the scorecards and end it all with an easy nights work.
ROBERT GUERRERO – KEYS TO VICTORY
For Guerrero, the keys to victory will center around his ability to cut the ring off and inflict punishment both early and often. Guerrero is a far better boxer than many give him credit for and his southpaw stance allows him to land from angles that aren't always seen. Guerrero will need to pace himself, as Mayweather's stamina has always been a thing of beauty. If Guerrero finds himself winded late in the fight it could spell good night! Guerrero will need to fight smart, use his jab consistently, and stay away from the lead right. If he can do these things we could be in for a shocker!
FOUR TO EXPLORE: (CRITICAL GAME CHANGERS TO EXPLORE DURING THE FIGHT)
Time Off, Time Out: It's no secret that the only thing consistent about Mayweather's performance lately is that it hasn't been consistent. Constant layoffs and a recent jail stint which was said to "deteriorate" his body could be that proverbial olive branch which gives Father-time the entry point needed to steal reflexes and other vital tools. Several times in the past we felt a layoff would make Mayweather look ordinary. Thus far we've been wrong every time. Does that change tonight?
One Condition or Unconditioned?: Conditioning is everything against a fighter like Mayweather who is known to go the distance and keep on ticking. Guerrero isn't known to be a slouch, but several fights of the past saw him winded with an open mouth and a lazy tone. The Aydin bout was one of the more visible. Considering that he was 12lbs above weight 30days prior to weighing in and appeared somewhat soft around the midsection, the final analysis comes down to this: His ONLY shot comes under "one condition": He can't be unconditioned. Anything less fails the test!
Body Talk: Mayweather's stint in jail was said to do bodily harm, as the fighter barely ate, and for one stretch, refused to drink the available tap water. Physically, such deterioration can cause interesting reactions. One is more frequent swelling. Rumor has it that Mayweather sported a slightly swollen eye from sparring up to three times during this training camp. Was this coincidence due to better sparring competition? Or is his body starting to talk to a set of ears that rarely listen? May not mean much now….but revisit the Guerrero/Berto fight and suddenly, it'll all make sense. Stay tuned.
Experience: Mayweather has been a dominant force in the sport for 16years. Guerrero? Nowhere close! An old adage has it that experience has a habit of coming a split second after one actually needed it. In fitting fashion, despite his eager heart, Guerrero has no idea what level of competition he'll enter the ring with. Doesn't mean he can't get the job done. But it does mean that he'll concede perhaps the most necessary element to success on this stage. Stay tuned.
OFFICIAL PREDICTION: After the plot thickens and the smoke clears, this entire bout will come down to one thing: A very spirited Mexican warrior with a lot of heart….standing across from a premiere entity in the world of sports. Guerrero has all the tools to compete with up-and-comers, or fighters on the steady-yet-not-elite level; but this is a level that many could argue fully exceeds his current ability. Guerrero will make it interesting in spurts and land a few shots that get Mayweather's attention; but after 3 rusty rounds, fight fans can expect Mayweather to find a home with the right lead and soften the body up enroute to a 10th RD stoppage.
WINNER: FLOYD MAYWEATHER TKO10
(Vivek "Vito" Wallace can be reached at Left-Hook Lounge Radio today at 2ET/11am Pacific, as well as Monday Nights at 9ET/6PT. Other contact points include 954.300.5692, Twitter (@vivekwallace747), Instagram (viveksview), & FaceBook).