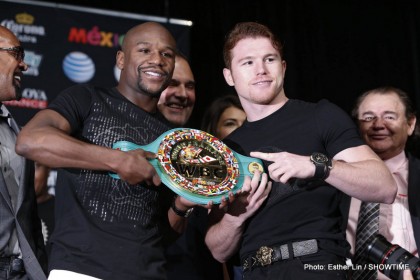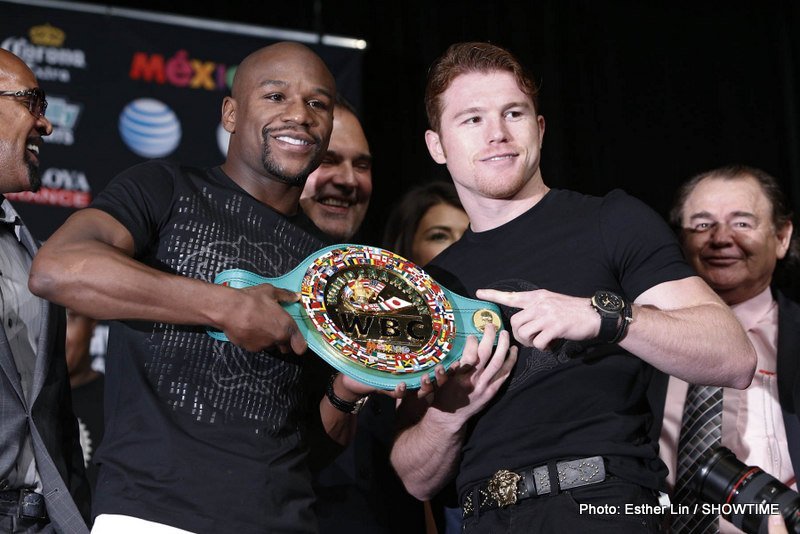 The boxing business like all industries is about the numbers. All week we have heard a lot of numbers thrown around from everyone involved in the promotion for this super fight.
Numbers for the record breaking gate and closed circuit tickets sold. The number of screens the fight will be broadcasting in theatre's nationwide. 44-0 vs. 42-0. And of course the holy grail for boxing being 2.5 million buys generating over 130 million dollars in revenue off the PPV alone.
When all the dust clears numbers may be the only topic that boxing fans and media members will have to breakdown with detail surrounding this event.
Well that and the super fight amongst avid followers of the sport Garcia vs. Matthysse, which should be enough of a bang to feel like your bucks were well spent.
Super fights have a way of underachieving based off the massive attention brought upon them.
Can Canelo push Mayweather the way Miguel Cotto and Oscar De La Hoya did to make this super fight live up to even 75% of the hype behind it?
Cotto and Oscar were able to cut the ring off on Floyd, trapping him for long enough spans during the fight to make it competitive and entertaining. Floyd needs to be pushed enough to bring out his full arsenal of weapons that when on display can be a mix of beauty and beast.
The way he counters off the ropes can be masterful, his timing and speed to land a perfectly time and placed punch make for plenty of oohs and aahs.
Most of his opponents talk about what they will do but few have brought out Floyd's true greatness. Fans and fighters a like talk about his lack of power yet respect it enough to stop punching, going into survival mode on fight night.
Floyd Mayweather is very difficult target to land more than one punch on at a time let, alone a combination. His shoulder roll defensive shell that he sets up shop in hasn't been figured out after 17 years in the sport.
If your over aggressive he will discipline you with neck snapping, judge appreciating, counter punches that are clean enough to connect only few times to secure the round.
If you wanna get rough with Mayweather the champ will oblige, sporting a very underrated inside game that features a sharp elbow to the neck if you invade his space.
The only way to beat Mayweathe, believe or not, may be too out box him in the middle of the ring the way Tommy Hearns did Ray Leonard.
Tommy forced him to have no other option but go for a knockout. Sugar Ray, a natural finisher did just that in their first meeting.
Thing is those type of fighters don't exactly grow on trees. Just like Floyd, who will be appreciated much more when he's gone, a guy like him comes once a generation.
Odds are the only way to beat him is with an all around fighter who can box and do damage on the inside. Andre Ward's name comes to mind because he possess craftiness on the outside and inside, with speed to boot.
Maybe Sergio Martinez in his prime or GGG due to his size and strength could break the code and hurt Floyd.
At 140-154 it's gonna be tough.
That's not to say Canelo has no chance versus the pound for pound best in the world. But it will take a perfect fight and he must raise his level off his impress Austin Trout performance. A little luck or luck punch would help as well.
Obviously hurting Floyd is the ultimate goal and would assume it a must if Canelo has a legit chance to come out victories.
I mentioned Cotto, De La Hoya, but we can't forget Castillo the first go round who took advantage of Floyd's injury staying in his chest. Castillo kept a good distance but not overly aggressive like Hatton.
A fighter that brought the most consistent pressure with a chin was Jesus Chavez. "El Matador" did the opposite of his nickname as he raged forward with a balls to the walls ruthless workrate that had Floyd pinned to the ropes for half the round. It also brought one of best and most exciting performances out of than Pretty Boy Floyd. Not many have the chin, stamina, and heart to do that.
What Canelo does have is improving skills on the offensive end and of late steadily figuring out how to defend.
Austin Trout, a busy crafty defensive fighter in his own right, said after the fight he was surprised with the Canelo mixed defense in the middle of the ring and even off the ropes.
For few rounds versus Alfonso Gomez, Canelo used a shoulder roll guard, was not affective with it so he ditched it, than proceeding to finish Gomez.
In his fights with Josesito Lopez and Shane Mosley his only defense was a generic two hands up guard that left him open to the head and body, much like what Amir Khan does when he is hurt.
The head and upper body movement shown against Trout worked very well allowing him to be patient, countering over Austin's jab throughout the fight.
He will need to pick up his pace with Mayweather, if he doesn't it will be a one side pot shot fest for Money May. Canelo must take another leap of improvement the way he has in the last 2 or 3 performances.
The jab has been labeled as the key to beating Mayweather, if alone it will get countered. It has to be mixed up and followed by combinations to anywhere, legally speaking, on Floyd's body. Fighters often talk about hitting his arms, shoulders, and body but rarely do they keep it up consistently for all 12 rounds.
Canelo has talked the normal talk about not relying on landing the perfect punch. In remands to be seen if he can walk the walk.
I give Canelo a good chance to make this a competitive fight possible 8-4 scorecard. If he traps Mayweather on the ropes land or not, his rabid fanbase will be loud enough to sway the judges which will give him a close round and may give him a few rounds on the scorecards.
The skill that Canelo is clearly developing and patience he shows even when a fighter is hurt, may someday get him into the hall of fame.
The negatives still linger from the Trout fight and outweigh the positives. Mainly reaching with his right hand, getting tagged with a stiff jab, pace and stamina will be his downfall.
A 16 to 18 pound advantage, possible more, is still a lot and Canelo is the biggest fighter Floyd has faced in his career. I just can't forget how many times Sugar Shane was able to land punches and he was taking some brutal shots.
My official pick is a Unanimous Decision for "Pretty Boy" Floyd "Money" Mayweather.
Will this fight give the mainstream sports fans that treat boxing like a car accident, gawking at it as they drive by, some substance behind the numbers?
Written by Chris Carlson Owner and Host of Rope A Dope Radio at www.blogtalkradio.com/ropeadoperadio
Follow on Twitter @RopeADopeRadio
YouTube Channel "The Rope A Dope Report" Subscribe at http://www.youtube.com/user/kg21carlito
Visit http://ropeadoperadio.wordpress.com/