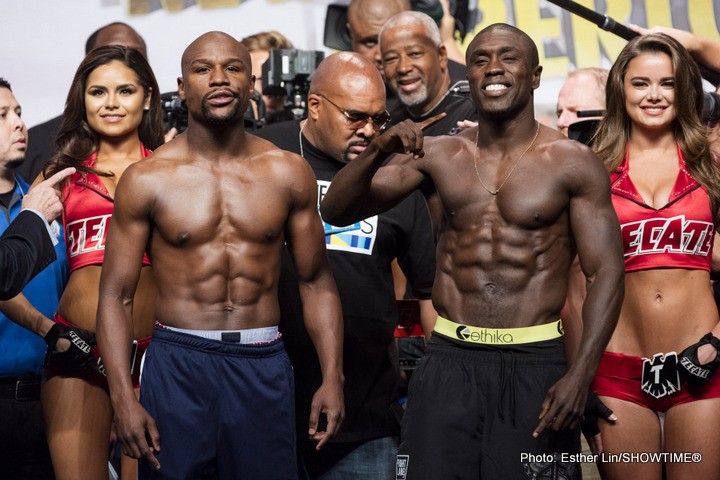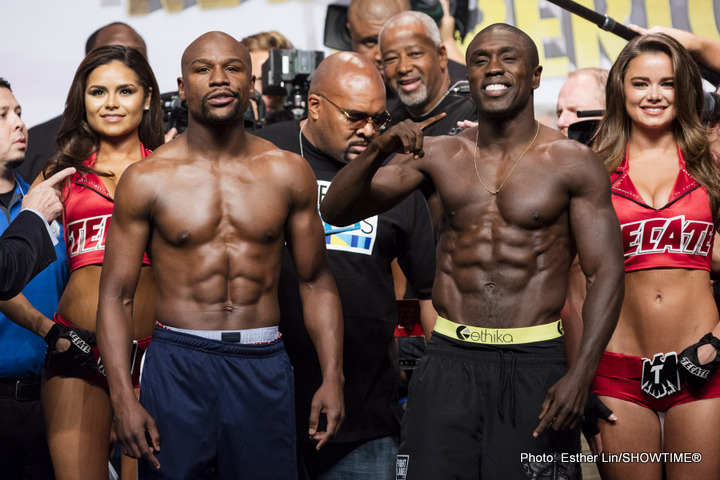 Fight week buzz on social media is primarily centered on an IV that Floyd took the night before the Manny Pacquiao fight. Even with a juicy Thomas Hauser piece this week, Mayweather's choice of opponent has the boxing world looking ahead to better matchups on the schedule. Can Andre Berto do the unthinkable and pull an upset for the ages? Or will it be business as usual for Money May in route to another unanimous decision.
As a boxing fan and part-time media member of the sport it's hard to imagine that Andre Berto actual got the fight this weekend. And for that reason along with a few others I have decided to write one of my shortest preview articles on this subject to date. I just can't fathom spending several hours hashing out why and how Floyd Mayweather will win this fight. So here it goes.
Andre Berto will not win on Saturday night unless were talking about winning from a monetary value standpoint. 3 to 4 years ago Berto was the man that some thought was faster than Floyd and strong enough to take out the Money train. Victor Ortiz and Robert Guerrero both beat Berto en route to landing the golden ticket.
These days Andre Berto is on the butt-end of jokes pertaining to Al Haymon on social media. When Floyd brought up Berto as a possible opponent after his fight with Pacquiao the press laughed. Maybe if Showtime/CBS didn't have to split money with HBO/TimeWarner in the Pacquiao fight, they would've been more willing to put this card on CBS. The complaint level would be much lower had this fight landed on CBS matched with a solid co-feature to boot. The only thing good I can mention about this PPV card is the undercard fights.
Andre Berto could make this fight entertaining to watch because of his brawling style. Also, we will probably see a more aggressive Floyd early, similar to his fight with Victor Ortiz. Beyond a few moments or even a round or two, Berto will be target practice for Mayweather.
My official prediction is Floyd Mayweather by unanimous decision. I also predict that this won't be Mayweather's last fight.
If one compares this PPV underbelly, to the normally thin PPV undercards boxing fans have been accustomed to, this one really stands out. The co-feature is a rematch from one of the best fights so far this year pitting Rocky Martinez against Orlando Salido. Their first meeting was fought on mostly even terms from a round by round perspective. It was a great two-way brawl that saw Salido really come on strong in the last 4 rounds. The knockdowns and a point deduction for a low blow gave Martinez the extra points needed to obtain victory.
Will we see yet another war in the rematch? It's very likely given the styles of both combatants and the Puerto Rican vs. Mexico rivalry at stake. The most interesting question probably is whether or not Salido will start and perform like he did in the last part of their first go-round. A quick start would help Salido in a major way on the scorecards and the possible affect it could have on Martinez mentality, knowing he's in for another battle.
My guess is that Salido will show the same wear and tear he has in the last few outings. Even if he's winning the fight his age and punch resistance will be his downfall. That's not to say all of a sudden that Salido is chinny, but he is prone to knockdowns and fatigue now more than ever in his career. In another great scrap Rocky Martinez finds a way to win through activity and power shots that drop Salido at least once. My official prediction is Rocky Martinez by Majority Decision.
Side Note: The undercard fight between Badou Jack and George Groves is very close on paper and has a chance to be very competitive in the ring. I'm torn to pick a winner but leaning Groves based off experience in big fights versus better opposition. With that said Groves may be showing his own wear and tear having been knocked out cold 15ish months ago. My Pick-Badou Jack by controversial decision.
Written by Chris Carlson Owner & Host of Rope-A-Dope-Radio blogtalkradio.com/ropeadoperadio
Follow on Twitter @RopeADopeRadio