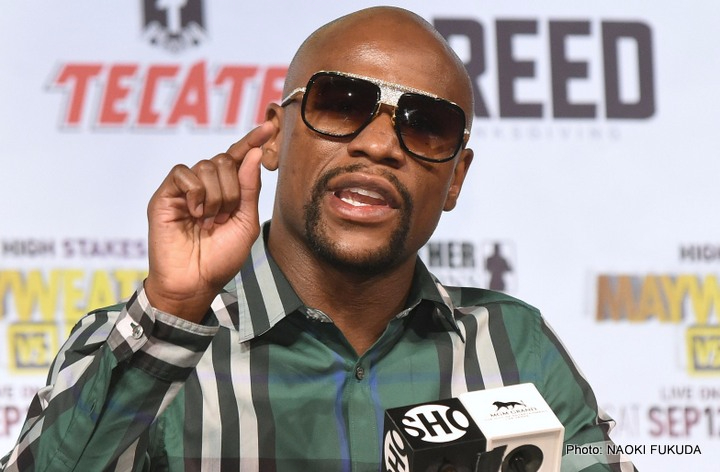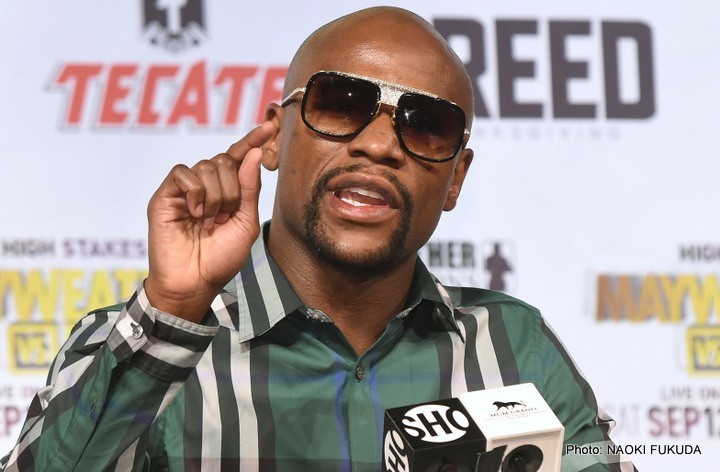 Newly retired former P4P star, Floyd Mayweather, has responded to Oscar De La Hoya's recent 'open letter' that said boxing wouldn't be missing the self-professed 'TBE,' thanks largely to his 'boring' style and carefully managed career moves, by saying that he never ducked or dodged anyone in his career, though neither did he promise 'excitement' in May's anticipated clash with Manny Pacquiao either.
Mayweather was also dismissive of much of De La Hoya's honest and – admittedly self-promoting – letter, stating his belief that the boxing world as a whole must miss him if he is constantly being talked about – especially with regard as to whether he will return for the attempt at 50-0 next year.
"They always say Mayweather is a boring fighter. I sit back and think, if I'm such a boring fighter, if all I do is run, if I'm such a chicken, then why every time I make any move, it goes viral?," Mayweather said to fighthype.com.
"I don't care what network it is, it can be a guy at flyweight to a guy that's a heavyweight, my name is always being brought up. I believe my name is being brought up for a reason.
"To the people that keep on saying, "Aw, the [Pacquiao] fight was boring! The fight was boring," listen man, I'm sitting in my house counting this money, you know what I'm saying? I'm sitting in my house counting this money, chilling. I never told the public that it was going to be the most exciting fight in the world. I just told the public I could beat him.
Responding to allegations from De La Hoya that he fought many people – including Pacquiao and De La Hoya himself – when they were way past prime, Mayweather was clear where the blame lies – at least for what happened before 2006 when he left Bob Arum and Top Rank.
"Oscar De La Hoya, Miguel Cotto, I tried to fight all of these guys sooner than when we fought, but Top Rank didn't want that to happen at that particular time. The Top Rank staff always talked and commended me on fighting whoever whenever.
"They said that there's other fighters under their banner who was fighting handpicked opponents. I never knew what that was until I turned professional with Top Rank, what handpicked opponents were, so don't throw stones if you live in a glass house!," he continued, obviously referencing De La Hoya's own career under Arum in the 90's.
"A couple other champions I beat, they were in their 20's and I was in my 30's. Young, hungry lions. So I'm trying to put everything into perspective when I sit at home and I think about this.
"I never ducked or dodged anyone. I think the one guy that I didn't fight in my era is probably Antonio Margarito, but everything happens for a reason and God showed me that reason. I'm glad I didn't fight that cheater."
Twitter @undilutedpoison