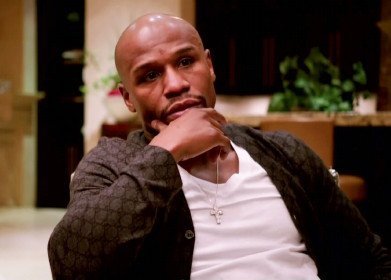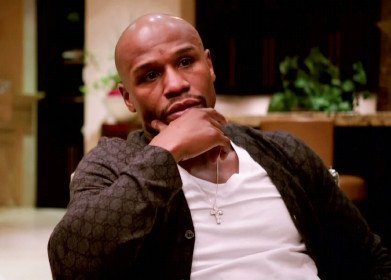 As I grabbed my tea and began to check the sports news the headlines read; Floyd "Money" Mayweather vs. Canelo "Ginger" Alvarez is on for September 14, 2013! I nearly jumped out of my chair with excitement. Finally, Mayweather is fighting a younger, bigger, stronger opponent who has the power and zip to knock him out. No disrespect to Robert Guerrero, but most people who follow boxing knew he didn't have the skills and the speed to deal with Mayweather.
Just as soon as I went to the boxing websites to read other articles and get more clarity I was met with the usual Mayweather hating banter. The fight as announced will be at a catch weight of 152 lbs. Mayweather was very critical of Manny Pacquiao for fighting champions at catch weights and winning their belts although he never made the weight. Now Mayweather in the eyes of some is being viewed as a hypocrite for fighting Alvarez at a catch weight.
This is all the fuel that the one dimensional Mayweather blogger trolls need to try to discredit another Mayweather fight. However, I would point out two key facts that makes their attempts moot.
There is no other weight clauses in this fight. Which means that Alvarez can come to the fight at a weight well above the 152 lb. limit like he normally does when he fights at 154 lbs. Also, Mayweather won the 154lb. title with NO catch weight when he beat Miguel Cotto. Since the 147lb and the 154lb. titles are on the line it is a smart move for Mayweather to add a catch weight. So, ha ha ha to all those who bring up the catch weight crap …but let's get to the serious business. You can't bash Mayweather for fighting at a catch weight once and say nothing in regards to Manny Pacquiao who routinely fights at catch weights.
Thousands and thousands of bloggers, pundits, haters and even some Mayweather fans actually bought into the hype that Mayweather is a "cherrypicker". A Cherrypicker would choose Amir Khan, David Alexander, Ander Berto, or a Shane Mosley rematch, etc. Without a doubt Alvarez is the toughest opponent available for Mayweather. Cherrypickers don't fight the best and most dangerous opponent! End of story!!! Pacquiao just got put to sleep by an opponent that Mayweather played with for 12 rds. Don't get me wrong I would love to see Mayweather vs. Pacquaio but it's strictly to silence haters not because there is any doubt about the outcome and there never was.
However, having seen the illogical, one dimensional hate that spews from these "Mayweather haters" even after he takes Alvarez to school, or even if he beats Pacquiao or fights Sergio Martinez, there will always be someone else he's ducking, or they were no longer in their prime, or a thousand other reasons to discredit Mayweather. They never mention that Mayweather attempted to fight Mosley when Mosley was in his prime and Mayweather was 135 lbs. and again just before he fought Oscar De La Hoya and both times it was Mosley who said no.
They will never mention that Mayweather attempted to fight De La Hoya when he was in is his prime and the top fighter in the sport and it was De La Hoya who said he is not a big enough draw yet. They will bring up how Mayweather "ducked" the one dimensional club fighter Antonio Margarito, whom a washed up Shane Mosley beat like a drum in a high school marching band and whose only significant win was done via cheating against Miguel Cotto, as an example of Mayweather "ducking" opponents. They will always blame Mayweather for the Pacquiao fight not coming through and never look to Bob Arum, Pacquiao's promoter who hates Mayweather and Golden Boy Promotions as a reason for the fight never coming through. Such is the "logic" of the "Mayweather haters".
For the rest of us on September 14, we will enjoy boxing at its highest level from two great fighters. Can the young lion overthrow the old lion? No, but I can't wait to see!
Questions or comments: yero_m@yahoo.com