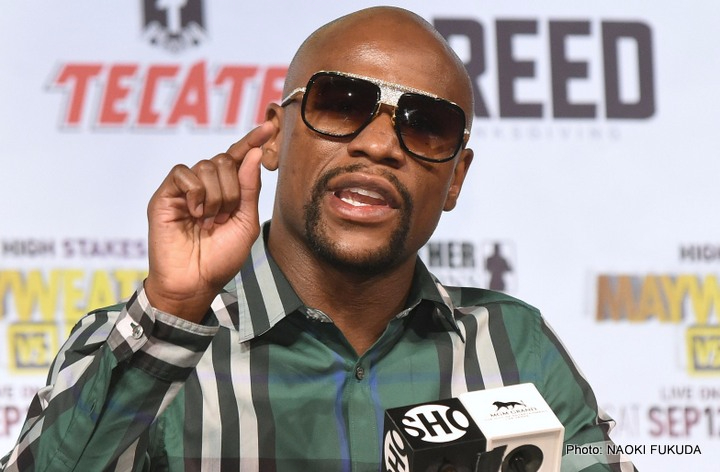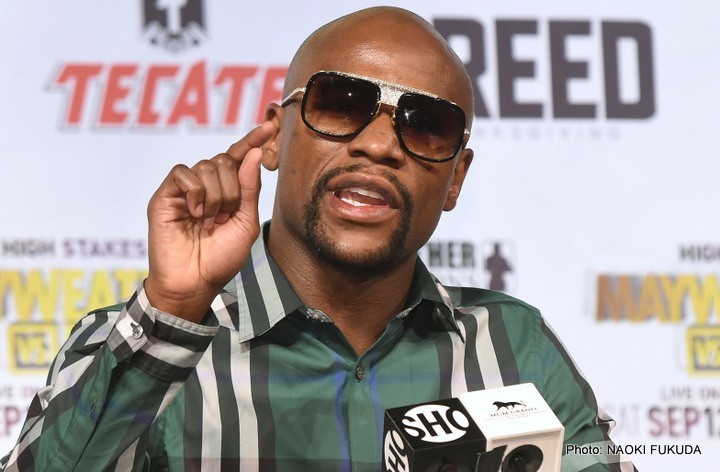 Initial reports published on Wednesday by SB Nation, that P4P boss Floyd Mayweather used an illlegal drip comprising saline and vitamin C on the eve of his "Fight of the Century" with Manny Pacquiao, has today led to the self professed 'Best Ever' speaking out via a statement to deny any wrongdoing.
The drip, which Floyd's medical team said was administered after the weigh-in for rehydration purposes, allegedly included a 250-milliliter mix of saline and multivitamins, plus 500-mls of saline and Vitamin C.
This practice is banned under world anti-doping regulations, (WADA) who only permit 50mls or less every 6 hours, "except for those legitimately received in the course of hospital admissions, surgical procedures, or clinical investigations."
However, it emerged that Mayweather was granted a retrospective "therapeutic use exemption" (TUE) for using the drip on the 21st May, almost three weeks after the fight, even though such a concoction can commonly be used as a masking agent for other PED's.
Also, given the fuss Floyd made about Pacquiao allegedly being a doper in the years building up to their anti-climax of a fight, eventually settling with the Filipino out of court over the allegation's, it's slightly ironic that this has emerged, especially after Pacquiao was REFUSED a fight-night pain-killing injection of the perfectly legal Torodol for his shoulder injury, that also emerged to the public at least, post-fight.
"As already confirmed by the USADA statement, I did not commit any violations of the Nevada or USADA drug testing guidelines," Mayweather said in a statement.
"I follow and have always followed the rules of Nevada and USADA, the gold standard of drug testing.
"Let's not forget that I was the one six years ago who insisted on elevating the level of drug testing for all my fights," Mayweather added.
"As a result, there is more drug testing and awareness of its importance in the sport of boxing today than ever before. I am very proud to be a clean athlete and will continue to champion the cause."
Manny Pacquiao's advisor, Michael Koncz, voiced his displeasure to ESPN.com at the Nevada State Athletic Commission, who follow the guidelines of USADA, and thus, WADA, ostensibly hinting at some kind of favouritism – although he was keen not to say too much, such is Mayweather's influence there.
"I find it ironic. We tried to get an injection that was totally legal before the fight and the commission slams us and then this thing with Mayweather happens," he said.
"We need to fight in Vegas again so I don't want to make many more comments but it is unusual and it was never disclosed to us until quite a ways after the fight.
"Maybe the best thing for Floyd to do is have a rematch with Manny. But we were shocked by [the TUE]. It shouldn't have happened."
Twitter @Undilutedpoison