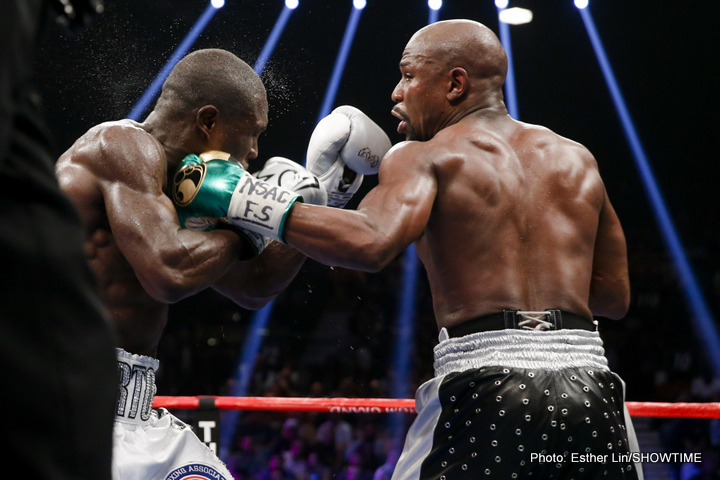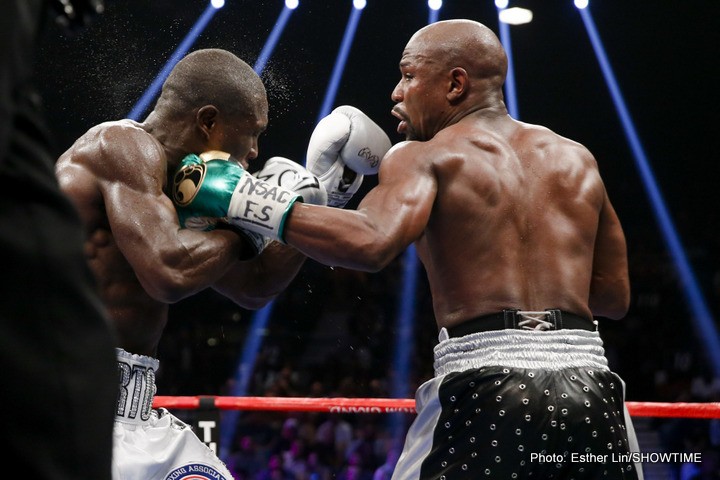 Floyd "Money" Mayweather performed one last masterpiece on Saturday live on SHOWTIME PPV® in what he insists was the final fight of his distinguished 19-year career.
Before 13,395 fans at the MGM Grand Garden Arena, Mayweather improved to 49-0 (26 KOs), matching the record of the late heavyweight champion Rocky Marciano with a 12-round decision over former two-time welterweight world champion Andre Berto (30-4, 23 KOs). In total control from the outset, Mayweather was victorious by the scores of 120-108, 118-110 and 117-111.
Following the final bell, Mayweather dropped to his knees in reflection of his final act.
"You have to know when to hang it up,'' he told SHOWTIME's Jim Gray in the ring afterward. "I'm knocking at the door; I'm close to 40 years old.
"I've been in this sport 19 years, been a world champion 18 years, broke all the records. There's nothing else to prove in the sport of boxing.
"My 49-0 record is a part of boxing. Records are made to be broken. Hopefully someday we can find the next Floyd Mayweather.
"Now it's time to spend time with my family and children, make sure they get the proper education. I also want to help the fighters under the Mayweather Promotions banner.
"I'm leaving the sport with all my faculties; I'm still sharp and smart. I've accomplished everything in this sport, there's nothing else to accomplish.
"Money doesn't make me. I make money.
"I don't want to rank myself, but I am the best at boxing.
"I want to thank all the fans that came out to support this event. For 19 years I wouldn't be able to do it without these fans.
"Andre Berto has heart, a tremendous chin. He wouldn't lay down, it was a good fight. He was a tough competitor, but experience played a major role tonight. What can I say? I was the better man tonight. It doesn't matter if I hurt my left or my right hand, my career is over. It's official.''
Berto was satisfied with his performance, but conceded he was not at Mayweather's level.
"Experience played a big part in this fight,'' he said. "I want to thank my entire team, my family and all of Haiti that is watching.
"I was in shape for this fight; he was just difficult to hold on to. He's slippery. I used a lot of speed but he's real crafty. He was using little things to get me off my rhythm.
"A guy like me has a lot of pride. I told him that every time I caught him with a good shot that I was here to stay. I put on a great performance, pushed him to the limit. But, we fell short."
MAYWEATHER vs. BERTO PLUS MARTINEZ vs. SALIDO II TO PREMIERE ON SHOWTIME® NEXT SATURDAY, SEPT. 19
Delayed Telecast Immediately Followed By
ALL ACCESS: Mayweather vs. Berto Epilogue
Saturday's welterweight world championship between Floyd Mayweather and Andre Berto will premiere on SHOWTIME® next Saturday, Sept. 19. The delayed telecast of Mayweather vs. Berto will include the junior lightweight world championship bout between Roman Martinez and Orlando Salido II and will be immediately followed by the premiere of ALL ACCESS: Mayweather vs. Berto Epilogue. The Sports Emmy Award-Winning "Epilogue" shines the spotlight on fight week and takes viewers inside the ropes and into the mind of a prizefighter like no other show on television.