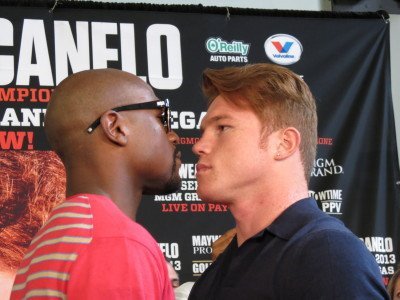 The unprecedented Mayweather-Canelo Press Tour continued on 07/01/2013 with another pit stop in Texas' largest city: Houston, TX. As early as 8:00 AM in the first July morning of the year, fans began to flock to Houston's Minute Maid Park Union Station. Although not as big as Mexico City's mind-boggling turnout of 30,000+ fans, fellow Houstonians were ready to give the two boxing superstars a big Texas-sized welcome!
They say everything is bigger in Texas. This event was no exception.
Minute Maid Park's Union Station was filled to capacity that left plenty of fans out in the heat as the festivities commenced. That did not discourage hardcore fans from sticking around. Once inside, the roaring fans let their voices heard. The red carpet was rolled out and the fans were restless with excitement. Was this a Mayweather or Canelo crowd?
The answer was simple:
"CANELO! CANELO! CANELO!"
Such were the chants that were heard when the press conference was on the brink of starting. To say that the Pound-For-Pound king had no fans would be deep understatement as there were many TMT fans letting their voices heard. When Mayweather took the podium for the first time with his initial words, the message was a powerful one as well:
Mayweather: "Hard work."
Crowd: "Dedication!"
"Hard work…dedication!" "Hard work…dedication!"
As the conference officially started, some Texas hospitality was given to both fighters as both Mayweather and Canelo were presented with custom-made Houston Astros baseball jerseys with their names on them. Houston-born celebrities and local fighters were present, such as Paul Wall and the up-and-coming Charlo brothers.
As each fighter took the podium, both promised a great fight. Canelo showed his Mexican pride with his usual calm confidence. Mayweather, now a mature fighter, thanked all the Mexican fans (whether they were rooting for him or against him).
Perhaps the only blemish of this press conference was the fact that the 11-city tour turned into a 10-city tour as it was announced that the Phoenix, AZ pit stop was canceled due to the recent tragic fire that took the lives of 19 brave firefighters. However, amidst all the excitement and hype for this fight, Golden Boy Promotions and Mayweather Promotions showed true heart and class by making a donation to the families affected by the fire.
In hindsight, no blemish at all. What a great way to show sympathy and respect for the affected families.
Words will only go so far when it comes to describing the excitement surrounding this megafight. This multi-city tour is just part of the perfect recipe that Golden Boy Promotions has planned to create breakthrough PPV numbers.
Who is The One?
Here are some notable quotes and visuals of the Houston, TX pit stop. More coverage in the coming weeks!
RICHARD SCHAEFER
"This is the biggest fight boxing has seen. Floyd "Money" Mayweather is the one. He's the highest paid athlete in the world. He's the Poud-For-Pound one. He's the one fighter in the lifetime. The one fighter in a generation. He's the one that not only defines boxing, skills and charisma, but he show biz, flash and charisma. He has it all. He is the one."
"But, will he be the one on September 14th? Or will there be a new one? Will there be the next one? Will it be Saul "Canelo" Alvarez?"
STEPHEN ESPINOZA
"We have America's #1 fighter, Floyd Mayweather, versus Mexico's #1 fighter, Saul Alvarez."
"We have the #1 Pound-For-Pound boxer on the face of the planet, Floyd Mayweather, versus the #1 new star in the sport of boxing, Saul Alvarez. This is the one fight you cannot miss. September 14th will be your opportunity to be part of the biggest event in the history of the sport of boxing. Don't miss it. Order now."
LEONARD ELLERBE
"H-Town! On behalf of Mayweather Promotions, we would like to thank you for coming out today. We would also like to thank you for all the support throughout the years. You are some tremendous fans. Come September 14th there will be a great fight that night. Thank you."
OSCAR DE LA HOYA
"As you all know, 19 courageous firefighters lost their lives battling the blaze. On behalf of Golden Boy Promotions and Mayweather Promotions and Canelo, we are going to make a donation to the families that were affected by the fire."
SAUL ALVAREZ
"I want to thank everyone. It's the third time I'm here in Houston presenting my fights. I'm happy to be here with you."
"Before anything, we're sad about what happened in Phoenix. I was happy to be going to Phoenix, but now we canceled and we lament was happened."
"Thanks to everyone. On September 14th, all of us will make history. Thanks for your support."
FLOYD MAYWEATHER
"First off, I want to thank the Mexican fans for supporting Canelo. We all know, what I've come to understand about the sport of boxing, we all know…fans can't fight for you."
"I'm truly blessed to be where I'm at. Canelo, Team Canelo, Golden Boy. You guys have done a tremendous job with Canelo's career. I commend you guys. He's a young, strong, solid champion…and that's what the fans want: they want to see the best versus the best. So that's why we both chose to give you fans the fight."
"Mayweather loves Mexico. Mayweather loves Houston. You guys have been truly amazing over the years. Without you guys, I wouldn't be where I'm at. Whether you was rooting for me or against me, thank you for the support."
"I've been here before and I know what it takes for a fight of this magnitude. Going into any big fight, Floyd Mayweather always has tunnel vision. Going into any fight fight, I always got tunnel vision. I don't hear nothing, I don't see nothing. All I see if my opponent…and all I believe in is winning. I'll see you guys September 14th."